How to Convert AVI to MP3 with Free Tutorials Below
As being said, AVI files store the best quality for video and audio that you ever wish for. Unfortunately, the bad part of this is the huge file size. On every 3-4 minutes of the media file stored on it, the file size can go up to 3-4 giga bites. Which is overwhelming as a user of AVI format. Before you began to feel sad or frustrated there is now a way to store a quality AVI audio into your computer. Without losing the quality of it and that is to convert. If you want to know how to convert AVI to MP3 you're on the right path. Because we will be going to tackle on how to convert and what are the other available converters you can use to produce high-quality MP3 audio. If you keep on reading this article you will understand the converting process we talk about.

Part 1. How to Convert AVI to MP3 Online
1. FVC Free MP3 Converter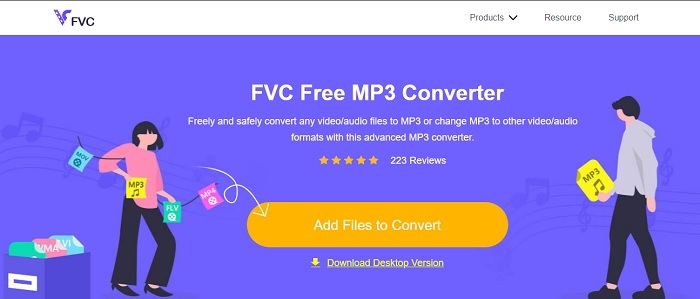 If you want to know which is the best free AVI to MP3 converter online then this must be it. Brought to you by the FVC the sample taste of the ultimate converter which is the FVC Free MP3 Converter. This online tool gives you the most advantage considering the fact that you're converting. If we are going to rank each tool here then this will remain first. Not only that, the fact that it provides a secure compression also provides fast conversion as well. Do you want to know how fast the conversion process is? Then follow the given steps below and test it for yourself to be amazed.
Step 1. Click the link to proceed to the main webpage of the tool.
Step 2. Press the Add Files to Convert button and Allow to launch the tool.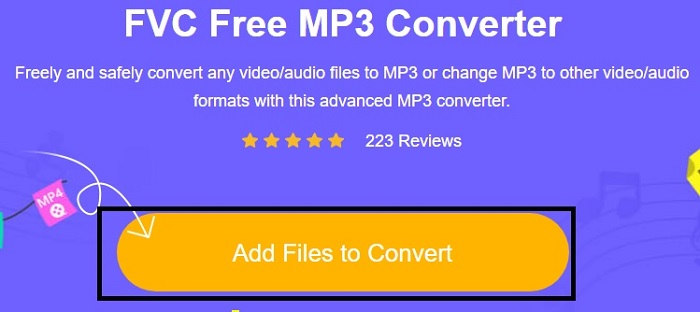 Step 3. Select which file you want to be converted. After the selection, click Open to proceed.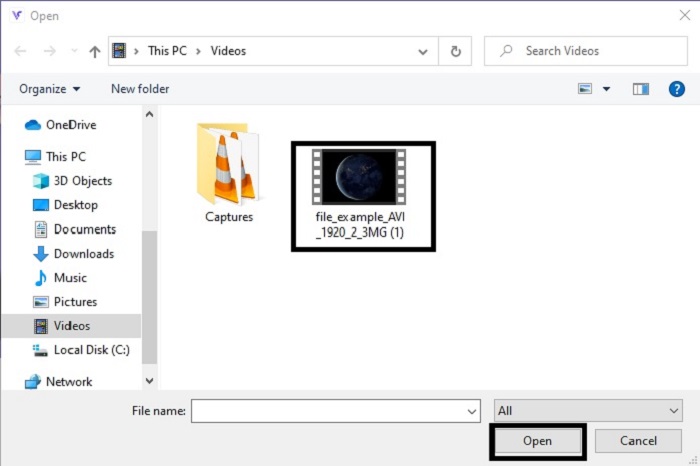 Step 4. Change the AVI file to MP3 audio format or in whatever format you want it to be.
Step 5. To start the process, click the Convert and wait for a couple of minutes to be done. And if it is done you can check your folder later on.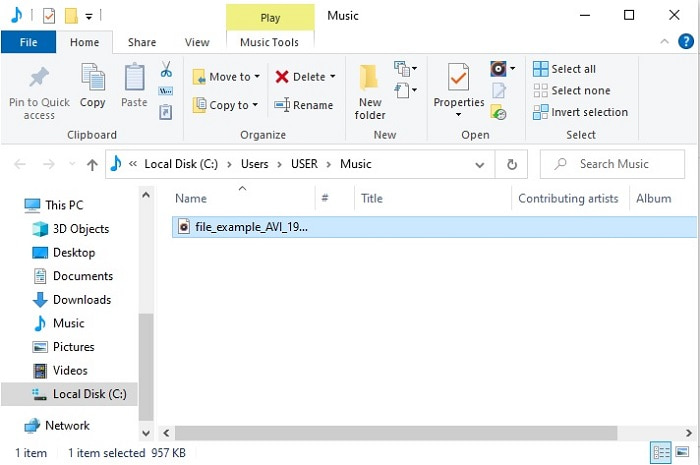 2. Convertio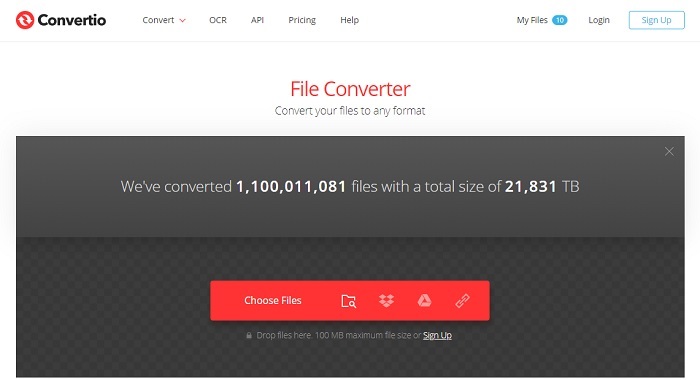 If we were talking about how to convert AVI to MP3 in Mac for free then Convertio is here to the rescue. This tool provides quality compression and conversion for Windows as well. Unlike the FVC Free MP3 Converter, this tool provides conversion on documents, eBooks, vector and more. But you can't change the bitrate, fps, and codecs like the first tool. Although the conversion process here is fast and efficient the first tool above still over throws this tool. But it is worth trying this tool as it is simple and very user friendly. So, it is okay to be used by beginners or even a pro.
Step 1. Go to the Convertio website.
Step 2. Choose the file you want to be converted and place it on.
Step 3. Select the MP3 format and click convert to start.
3. Zamzar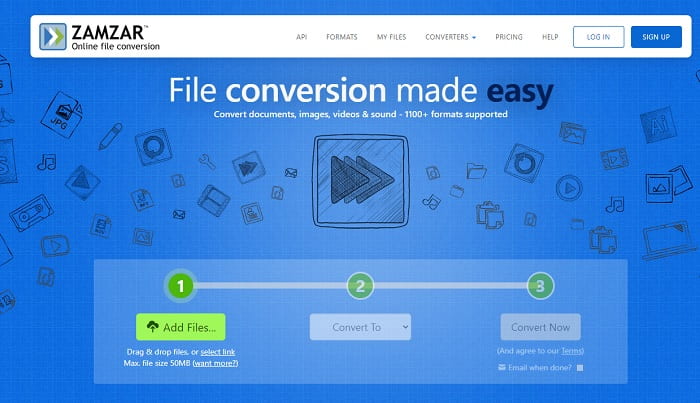 Use Zamzar if you want to convert AVI files into MP3 online. Moreover, this tool provides a simple and yet classic converter that you have already used or tried on. But the most unlikely part about this is that the formats like audio, images, video or whatever format are all in one drop-down button. So, locating the specific format you want is a bit of a hassle but still it is manageable. Remember that this tool only accepts 50 mb file size only and a single conversion process. Do you want to know how to use Zamzar? Then follow this step below.
Step 1. Search the official webpage of Zamzar. Click the add file to select the file you want to be converted.
Step 2. Choose the final format you want it to be on the submenu of convert to.
Step 3. Click convert now to start the process.
Part 2. Best AVI to MP3 Converter on PC and Mac
With all being said about the fantastic features of the AVI to MP3 converter software online. Still, FVC Video Converter Ultimate is the king of conversion in the entire web. Did you ever wonder that converting a file can be taken up to the next level? To be more specific, by using this as your personal converter you can do more than just converting.
In contrast to the online tool above, this software specializes not only converting but also trimming, enhancing, volume booster etc. Instead of using the first tool above why don't you try using this tool? With that we will now proceed on how to make the perfect conversion on your AVI file and bring the life to MP3 format. Follow the steps provided below to have a deeper understanding about the process of converting this tool.
Step 1. Download the official ultimate tool of the FVC by clicking the download button. Follow the process of setting it up and click finish to save the adjustment.
Step 2. After all of that, the software will automatically be opened to your display. This is how it looks.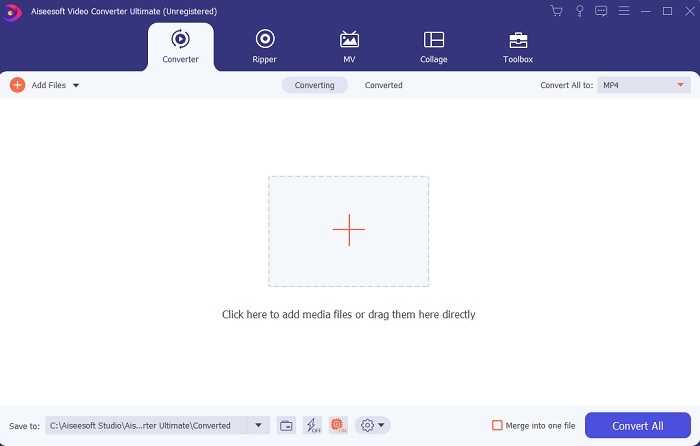 Step 3. In the main interface you must now select the AVI file you want to convert by clicking on the Add Files button. Additional information, if the file is plenty you can basically drag-and-drop it.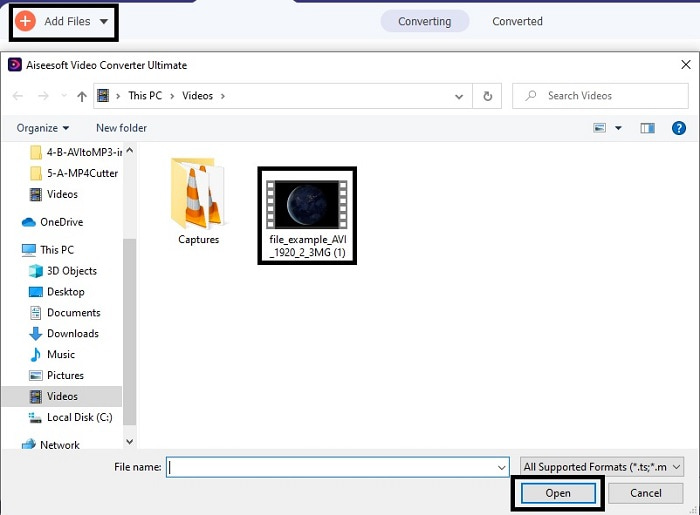 Step 4. In the upper right side, you can see the mini submenu and click it. Choose the MP3 format or any audio-video format you want it to be. After selecting, click the Convert All to start the process that will begin shortly.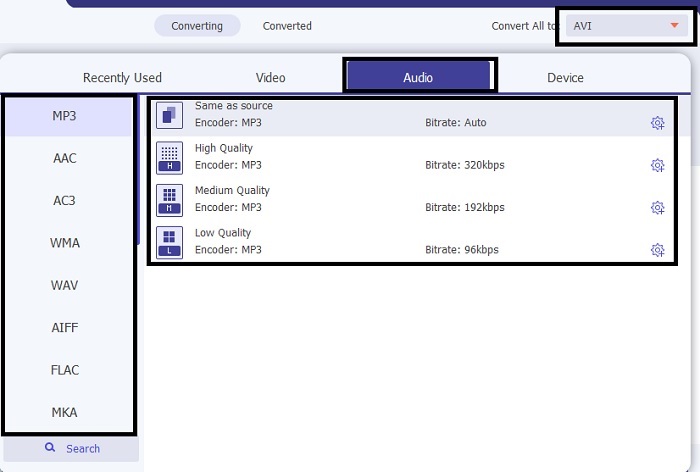 Step 5. It will take a second to be converted and after it is done. There will be a file manager open on your screen immediately. Click the converted file to listen and if you want to enhance the audio you can check the toolbar later.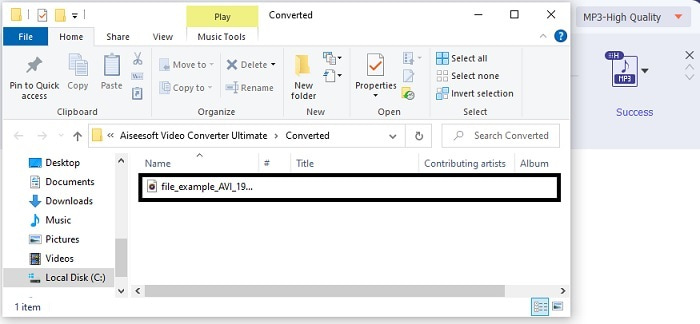 Aside from that, this tool also allows you to convert WMV to MP3, or MOV to MP3.
Part 3. FAQs about the AVI to MP3
What is MP3?
MP3 stores a high-quality audio format. It has become very popular nowadays because it is the most commonly used audio format. The best examples of MP3 are songs, recording, and many more.
Is MP3 lossy or lossless?
MP3 is an example of lossy data compression. Which is great on storing audio data compared to the other uncompressed like the AVI mentioned earlier.
Can MP3 store video files?
The answer is No. MP3 is dedicated only for storing audio files only. But you can add video files in the improved version of MP3 which is the MP4 also known as universal multimedia format. Click here to know the differences between MP3 and MP4.
Conclusion
Now it is clearer, instead of having an AVI audio format it is better to convert it to a MP3 one. The list above talks about how to convert and what are the other options that will fit your needs. But still FVC Video Converter Ultimate has the feature among the others listed. Maybe you're thinking that you just want a simple converter without editing features which is okay. But in the long run, you will feel something missing about it that you can't find in the converter on the list. Instead of waiting for this to happen, why don't you use this and be prepared for the future. So, to secure your future conversion you must acquire the ultimate tool to be prepared.