Simplified Tutorial on How to Convert TRP to WMV by Using Pro Converters
Have a hard time dealing with TRP files because they can't open on your media player or editor? A low of internet users also have difficulty handling their TRP files. If you are one of those people, we suggest you stay tuned and read this article as we talk more about TRP format. Also, to solve your problem with this format, we recommend converting it into a WMV, especially if you want to play it on Windows. So now, what are you waiting for? Let's get going to the details below to convert TRP to WMV.

Part 1. Convert TRP to WMV with Video Converter Ultimate
Want to know how to convert TRP to WMV with the ultimate professional tool? If so, use the FVC Video Converter Ultimate to achieve it. Before we go and learn how to convert your TRP, we must need to know about this converter tool. This converter provides an easy and swift converting process that millions of users already like. Moreover, it can convert your TRP file into WMV, AMV, MKV, AVI, or whatever format you want. Still, you can also do advanced editing here. Want to have a full scope features of this tool? Then continue reading below.

FVC Video Converter Ultimate
5,689,200++ Downloads
Supports converting TRP to WMV, AVI, MP4, MOV, MKV, and into 200+ format available.
It is easy to use and has a built-in ultra-fast conversion for faster transcoding.
No limitation to convert, and its batch conversion performs well.
Advanced editing features are in Toolbox.
Without any more delay, let's start to use this A1 converter by following the steps below.
Step 1. Download the FVC Video Converter Ultimate on your drive by clicking the download button presented below. Follow the installation, then proceed on launching the tool.
Step 2. On the homepage of the converter, click Add Files at the upper left part of the interface. Then browse the TRP file you want to convert on the folder that will show and press Open to proceed.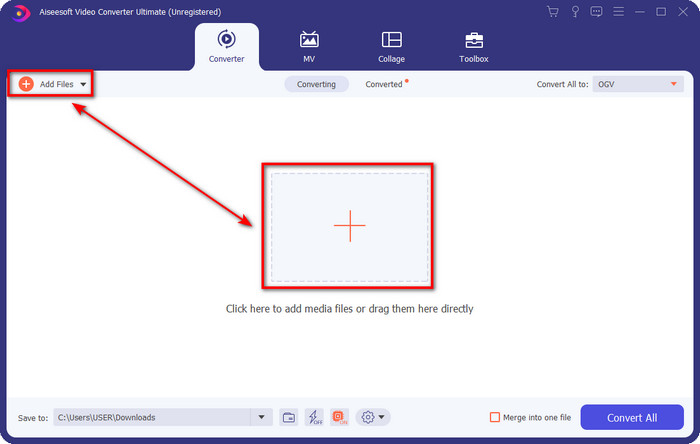 Step 3. Once you have uploaded the file, you must now change the format into WMV by clicking the Convert All to button. You will see that each available format has individual characteristics you can choose from on the list.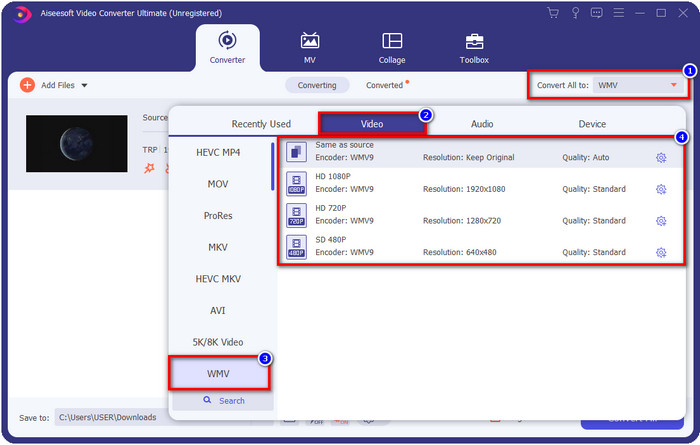 Optional. Want to enjoy the fast conversion we were bragging about? You can click Ultrafast Conversion and Hardware Acceleration below and activate them to enable it.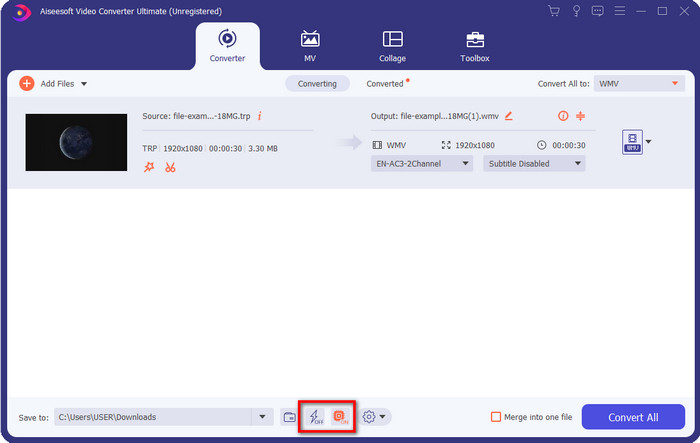 Step 4. Start the converting process by clicking the Convert All button at the bottom right part.
Part 2. Convert TRP to WMV Online
Many converters are available to use on the internet to convert TRP to WMV. Still, the FVC Free Video Converter Online is the best and professional online converter. This converter is free of charge, and no download is needed to use it. It already helps many internet users resolve their problem about converting TRP into a WMV, AVI, MP4, and MOV. But this converter doesn't support many formats like the FVC Video Converter Ultimate; it also has no editing features. So now, if you want to know how to use this converter, you must follow the steps below.
Step 1. Tick this link to open the main FVC Free Video Converter Online.
Step 2. Press the Add Files to Convert button, and the folder will open on your desktop. Locate the TRP file you want to convert and hit Open.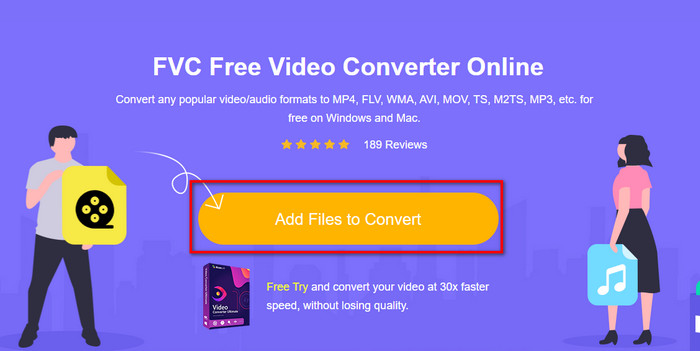 Step 3. After uploading the TRP file, click WMV format on the setlist below.
Step 4. Start the converting process by ticking the Convert; the file will automatically save into your drive after the operation.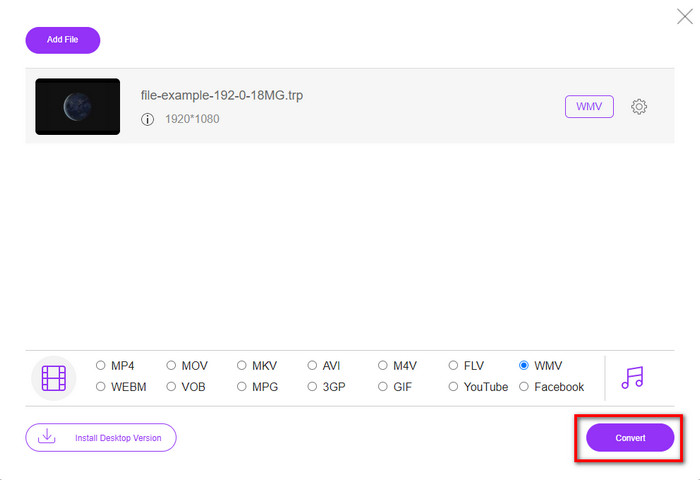 Part 3. What Is the Difference Between TRP and WMV
Although these two formats are great for online streaming, TRP and WMV still have different structures and use. Also, their codec is far different from each other. So now, if you want to know more detailed and deep information about TRP files and WMV, you must keep the ball rolling and read the information below.
TRP contains the high-definition media file encoded into MPEG-2 Part 1 transport format. This format is known for multiplexing streams that can play synchronize media content. Also, this format is often on DVB or Digital Video Broadcasting for error correction this format provides. Moreover, the data TRP uses is different from the H.264 on video and AC3 on audio. At this time, the TRP format doesn't gain much support, especially in most media players on Windows.
On the flip side, WMV has a series of video codecs with different purposes for encoding the file. Microsoft introduced this format to compete with RM format on online streaming content. And now, the format upgraded into WMV9, which is activated if the video resolution of the media content exceeds 300,000 pixels. This format upgraded version adapted on HD DVD and Blu-ray discs.
To simplify, TRP needs to turn into WMV because of the compatibility issue on playing it over Windows. Even though TRP and WMV are great choices for online streaming still if you want to watch your TRP on Windows, you will need to make it compatible. For that reason, the tools mentioned above are ready to help you when you need to convert TRP to WMV.
Part 4. FAQs about TRP to WMV Conversion
Can I use TRP on Mac?
You are able to use this format if you download a third-party media player and editor that supports this type of format. However, there are limited Mac apps that support this type of format. But we have an idea of how you can use your TRP file without downloading a third-party app. Do you want to know more? If so, you can click this link and read how to convert TRP to MOV.
Is it safe to use an online TRP converter?
Yes, you can use an online converter to convert your TRP into a format your desire. But not all of the converters online are a must to use because most of the tools have malicious issues. So, to avoid this problem we suggest that you must pick a tool that is safe like the FVC Free Video Converter Online. Unlike any typical converter, this tool is far from all of the issues because it is guaranteed safe and malware-free.
What should I do to make my .trp file playable?
According to some researches, you can change the file extension into .ts or .mpg to make it compatible with the other desktop apps. But the guarantee of getting success in this is not 100%. However, you can convert the .trp file into your desired format to make it compatible. Instead of wasting your time changing the file extension and failing many times, you must convert it to save time and enjoy watching or editing the video.
Conclusion
In the end, we found out that the TRP needs to be converted into a WMV format if you want to make it accessible on Windows. Although you can download a third-party app to play or edit the TRP file. Still, there are a small group of applications that supported this format. Instead of doing a trial and error why don't you turn it into WMV? So now, it is in your hand to choose which converter you should depend on. But we greatly suggest to you that you must pick the FVC Video Converter Ultimate. Because of one simple reason, it provides simplicity and a perfect converting process you'll experience.