Quick & Easy to Understand Guide on How to Convert TRP to MOV
TRP format is not very common to play it on a media player or even edit it with the editors. And some users tried to change the .trp into .ts, .mpg, .mp4 and re-play them on the media player. But many already failed in this attempt; although you can change the extension, the structure is still the same. So to avoid this mistake, why don't you try to convert TRP to MOV format? To successfully solve this problem. Below, you will learn what TRP format is and turn it into a playable MOV format.

Part 1. What Are TRP and MOV
TRP is known for its multiplexing digital streams for video and audio, then playing them synchronously. Moreover, this format is often used in error correction in every digital video broadcasting or DVB. Also, .trp uses two separate codecs to encode the video into H.263 or H.264 and AC3 for audio. After encoding, the visual-audio files stored here are ready to broadcast into the whole web without limitation in the distance. Although the format looks excellent, storing files while retaining the high-end quality. Yet, some software isn't suitable in this format.
On the contrary, the MOV format prefers to keep high-quality video and audio playing on every Quicktime player. Although the format is for Apple, you can still play the video even if you don't have Mac or iOS because this format supports numerous media players and editors.
So now, the ideal solution to this TRP problem is to convert it, especially if you want to transfer the file into Mac or iPhone, then play or edit it later. Without any more delays, let's proceed to the converter you can use ideally to convert TRP files to MOV.
Part 2. How to Convert TRP to MOV with the Phenomenal Software on Windows/Mac
This TRP to MOV converter is placed at the top because it is the best tool to convert your TRP files, FVC Video Converter Ultimate. It is the perfect tool to experience the quickest and easiest way to decode and encode your TRP files. Other than its encoding and decoding, with the help of this software, you can also edit video, merge, cut, crop, etc. It is all thanks to the customers who trusted this tool to convert their file and buy it.
Pros
Fastest TRP converter you can use to convert TRP to MOV, AVI, MP4, MKV, and many more.
No limitation to convert, and batch conversion performs well.
Available to download on all PC or Mac desktops.
Advanced features are inside the built-in Toolbox.
Cons
You Need to buy the software before you use it.
Downloading the file on your drive is needed.
Without any more explanation, let's start to use this highly recommended converter by following the steps below.
Step 1. Before running the program, you must download it first on your drive, install it afterward, and click Start Now to open the program.
Step 2. Click the + button in the middle of the software interface; a folder will show on the screen, find the .trp file and click Open to upload it.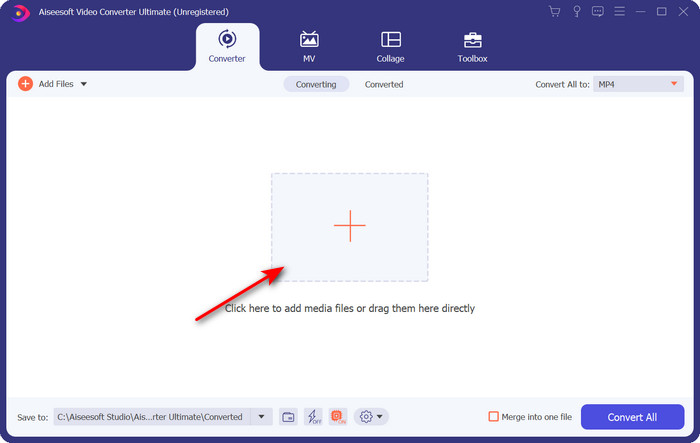 Step 3. Click Convert All to and find the MOV format and choose the resolution you would prefer.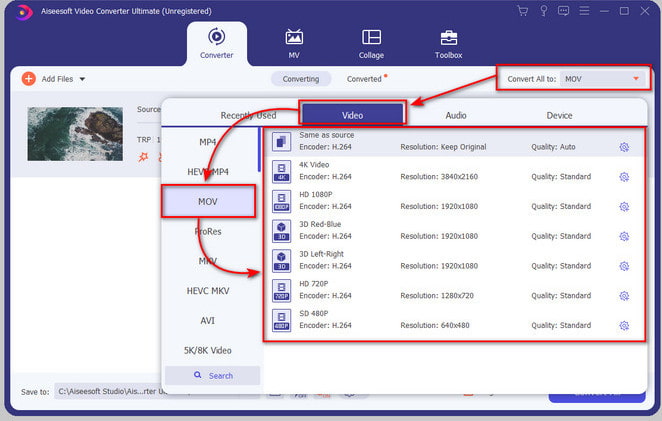 Step 4. If you are ready to start converting the format to .mov, click Convert All.
Step 5. Just wait until the process then a new folder will show with the converted format you've done earlier. To watch the file on your Mac or any iOS device, click it.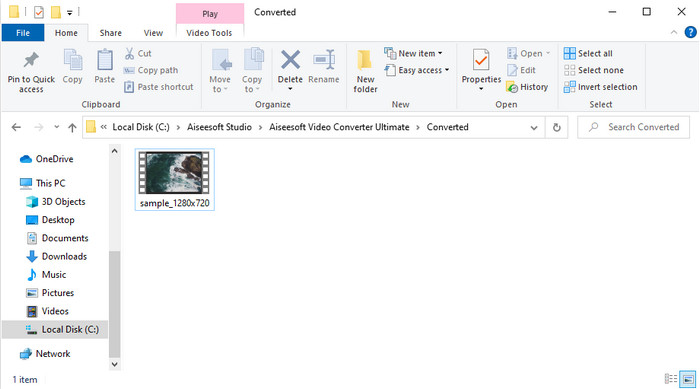 Part 3. How to Convert TRP to MOV for Free in All Browsers Online
Do you have no desire to download software to change the TRP to MOV? Then we advise using FVC Free Video Converter Online to convert your file on the web. Unlike the first tool presented above, this online converter is available on the web. And for sure, this is malware-safe, and it has no ads at all on the net interface. But the drawback of this webtool is that you can't use it if you don't have internet connectivity. Another one is that this tool supports an average format compared to the FVC Video Converter Ultimate. Apart from that, you can use this for free and without any limitations. So now, if you want to try this online converter, proceed to the steps on how to use it.
Pros
Compatible in all search engines.
No limitation on converting TRP to MOV, MP4, AVI, etc.
No pesky advertisement on the interface.
Cons
You can't perform batch conversion like the ultimate tool.
Accessing the web tool requires the internet because it is an internet-based tool.
Step 1. To run the webtool, click this link.
Step 2. Tick the Add Files to Convert, and the folder will open, look for the file on the folder and hit Open.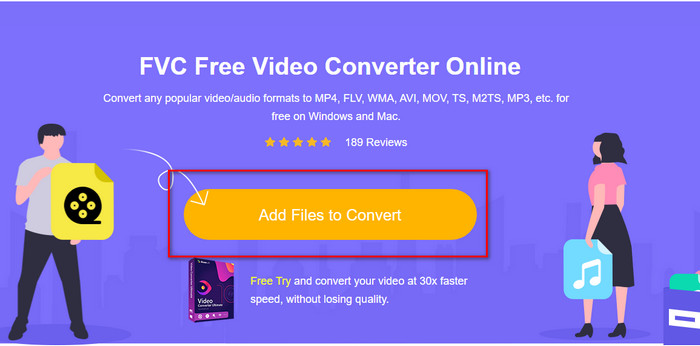 Step 3. Pick out the MOV on the list below, or choose whatever format you want it to be.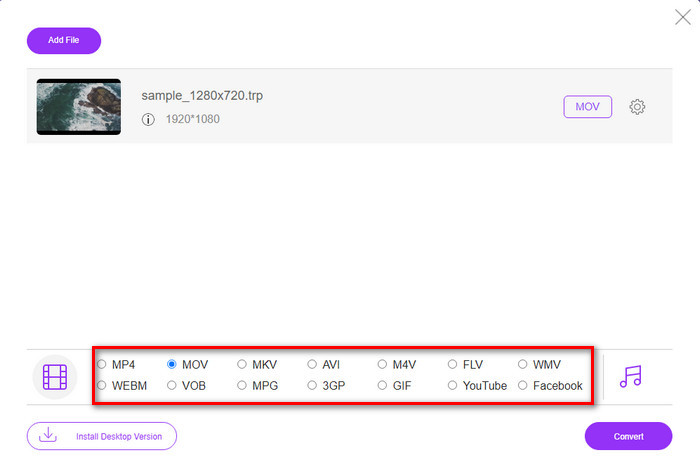 Step 4. Finally, to start converting the file, click Convert.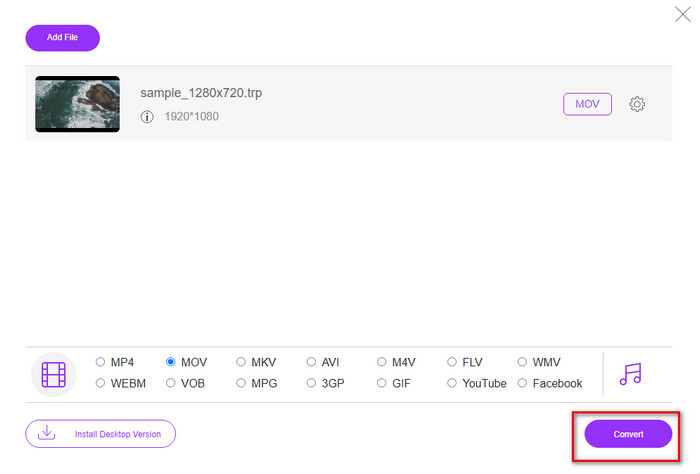 Step 5. Once converting is finished, a folder will show on the screen with the file.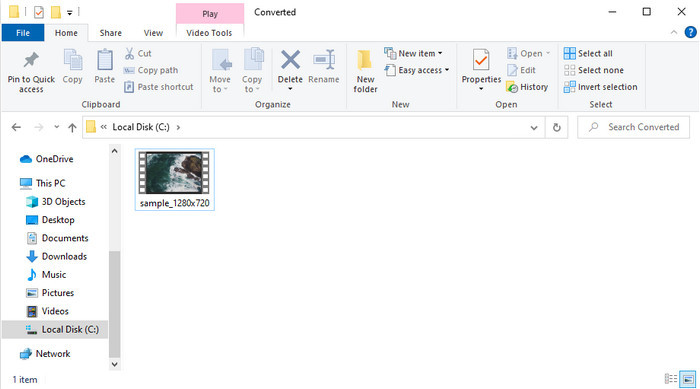 Part 4. FAQs about TRP to MOV Conversion
Can I merge .trp files into one video?
Yes, you can make two or more .trp videos, conjoint, and download them as one by merging. It is super easy to do if you use the FVC Video Converter Ultimate. Want to learn how? Then click this link and give 5 minutes to learn how to merge TRP files or even other videos like MP4, MOV, AVI, and more.
How long will it take to convert TRP to MOV?
It depends on how long is the video you are converting, or if you are using a web tool, it will depend on how fast your internet is. The process will vary depending on what you are using. Still, success is sure if you use the converters presented above.
Does the size of the TRP file change after converting?
The file size should change a bit, but it shouldn't double or even triple its size. In addition, if you think that your converted .trp videos are large, you can read this article and know how to compress trp videos.
Conclusion
To end, if you want to convert your TRP files into MOV on the web, then we strongly suggest that you use the FVC Free Video Converter Online. It is the finest online converter that will help you convert the format into a new one. But if you want to convert your files into a new one in an easier way and do batch conversion, then use FVC Video Converter Ultimate. This tool provides the best ultimate output, advanced features, and a lot of choices format—experience all-out converting with the help of the two tools above. There is no wrong choice whatever converter you choose.