How to Convert VOB to MOV Using the Most Proficient Tools [Free & Easy]
In the case of a DVD, a VOB file is a movie data file that is typically kept in the VIDEO TS folder at the root of the DVD. It contains a large portion of the material recorded on a disc, which includes video and audio files and subtitles, DVD menus, and other navigational content. However, the QuickTime File Format (QTFF) is a multimedia container file format that can be used to save a MOV file. Media data, including video, audio, and text, can be stored on one or more tracks (subtitles). To save video files, MOV files are often utilized.If you have a second thought of his video format and need to know all the details about it or how to convert it to other video formats using different converters? This is the right article for you, presenting the best and easiest ways to convert VOB to MOV.

Part 1. What Are VOB and MOV?
The majority of the data on a DVD is contained in this file format, which includes digital video, audio, navigation content, DVD menus, and subtitles. VOB files are stored in the VIDEO TS folder and are the core of any DVD video. This is the data for a movie. MP2, DTS, AC3, and MPEG-2 video streams are all derived from this location. Files saved in the VOB format may have been encrypted. VOB is a type of video file that is much to WMV. The VOB file extension is used for VOB files. For example, the VOB format is based on the MPEG program stream format, but it includes additional restrictions and criteria in the private sector.
Nevertheless, In the QuickTime framework of Mac, the MOV file extension indicates the QuickTime video format, developed by Apple. The Windows platform also supports this multimedia container's capacity to store several tracks, each one containing a specific sort of data (audio, video, subtitles). Video editing programs can benefit significantly from separating media data from media offsets, abstract data references, and track edit lists. For sharing movies and videos on the internet, the MOV video container is a popular choice.
File Extension
VOB
MOV
File Type
DVD Video Object File
Apple QuickTime Movie
Developed By
N/A
Apple
Pros
High-quality; DVDs can be made from it.
Excellent video quality; suitable for web broadcast; distinct separation of major elements
Cons
4.7 GB for 2 hours of movie, which is a lot of space
This format has a larger file size than other popular streaming formats.
Part 2. How to Convert VOB to MOV [Mac & Windows]
Starting with converting VOB to MOV offline, this best tool is the most reliable in restoring a wide range of formats. Video Converter Ultimate can convert VOB to MOV in the fastest way possible. Plus, you can change the quality output of the video before you upload the file. This converter also has different tools that can help you improve your video file to the next level. Since it supports a massive amount of video formats, you won't have to worry about converting unfamiliar video formats to your desired format. Now that you have learned about this best converter, you can now learn the procedures given below:
Step 1. To begin, click on the Free Download button below to start the download process. You have the option of downloading the software from Windows or Mac if you prefer once the download is complete. Before you simply run the program, you need to get it installed on your computer's desktop and click Start Now to get started.
Step 2. Launch the downloaded application. When you first start the program, a window will appear with the Converter interface. This is where you'll enter your video file and begin converting.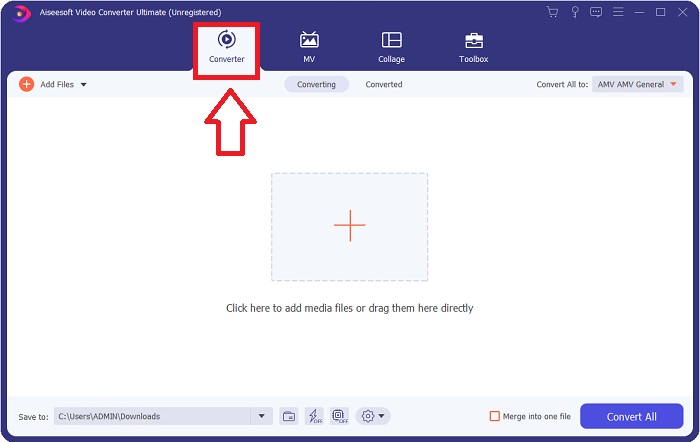 Step 3. Import your files into the converter to begin the conversion process. Drag and drop the video file you want to convert onto the + icon.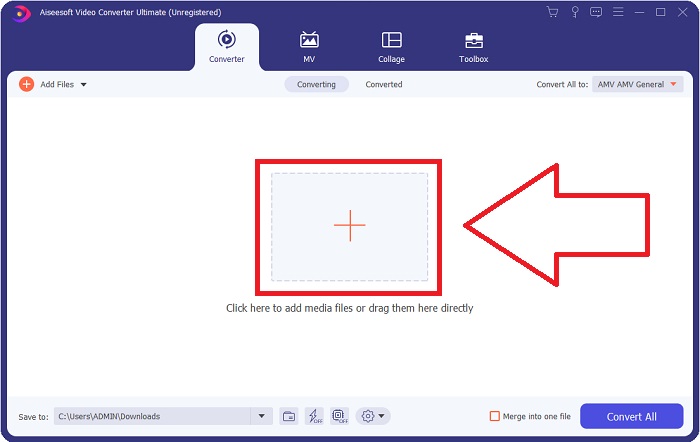 Step 4. Select a video format from the list in the upper-right corner of the screen. Locate and select the MOV file type from the drop-down menu. There are several video qualities options available once you've chosen an MOV format. However, if your preferred video output isn't listed, you can change the quality settings to suit your needs. You can alter the display's resolution, frame rate, and even audio quality by clicking the gear icon. To keep your changes, click the Create New button.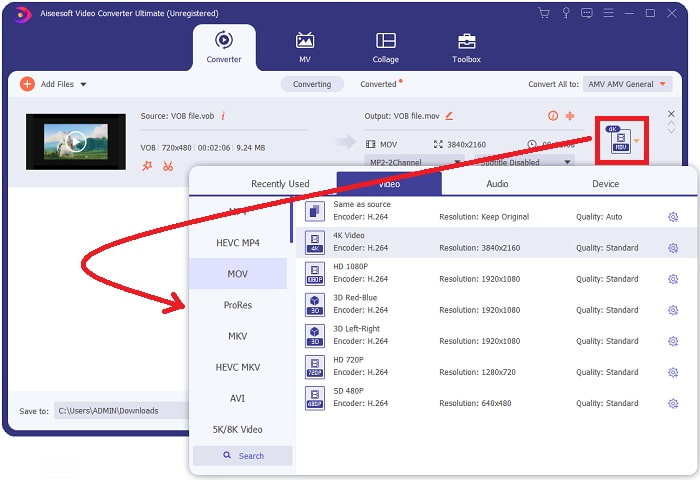 Step 5. Once you've finished editing the video and it's ready to be converted, click Convert All to start the process of transferring it to your computer.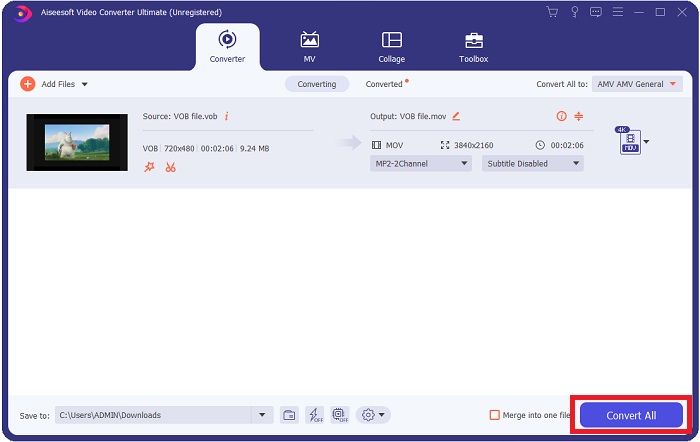 Part 3. How to Convert VOB to MOV [Online]
If you don't have time to download the Video Converter Ultimate, you can also use this online version of the software. Free Video Converter Online is the best online web tool you can access on the internet that can convert many varieties of formats in a fast manner. Other than an online converter, this converter doesn't limit formats it can support. That's why it is recommended to use for some beginner users. To know more about this online web tool, here are the procedures given below.
Step 1. Navigate to the main website of this online converter by clicking on the link here.
Step 2. If this is your first time using it, click the Add Files to Convert button to download the launcher for your computer. It will automatically launch when it has been downloaded once more. Select the file from your folder and click Open after it has been downloaded once again.

Step 3. Before the conversion process begins, select the MOV format from the category list of Video below by clicking on it.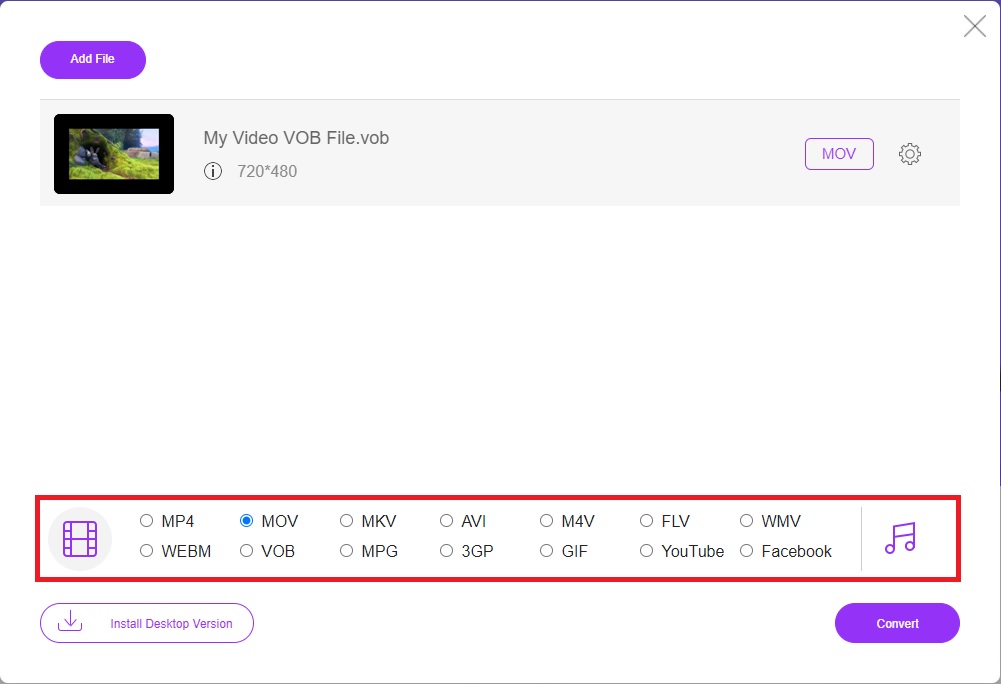 Step 4. After selecting a format, click Convert to begin the process of converting the format to another.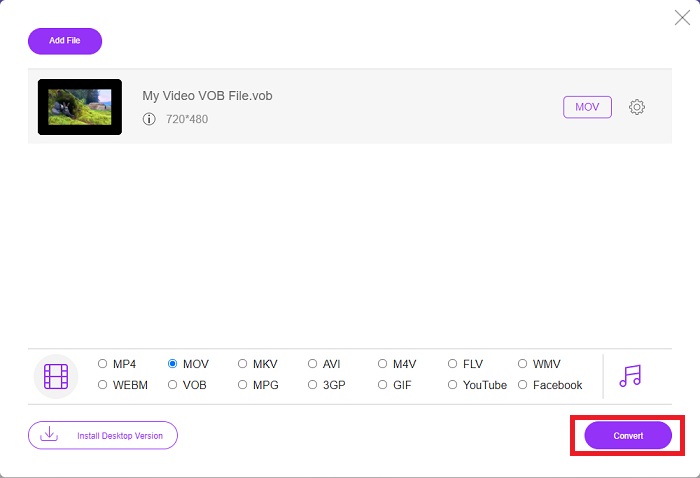 Step 5. After a few minutes, a file folder containing the converted file will appear; simply click on it to begin watching it.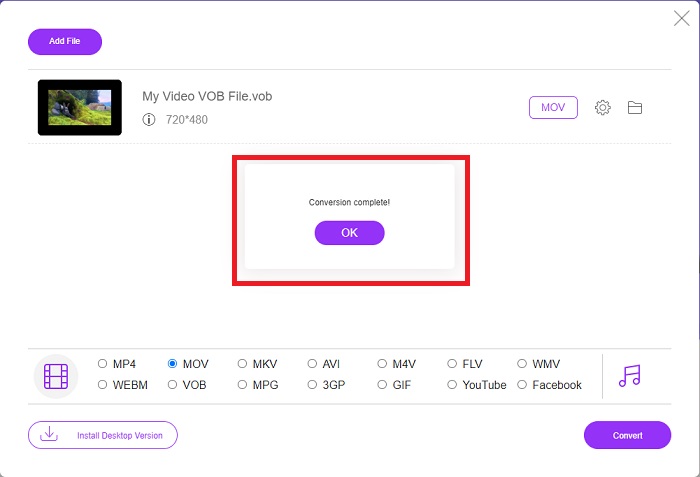 Part 4. FAQs about Converting VOB to MOV
Why are VOB files so big?
There is no reason for the big downloads other than the videos themselves (including audio). Because the video codecs use variable bit length encoding, they are diverse in length. It's, therefore, possible to encode the same number of images into a variety of various file sizes. Click here to learn how to compress large VOB files.
Is VOB the same as DVD?
For video objects, DVD-Video media uses VOB (short for video object). Subtitles, DVD menus, and navigational information can all be included in a VOB file, which is a multi-format file. Encryption is possible for VOB files.
What does the MOV file contain?
It is possible to utilize MOV files to store and synchronize several forms of media, including video, audio, timecode, and text. There are a variety of codecs that can be used to encode a given piece of content. When it comes to compression, MOV files typically use the MPEG-4 codec.
Conclusion
Overall, it is clear to state the differences between the software or online converter given above, and they always have flaws and good qualities in using them. But if you choose to use a very professional-wise and user-friendly converter, the software Video Converter Ultimate is the best recommended to use. As the article said about this video converter, they are nothing compared to another competitor in achieving the standard this software has brought. They can't get to the level of how excellent this software is.