Efficient Way to Remove the StarUML watermark on Your Desktop [Free & Paid Version]
Using an unregistered StarUML to create a model will leave a product watermark once it is exported. Many of us find this problem troublesome, and handling this situation might cause you trouble. Generally, there are only a few ways to remove the product watermark that the unregistered StarUML leaves. So, if you want to know how to remove the StarUML watermark, you can read the detailed information about the ways we added in this article.

Part 1. How to Remove StarUML Watermark With the Best AI Watermark Remover
To present the model you've created professionally, you must know how to remove unregistered watermark in StarUML via FVC Free Watermark Remover Online. This online tool supports AI technology to detect the watermark on JPEG/JPG or PNG without trouble. Speaking of without trouble, if you are a beginner at removing the watermark on images, this tool might fit your needs because it is easy to use, and you can master it on your first try. There aren't system requirements you will need to follow to use this software because it is not downloadable on any devices you have. Want to know how to use this tool? Take a look at the steps we add below to see how this tool's AI technology works!
Steps on How to Use FVC Free Watermark Remover Online:
Step 1. Downloading the tool is unnecessary, so you can click this link to access the official website of the online watermark remover we are talking about.
Step 2. The diagram you've created on StarUML is in the form of JPEG/JPG or PNG, and to upload the diagram with a watermark, press Upload Image. Locate the image file on the folder that will show on your screen.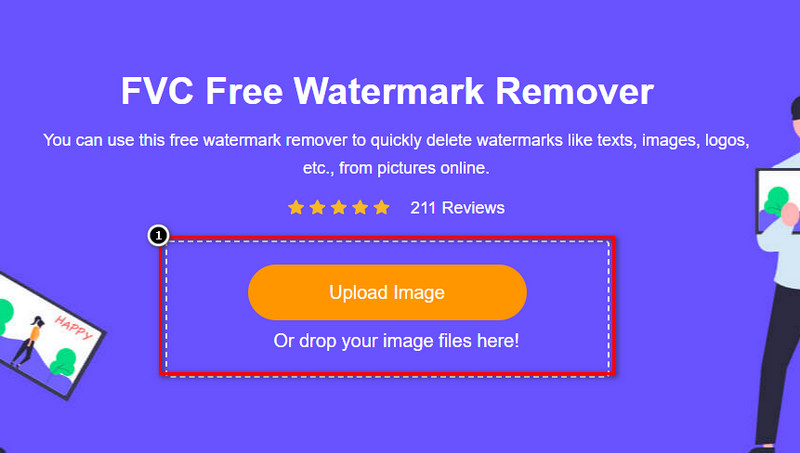 Step 3. Wait for the uploading process. After uploading, there will be a set of tool you can use to highlight the area of the image that has a watermark on it. Click one of the tools, and trace the watermark by drawing it.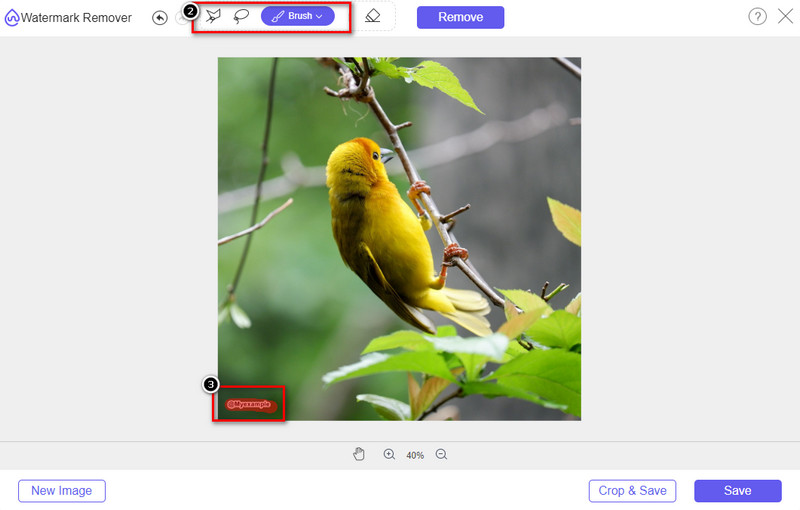 Step 4. Before exporting the image file, click Remove to get rid of the watermark and see what the finished product will look like.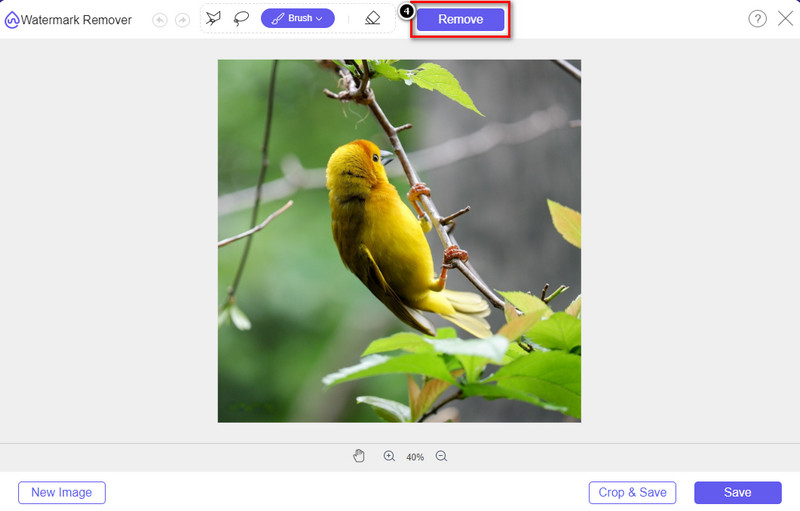 Step 5. Press Save to download the diagram without the watermark of StarUML.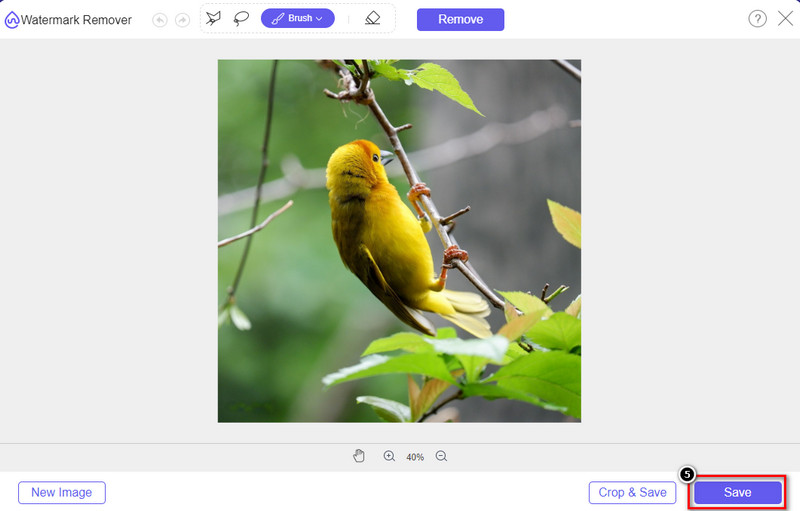 Advantage of Using FVC Free Watermark Remover Online:
◆ It supports different image formats such as JPEG/JPG, PNG, and BMP.
◆ No watermark this tool can't erase.
◆ It is easy to use and does not need to download.
◆ Effective watermark removal you can access on the web without any limitations.
◆ With its intuitive interface, you can master using this tool in a minute.
Part 2. How to Remove Unregistered Watermark in StarUML by Purchasing a Licens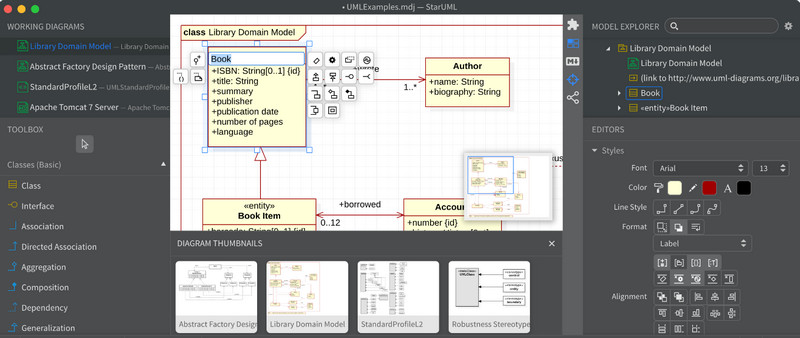 We can't argue that purchasing the official version of StarUML will remove the watermark on the final product. But is it worth purchasing? Before you purchase the tool and the steps we add below, we must know what plans this tool supports. The easiest way to know it is by reading the chart we add below for you and seeing which fits you the best! After that, follow the instruction, and we will add how to remove the watermark in Staruml.
Chart For Individual and Companies Plan Available on StarUML:
| | | | |
| --- | --- | --- | --- |
| Plans and Features Available on StarUML | StarUML V5 Personal | StarUML V5 Commercial | StarUML V5 Site |
| Number of Users Who Can Use It | For Individual | up to 1000 Users Depends on the Requirements | Up to 5000+ users for bigger companies. |
| Free for updates | | | |
| Technical supports | | | |
| Supports Perpetual Plan | | | |
| Commercial Usage | | | |
| Price Range | $99 on a single account | It starts at $129 and can go up if you add more users. | It starts at $9,900 and can go even higher depending on the requirements or members who are about to use it. |
Chart for Students and Educational Institutions Plan Available on StarUML:
| | | | |
| --- | --- | --- | --- |
| Plans and Features Available on StarUML | StarUML V5 Educational | StarUML V5 Educational | StarUML V5 Educational |
| Number of Users Who Can Use It | For Single Users Only | Less than 1000 users | Unlimited Users |
| Free for updates | | | |
| Technical supports | | | |
| Supports Perpetual Plan | | | |
| Commercial Usage | | | |
| Price Range | $ 69 | $69 and go up depends on the number of users. | $4,900 fixed |
Steps on How to Purchase a License Key on StarUML:
Step 1. Open the StarUML on your web browser.
Step 2. Click the BUY to see what other plans are available here.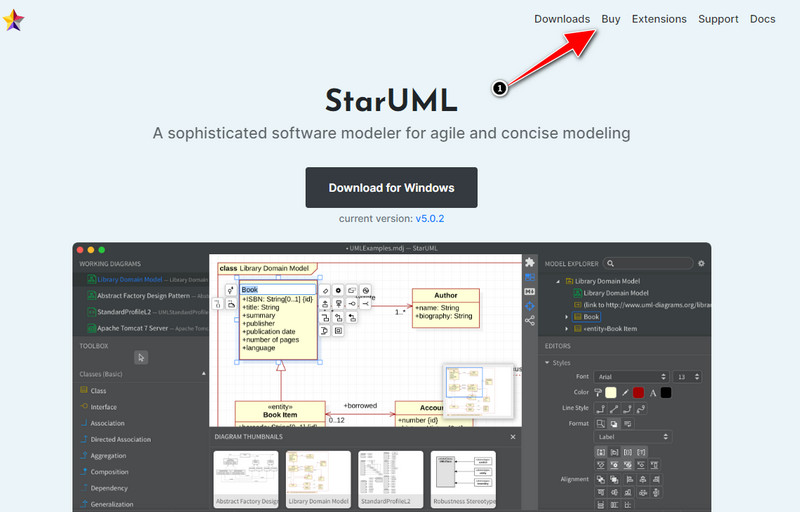 Step 3. Choose which plan you want to purchase and click Buy Now.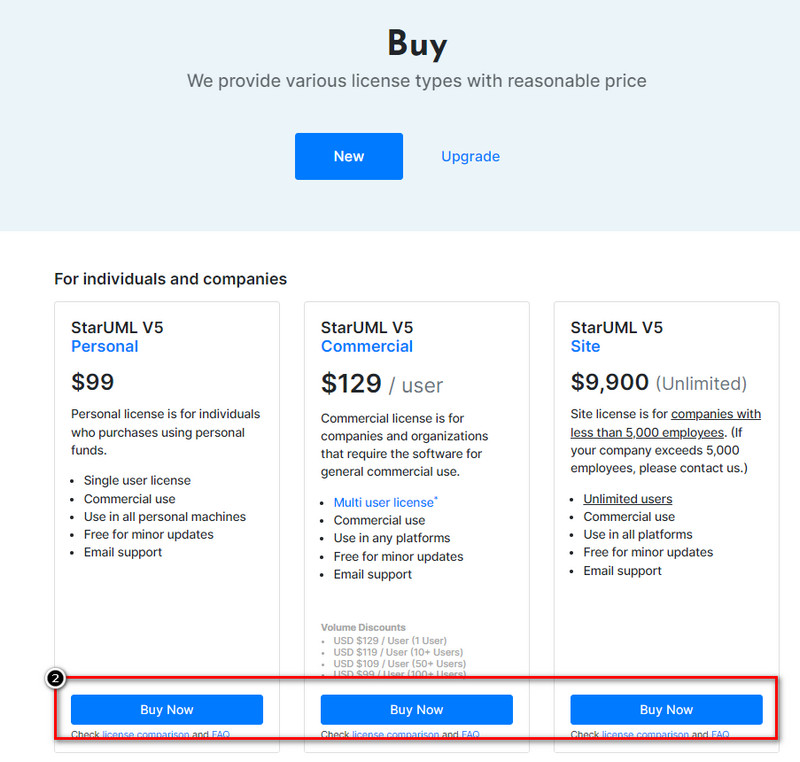 Step 4. Add the information and the billing statement and press CheckOut.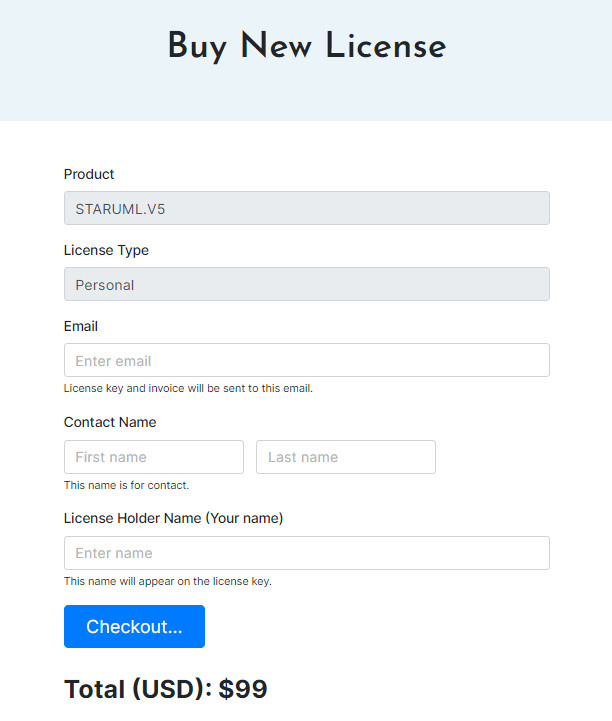 Step 5. Add the order details and the payment method you want to use, then press Next.
Step 6. To pay for it, you must fill in the card details and press Complete Order.
Further Reading:
How to Remove B612 Watermark from Your Images
How to Remove the WOW Slider Watermark for Free
Part 3. FAQS on How to Remove the StarUML Watermark
What platforms do StarUML support?
StarUML is available on Windows, Mac, and Ubuntu or Fedora. So, if you have the said operating system, you can download the version on your desktop. However, you will need to look for its system requirement to see if your desktop has reached its standard.
What can I do with StarUML?
If you are looking for a way to create detailed modeling, then you can't go wrong choosing the StarUML. It is also known to be fast, reliable, and featureful software that could help you create a new model/meta-model.
Is StarUML user-friendly?
Suppose, compared to other software that allows you to create a model with UML; this tool is much easier to use and offers much more. With the reviews of its past users, you can see that they are talking about how easy this tool is to use and how efficiently it works for them.
Conclusion
Indeed, to remove the watermark from Staruml, you can either purchase the software or use a tool to remove the watermark on the image you export in this software. With the steps we add, we can assure you that you will have the final product without the watermark in no time. But which way do you think suits you the best? Is it purchasing or using the tool? We know that not everyone is capable of purchasing the premium version of StarUML. For that reason, you must use the free watermark remover we add. This article has already helped you, so you can return the favor by rating us 5-star below.