Simplified Tutorial on How to Sync Audio and Video in Adobe Premiere Pro
If you are a pro then you've already used the Adobe Premiere Pro as your video editor software that performs really well. A lot of Adobe users really love this software because it provides the best output you would love to insert on your video. But did you know that you can also use this tool to sync your audio with video? So, if you don't have an idea on how to do it then this is one of your lucky days. As we try it for yourself on how to sync it easily. So now, you will not need to read a manual because this write-up makes it simple for you to understand how to sync audio in Premiere easily and effectively with another alternative tool.

Part 1. How to Sync Audio and Video in Adobe Premiere Pro
Before we start, let's have a brief introduction to the Adobe Premiere Pro. As we indicate above, this tool has already been used a lot by the professional editors who love to make amazing videos. However, this tool will take a lot of your time to learn because it provides a lot of advanced features that beginners will not understand. Although learning how to use it will surely take a lot of time, it is worth it to learn how to use it if you have free time. Moreover, the indicated steps below are simpler for you to understand to learn how to sync audio and video in Premiere if you follow the steps below.
Step 1. First, you must buy the tool first and download it on your computer drive. Launch it after the downloading process has already been taken in place. Then click the File and under it is the New then click the Project to proceed then press OK on the new interface will be going to pop-up.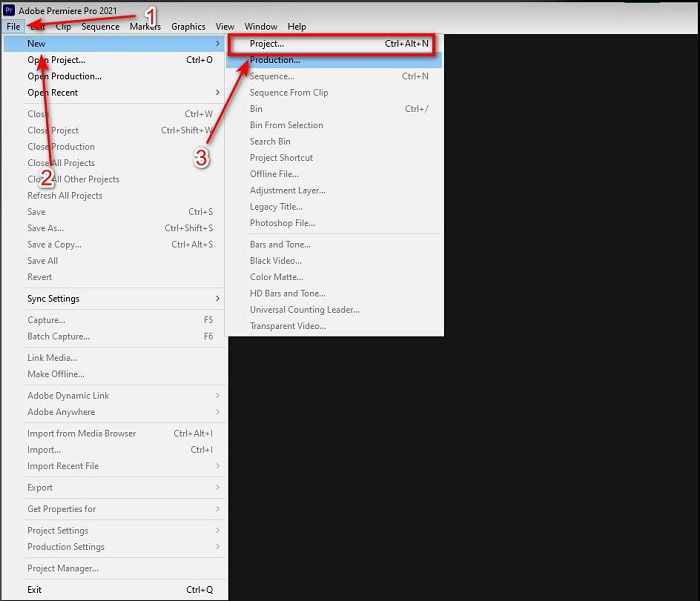 Step 2. And add the same video and audio to the Timeline twice. Then click the Toggle Track Output of the second video and mute the second by clicking the Mute Track. Adjust the audio track to make it sure that it will sync with the video.

Step 3. Re-click the File above and locate the Save to finally export the media file into your computer drive.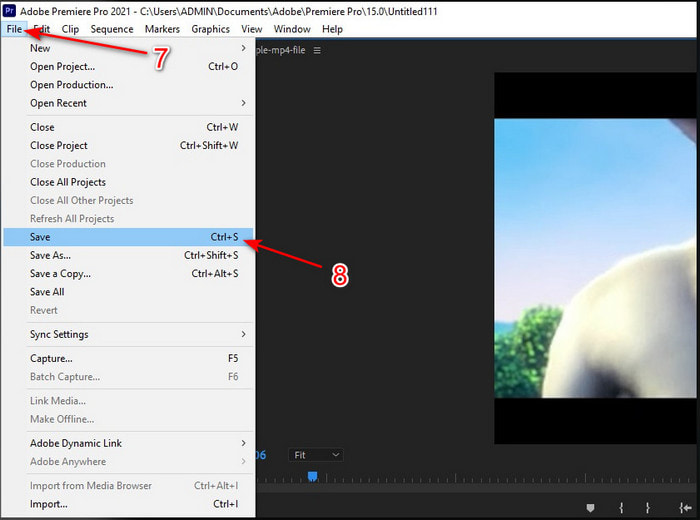 Pros
This tool provides an advanced editing feature.
Top of the line editor you can download.
Best choice to have a professional output.
Cons
Not the best choice for the starter who doesn't have an idea on editing.
The software is totally expensive compared to the other editors that provide the almost same feature.
Part 2. Easiest Method to Sync Audio for Beginners & Pro with the Video Converter Ultimate
Just like Adobe Premiere Pro this phenomenal converter also produces high-quality and advanced editing features that you would love to use. But this is way easier to use compared to the premiere pro. The Video Converter Ultimate is the best friend of the editors who loves to make a video, enhance, boost, create Gif and more. This software specialized almost all of the internet user's problems even in syncing. And because of how easy it is to use, more than a million users have already downloaded and fell in love with it. So, if you want to make your life easier instead of using premiere pro sync audio why don't you use this? Follow the step below.
Steps on How to Sync Audio and Video with the Video Converter Ultimate:
Step 1. Download the software on your computer and choose whether it is a PC or Mac. Install it later on, do the set-up and click the Start Now to proceed.
Step 2. Launch the tool after the first step and go next to the Toolbox section and press the Audio Sync in the lower part.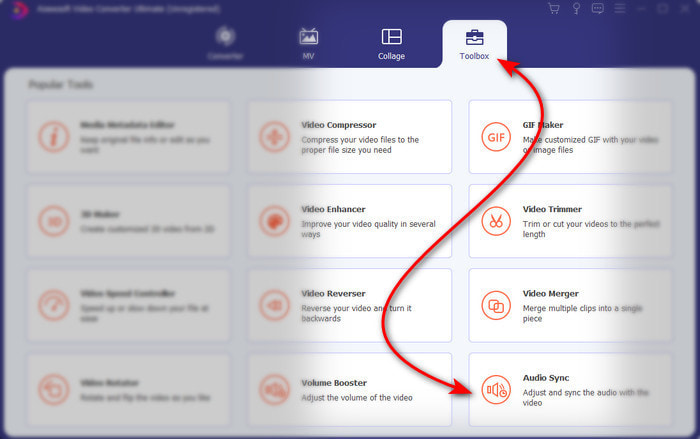 Step 3. Press the + button to insert the video and audio you want to be synced. After locating it on the folder click Open to proceed.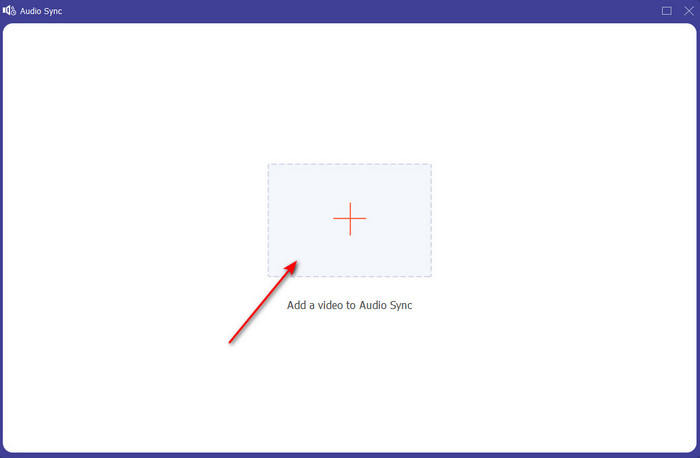 Step 4. To make the audio sync adjust the Delay slider to match it with the video. In addition, you can also boost the audio there as well by adjusting the volume slider. After it is done click Export to save the final output.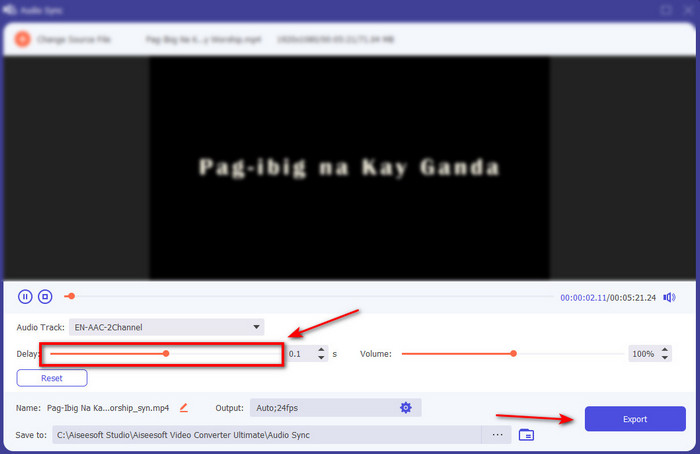 Step 5. After it is done, a folder will be going to show on your screen with synchronized audio and video you've made. Click the file to watch, play and enjoy the audio-video in sync.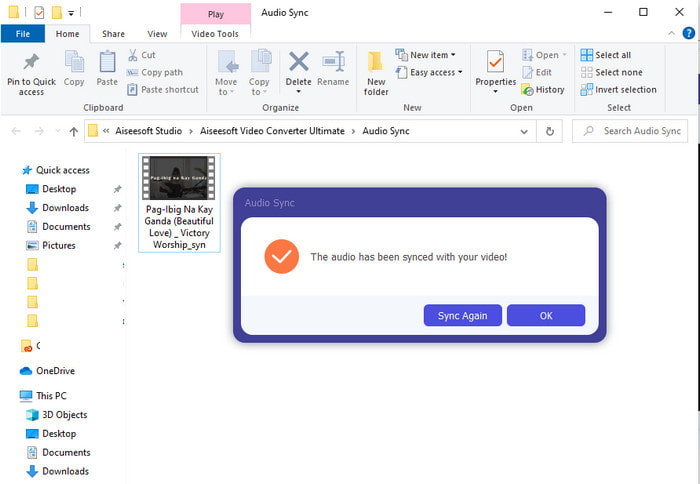 Pros
Best choice to make your video look phenomenal.
The overall experience while using this tool is literally ultimate and yet easy to use.
It is available in all platforms whether it is a PC or Mac.
Cons
Just like premiere pro, this tool is paid, however it is much cheaper than the premiere pro.
Need to be downloaded into your drive first before you can access it.
Part 3. FAQs about Audio and Video Sync in Premiere
Can I use the Premiere as a screen recorder?
If you're trying to record a screen on the Premiere pro then you must surrender now because you can't do it here. However, we can tell you a secret screen recorder you can choose on. So, if you want to know what are the Top 5 Best Screencasts you can use on PC, Mac, online, iOS, and Android.
Is Adobe Premiere Pro free of charge?
Actually, it is a yes, you can download this tool for free but you can only access this tool for 7 days in trial. So, if the trial has ended then you must subscribe to the Adobe Premiere Pro again to enjoy the full capacity of editing features this premiere pro provides.
Can I use another website to download premiere pro?
No, because it is illegal to download all of the apps with the other website. Also, if you use another website to download the premiere pro then there is a chance that it will carry spyware, virus or even much worse. So, if you want to secure your safety then download the software to the official main websites only.
Can I buy a lifetime access on Adobe Premiere Pro?
Although you can buy a monthly access on Adobe Premiere Pro still you can't buy a lifetime access on it. But you can buy it with another website, however, that is illegal and there will be a chance that the file you will be going to download is corrupted, has a virus on it or is a scam. So, if you want to use and buy the Adobe Premiere Pro we suggest everyone to buy it on its main website.
Conclusion
After 5 minutes of reading this article, we already know how to use the Adobe Premiere pro to sync the audio to the video. However, there is a simpler way to sync it by using the Video Converter Ultimate. As this tool delivers much faster in adjusting the un-sync video and audio while having the best quality. So now, if you have a lot of money then go with the Adobe Premiere Pro but if you want to save a lot while having the same function then your go to must be the Video Converter Ultimate.