Review of iMazing HEIC Converter and Its Best Alternatives to Use on Desktop
With the birth of HEIC and the adaptation of Apple Inc on the image format, there isn't a problem with it. Even though the format became the new standard image format for Apple devices such as iOS and Mac, there are still drawbacks that this format has: compatibility. With an issue like this arises, you might need a converter on your iOS or Mac devices to convert the format into a compatible format such as JPEG. Yet the converters available on the market are too vast because they have different functions and features that you might need on your converter, like the iMazing. So, today we will do a review for you about the iMazing HEIC converter to help you understand what this converter can offer you and the best alternatives you can use on Windows and Mac.

Part 1. Complete Review about iMazing HEIC Converter
iMazing is software dedicated to transferring data on the iOS device into a Mac or vice versa. Even though you don't have experience handling moving the data, still by using this software, you won't need to watch a tutorial on how to do it. Other than its transferring capability, you can use this software to change the format of your HEIC into a new format that is more well-suited than the said image format. But what makes the converter special from the other converters you can have on your desktop? To answer that question, hereinbelow, we will do an iMazing review in a much more detailed manner, and later we will teach you how to use it.
Key Features on the iMazing Converter:
◆ It supports drag and drops features to upload the HEIC file here easily.
◆ With a converter like this, you can upload your HEIC in here then change the extension into a JPG/JPEG or PNG if you want to.
◆ It supports adding multiple files to the queue list and converting them all in your chosen format.
◆ With an interface like this tool have, you will not need to worry about the learning curve because any user can manage to convert their HEIC file easily.
◆ Other functions are available such as transferring the information from your Apple device to another Apple device in a few clicks away.
Pros
Uploading your HEIC file here is much easier than the other software.
You have the option to convert the image into JPG or PNG.
Download the software on your desktop or iOS devices if you want to try using it.
Cons
There is a great chance the conversion of HEIC into the choice of your will fail because the reason behind it is still questionable.
Batch converting isn't supported on every iPhone device, but this feature is available on the desktop version.
You can't adjust the color saturation, brightness, gamma, and other functions to improve the image.
Tutorial on How to Convert HEIC to JPEG or PNG with iMazing HEIC Converter
As we did an iMazing HEIC converter review, it is now clearer if it's the best choice to change the format of HEIC into a JPEG or PNG. So if you want to know how to use the software at this meeting, you must read the tutorial we add below to know how to convert HEIC file format.
Step 1. You can freely download the software on the official website of iMazing you can find on your browser.
Step 2. Press the File then Open File and select the HEIC file you want to convert and click Open to insert it.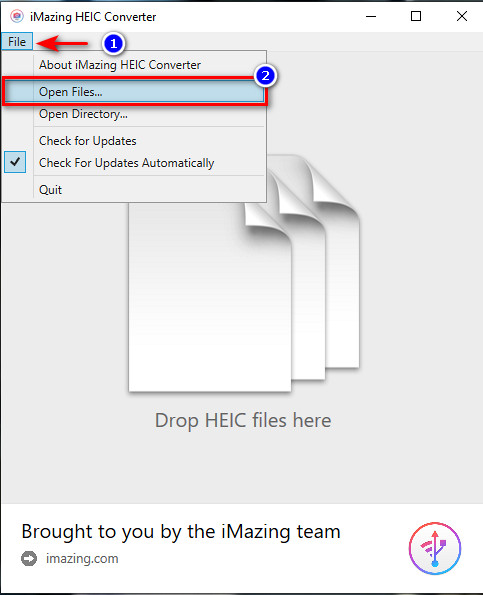 Step 3. Click the drop-down button and pick the JPG or PNG, then click Convert to start the converting process.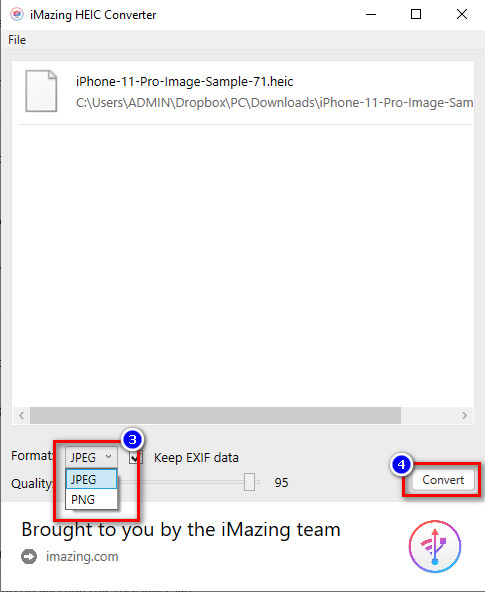 Part 2. 2 Best Web Alternatives for iMazing HEIC Converter
FVC Free HEIC to JPG Converter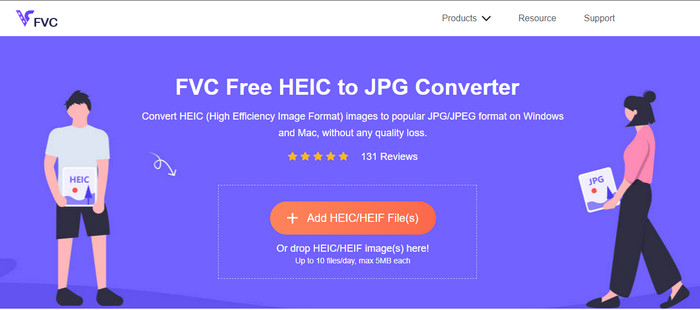 With the best iMazing alternative on the web, FVC Free HEIC to JPG Converter is a must to use. Even though you don't like to decompress the file or download and install, you won't experience any of it if you use this software. Instead of doing the set-up like what you need to do on iMazing this tool will save you from it because you only need to search then convert. Amazing right? Same as the converter above, you can easily use this software to change the image format into a format like JPEG.
Although the web tool is great, it only supports JPG as an output format, so you can't choose which format you want. Also, you have only ten chances to convert HEIC into a JPEG per day and make sure that the image you have is less than 5MB. It seems like a problem, but to tell you the truth, this isn't a problem, but it is an advantage for us, especially if you need to convert a HEIC file to JPG right away. If you want to use the web tool, click the link above to open it on the new tab.
Freetoolonline.com

Freetoolonline.com is an open-source converter you can access online, and it depends on the internet connection you have. With a straightforward web tool like this, uploading and learning how to use it became more accessible without additional resources. Unlike iMazing this tool is compatible with any desktop device because it is available on different browser platforms. However, the GUI of this tool is far different from the first-mentioned HEIC converter online and the iMazing HEIC converter.
Despite being open-source and free from ads, the online software doesn't work well on batch conversion. Although it supports the function it provides isn't outstanding like the iMazing. But if you want to use this online tool, you can search the software, but you will notice that the background image on the interface is changing automatically.
Part 3. FAQs about the iMazing HEIC Converter
Is iMazing safe to download?
Absolutely yes, downloading the iMazing HEIC Converter is completely safe. We try to download the software on their official website to test it out and provide only strong evidence about the software. Yet it would help if you kept in mind that there are still many fake websites that use iMazing popularity to hack other computers. To avoid this, you must check the internet connection to see if it is protected and download it only on its official website.
Can I download iMazing on Windows?
So far, the software is available on Windows and Mac, but the feature it provides on Mac is better than the Windows. So, if you intend to use the software and try its full potential, we suggest that you download it now on your Mac device and not on Windows because its version on Windows looks like a free trial.
Is there any other software that performs better than iMazing?
According to our research, Aiseesoft HEIC Converter is a straightforward software you can download on your Windows or Mac better than iMazing. If you want to know more about the best HEIC converter you can use on your desktop, you must click this link to open a new article indicating all the information you need to learn.
Conclusion
With your composure to finish reading the iMazing review we did, we can say now that we have a better understanding of it. If you need to know the functions or key features of using iMazing, the list above will tell you everything. However, if you don't want to download software on your drive because it ads space, you must choose one on the web tool. You can try them out if iMazing has a big file size that the drive can't carry. Whatever option you will chose then you must not worry about everything especially on converting the HEIC into a JPEG.