How to Import HEIC File in Lightroom on Windows & Mac Effectively
Suppose you are interested in improving the HEIC image or organizing it. In that case, you can import HEIC to Lightroom and do all of the arranging and editing at ease. You can easily upload it here without downloading an additional codec for HEIC to view or edit with this software. So if you need a guide that will teach you how to import the HEIC file in this software, you can read and follow the Windows and Mac ways we include in this write-up.
Without further ado, let's read the following details to know how to do it, and if Lightroom failed to import the HEIC, there is a way we also add it here. But before anything else, you must download the software on your Windows or Mac before reading the following details.

Part 1. How to Import HEIC into Lightroom on Your Windows 10/11 or Updated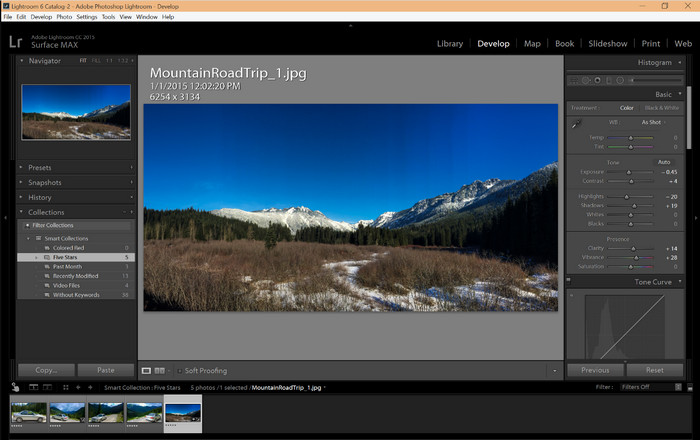 Lightroom supports an updated Windows version; this part is for you if you download the software on your Windows OS. You wouldn't need to worry because Lightroom can open HEIC files effortlessly by following the tutorial below.
Step 1. Download the software on your Windows 10/11, then install it and open it to proceed.
Step 2. When the software is already running on your system, click the + button, press the Browse, and select the HEIC file you want to import here.
Step 3. After selecting them, you can now view the HEIC files using Lightroom on your Windows 10/11.
Part 2. How to Open HEIC Photo in Lightroom on Your Mac 10.13 or Up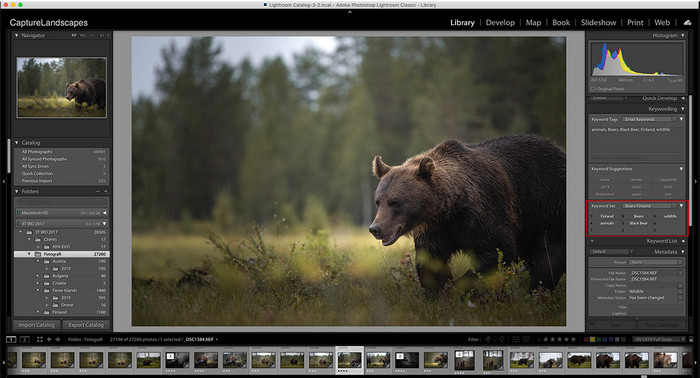 Even without Lightroom, you can effortlessly view the HEIC file, especially if your Mac version is High Sierra 10.13 or the newer on Preview. Although Preview supports editing features, it is not enough to use for complicated editing, like what Lightroom can provide to you. Also, you won't need to fret about it because Lightroom does support HEIC files to edit or organize them on your Mac.
Step 1. Install the software on your macOS 10.13 or higher; if the version of your operating is lower, then expect that the software won't open. After you download Lightroom on your desktop, you must now open it.
Step 2. In the upper part section, you will find different menus and the name of Lightroom on the upper-left side, which means the software is already open. Press the File menu and proceed to the Add Photos, or you can use a hotkey on your keyboard instead by pressing Command + Shift + I.
Step 3. A folder will show on your screen; select the image you want to import and click Review for Import.
Part 3. Lightroom Failed to Import HEIC File | Best Solution to Solve Unsupported HEIC Problem
Many users had trouble uploading the HEIC file because of compatibility with software like Lightroom on Windows and Mac; even with the help of the methods above, it is still impossible. But no need to feel sad because there is a way to make your HEIC file import on Lightroom by converting HEIC to JPG with the help of the best tool on the web.
FVC Free HEIC to JPG Converter is the solution you must use to convert the HEIC file on your Windows and Mac without the software downloaded. A web tool like this can turn your un-supported format into a standard one like the JPEG. You can upload the image efficiently on Lightroom without experiencing an unsupported format. In addition to converting HEIC to JPG, you can also upload multiple HEIC images here and convert them all simultaneously to support batch conversion. Amazing right? Do you want to know what amazes us more? Well, you can do a speed-up conversion for free. If you want to fix the unsupported problem you encounter on HEIC, follow the indicated steps below to know how to convert the format.
Easy Steps on How to Change the HEIC Format to JPG Using a Web Tool:
Step 1. FVC Free HEIC to JPG Converter by clicking this link, you can open the main website of the converter on your favorite search engine. No need to worry because it is safe to use, and there aren't any ads that could be pesky on the web interface.
Step 2. Click the Add HEIC/HEIF Files to upload the HEIC image that Lightroom can't open here. Alternatively, you can drag and drop the file here instead of selecting them in the file folder.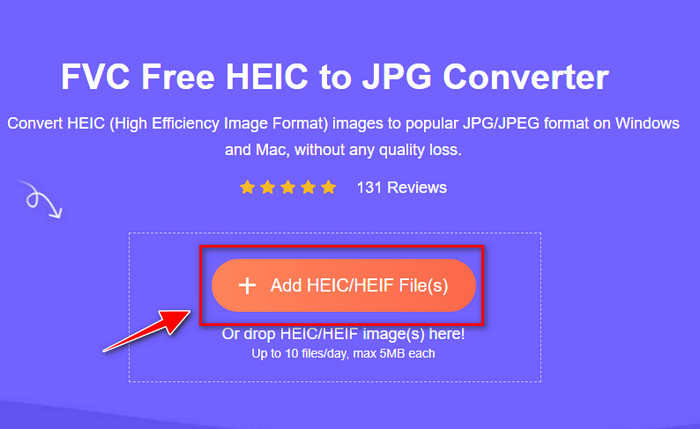 Step 3. A Download button will show up if the progress bar is complete; click it to save the newly converted HEIC file on your desktop. After that, you can now import the file on Lightroom without accepting a dialogue box that says unsupported or corrupted.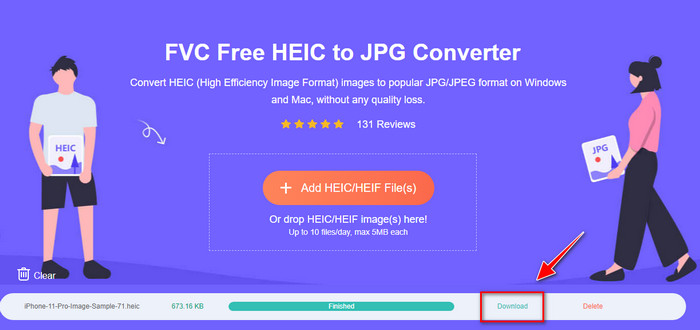 Part 4. FAQs on Importing HEIC in Lightroom
Are there any limitations on importing HEIC files on Lightroom?
Up to this point, you can import HEIC files on Lightroom as many as you want. It doesn't have any limitations on uploading this type of format on Lightroom.
Is Lightroom free on Windows and Mac?
Unfortunately, Lightroom on Windows and Mac isn't free, but you can download it for free on your Windows and Mac. Although the software isn't free, you can take advantage of using the free trial it supports for 7-days. If you feel that you will need the software for a long time, you can subscribe after the trial period.
Does exporting a HEIC file on Lightroom will leave a watermark?
Luckily, Lightroom doesn't add a watermark to the image you've uploaded here. But you can add a watermark if you want to add one. So, if you are going to post the picture on the internet, then we suggest that you add a watermark on it so that it has protection from the people who will try to steal it.
Which is better for image editing? Photoshop or Lightroom?
It depends on your demands; with the help of Adobe editor Photoshop and Lightroom, you can easily make your image better in looks. Suppose you want an easy-to-handle image editor. In that case, Lightroom is a choice that you must pick for it is the best image editor for enhancing the image you have. But if you want to do more detailed image editing, Photoshop is your editor that fits every professional editor's needs.
Conclusion
With the help of Lightroom, you can easily edit the image you have or organize them accordingly to make them look neat. So, if you want to import the HEIC file on Lightroom, you can follow the steps we add whether you are a Windows or Mac user. But if you encounter trouble importing the HEIC file, read part three as we solve it to make it compatible with Lightroom. You can now proceed with editing it. We hope that this write-up gives you an idea of how to import the file; if you have other suggestions or recommendations, you can leave us a message.