How to Print HEIC Photos with a High-Quality Image Output in a Minute
Despite having less support for other devices, Apple still declares that it will use the HEIC format to take a quick snap and store the image with a hyperspectral image that will cost you nothing but save you space. Regardless, if you want to print, view, or transfer an image to another device that isn't Apple-related, you will only get a notification of unsupported. But if you are a Mac user, you can quickly learn how to print HEIC photos with the same quality you can have on the raw file. So, if you want to know the steps on how to print it out, you must continue reading the following details.

Part 1. 2 Effective Ways on How to Print HEIC Photos on Mac
As we explore and try out how to print HEIC photos on Mac, we notice that there are two ways you can do to make a hard copy of the HEIC file without converting the format. So, if you want to know how to make a hard copy of the HEIC image you have, you must keep reading the two methods below.
Kindly check if the printer is installed correctly to the Mac and troubleshoot it before proceeding to the steps. IF everything is ready and prepared, then you must now proceed.
1st Method: Using a Shortcut Key
If you want less click, you must use the shortcut key to print an image on Mac. Follow the steps and the keys we click b to effortlessly print the HEIC file on your Mac.
Step 1. Click the HEIC file that is stored on your Mac and open it.
Step 2. After you open it, click the Command + P key on your keyboard.
Step 3. And on the printing dialogue box, you can see the preview of the image and you can adjust the printing status; click Print to make a hard copy of the HEIC image with high quality.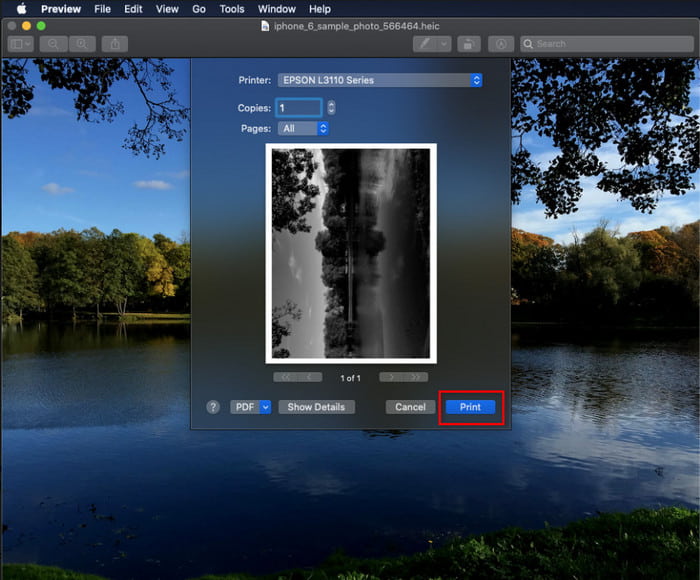 2nd Method: Using the File Menu
If you think that the shortcut key can't help you print out the document, you must try using the File menu. With this menu, you can easily click the print button and make some changes before having a hard copy of the HEIC image. Let's start printing the HEIC you have on your macOS without using shortcut keys without further ado.
Step 1. Open the HEIC file on your Mac before you do anything else.
Step 2. On the upper-part section, click the File menu, and a list of options will show on your screen. Now choose the last option, and that is Print.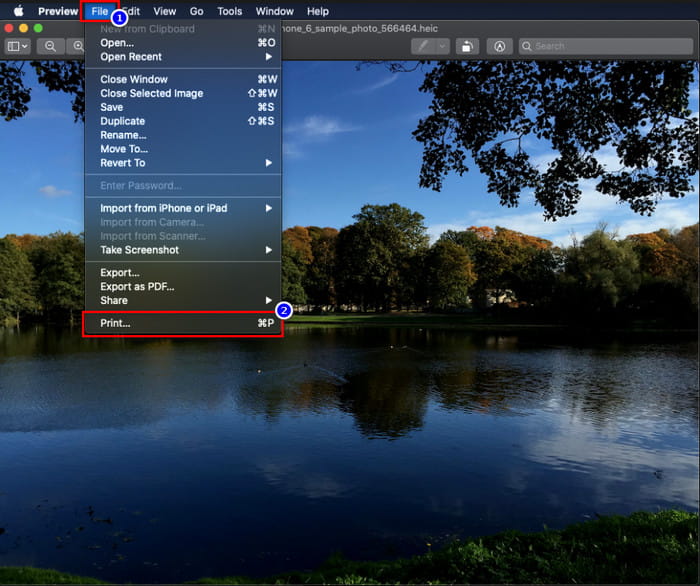 Step 3. Now you will see on your screen that the printing dialogue will open. In the middle part of it, you will see the sample HEIC file you have if it became a hard copy, and on the other side, you can do some tweaking before you print it out. After everything is settled up, click Print to start printing the document.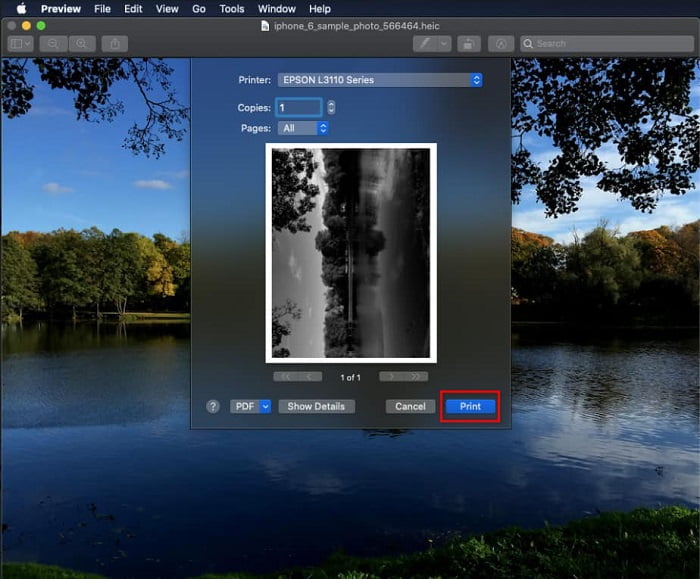 Part 2. Why Can't I Upload My HEIC Photos for Printing?
Are you one of the users having a hard time handling the HEIC file because you can't make a hard copy of it? In that case, let us introduce a specific web tool that could help you solve the problem: the FVC Free HEIC to JPG Converter. This web tool can turn your HEIC to JPG at ease. You can now easily upload the file on printing by changing the format to JPEG because the format became more recognizable than the HEIC. Although you are limited to converting up to ten times per day with 5MB or less, it is still a dependable web converter even with that limitations. So, let's not consume any more time and dig into the steps on how to use the best open source web converter at your reach.
Step 1. You can click this link to access the web converter, and a new tab will open promptly.
Step 2. Insert the HEIC file by clicking this button, locate the HEIC file on your folder and click Open to upload it fully.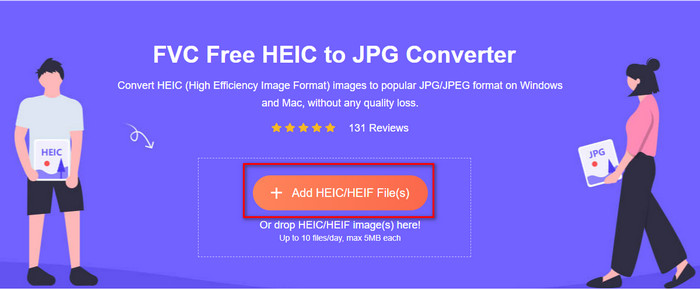 Step 3. The process of converting will begin shortly and after that, click Download to save the file on your desktop. It is now ready to be printed as easily as you can make copies of the HEIC image on your printer with the same quality as the raw image file but in a different format.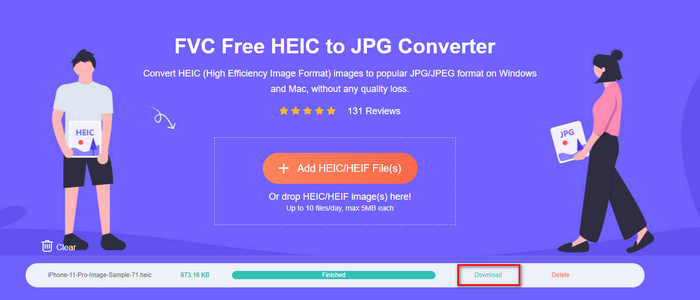 Part 3. FAQs about Printing HEIC Photos
Can I print HEIC photos on Windows?
Sadly Windows doesn't support HEIC, so it means it can't make a hard copy of the high-quality HEIC. But don't lose hope because we include a way to convert the HEIC into a recognizable JPEG format in part two. You can freely read it to know how to do it, then print the HEIC file you have on Windows, but the file extension is different.
Why doesn't the printer recognize HEIC?
Because of the compression and the structure of the format, although it can contain high-quality images in smaller file sizes, smaller than JPEG, it is still hard to recognize because it is newly introduced in the market. But you can still convert the format to the most compatible image format that every printer can realize, and that is undoubtedly the best hi-res image that is still in use up today, and that is the JPEG. If you need a converter, we add one above, but you can click this link to know the other tools you can use to convert HEIC to JPEG as we review all of them for you.
What is the HEIC file?
Moving Picture Expert Group developed HEIC that could be the alternative standard image format for JPEG or JPG. Even though they built both formats, they are still different; if you want to know more about what HEIC is, click this link and read the details as we researched it.
Conclusion
So now that we've got the idea of how to print HEIC photos with the steps above, it becomes possible for every Mac user to make a hard copy of it. However, if you are a Windows user, you can't manage to print a single HEIC image on your printer because the format isn't supported on Windows. But this doesn't mean that you'll lose hope of printing out the HEIC image. Although we can't help you print the original HEIC file, it is still possible if you convert the format first into JPEG/JPG before you publish it.
In part two, we include the best online HEIC to JPG converter you can access on the web, and it is also free from the virus. Still not sure if it can do the job of converting correctly? Then why don't you give it a try by clicking this link? Surely you will be impressed because the tool can convert the HEIC files you have effortlessly.