Step-by-step on How to Add Album Art to MP3 Using the Best Software on Desktop
Prefixing album art can become handy, especially if you want to help the listener feel more attached to the music they are listening to. With this album art, users can glimpse an idea of what the music is all about, chiefly the digital ones. In some scenarios, MP3 doesn't have a proper album art or isn't attached to the file. If you experience the same thing, it is essential to learn how to add album art to MP3 music on your desktop. To know more about this topic, keep reading this article as we provide compact knowledge about the problem.

Part 1. How to add album art to MP3 with Video Converter Ultimate [Recommended Tag Editor]
Are you looking to use ultimate software to add album art to MP3? FVC Video Converter Ultimate is the recommended tag editor in this task. This software isn't recommended for no reason. Unlike other software, there are limited album art formats you can upload and use as a cover for your MP3 music, but not with this tool. With this ultimate software, you can add the album art on your MP3, WAV, WMA, AAC, FLAC, and 1000+ video and audio formats. Amazing right? This tool is the first choice for adding an image cover to your album. Do you want to know how to use the ultimate software? In that case, you can read and follow the demonstration thoroughly we include below.
Step 1. Click the download button below, choose which operating system you currently use. After downloading the software, proceed to install the tool. If all is done, click Start Now to launch the software on your desktop.
Step 2. Proceed onto the Toolbox section click Media Metadata Editor under it.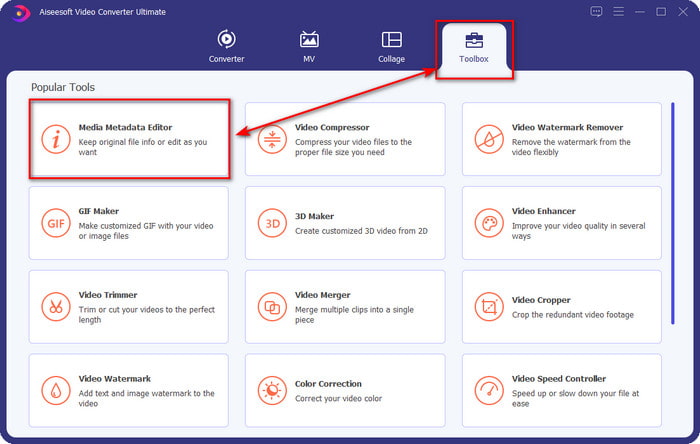 Step 3. Select the music file you want to add album art to by clicking the + button. To insert the music file you've selected, click Open.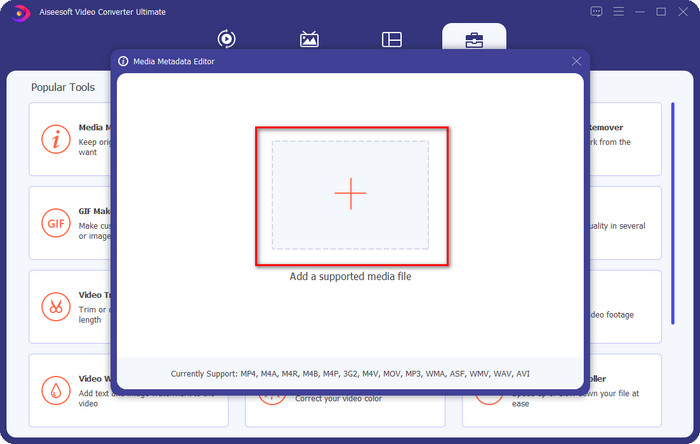 Step 4. Next, click the + button on the left lower left side of the interface, find the album cover you want to use, and click Open. Add the other metadata you want on the textbox if you need it.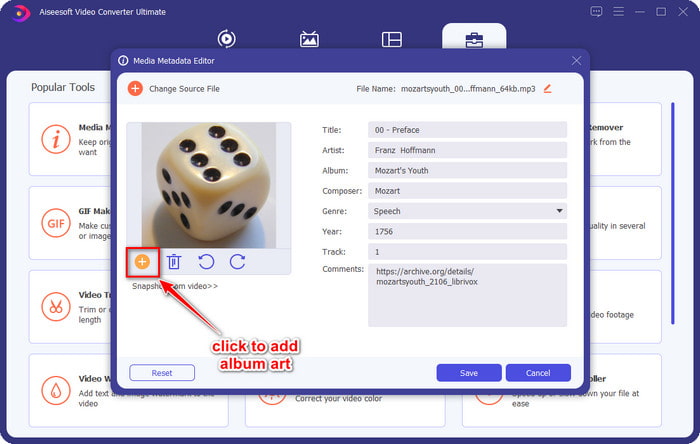 Step 5. If you are finished adding the album art and the metadata on the MP3 file you have, you can now click Save to attach the album art to the MP3 file you've uploaded. Easy isn't it? Everything becomes possible and easy if you use the ultimate tool to fix the problem.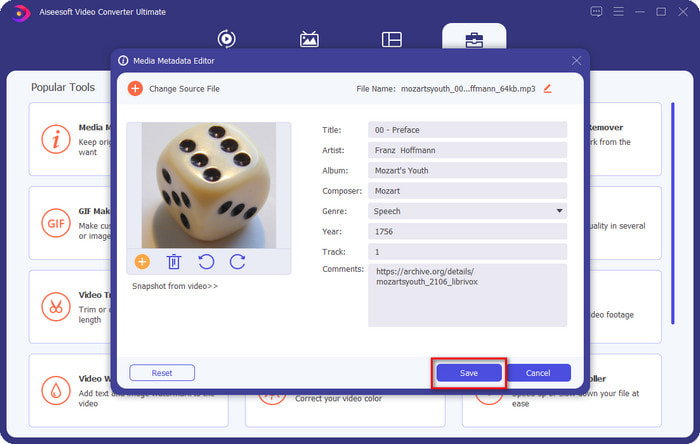 Part 2. How to Add Album Art to MP3 Using VLC Media Player Free Metadata Editor]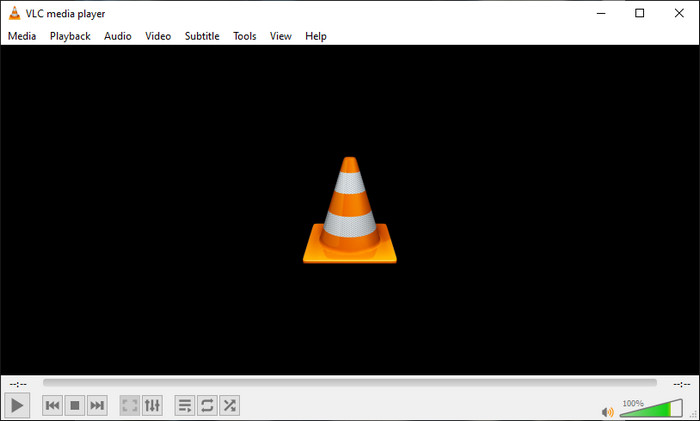 VLC Media Player is the best media player that most of us have. This tool can play any video file, and it is capable of editing metadata as well, like adding album art to the music file. With this media player, you can freely adjust or add metadata. If you want a tutorial on adding album art to MP3 on Windows 10/11 or Mac with this tool, the steps below are for you.
Step 1. Download the media player on your desktop and open it.
Step 2. On the main interface, click Tools, and under it, click Information.
Step 3. Right-click the VLC icon on the bottom right corner, add the album art, and click Save.
Part 3. How to Add Album Art to MP3 in iTunes [Built-in Metadata Editor on Mac]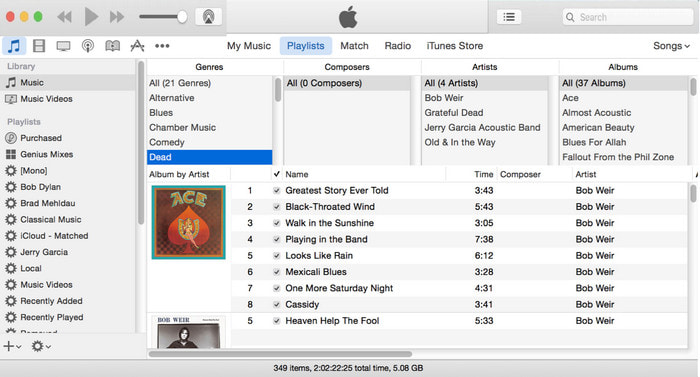 For Mac users, iTunes is our go-to metadata editor to add the image cover on our MP3 file. This built-in app can help us edit the metadata on the file that we have on Mac. However, the software is currently unavailable on some Mac versions because it is now changed into three separate apps that perform the same as iTunes. But on some Mac with the older version. If you are one of the Mac users that wants to know how to add album art to MP3 on iTunes, you can follow the steps below.
Step 1. Open the iTunes application on your Mac.
Step 2. Click the Music then Library and right-click the music file that doesn't have album art.
Step 3. On the options above, click Artwork, then Add Artwork, select the image you've want to upload, and click OK to apply it.
Part 4. FAQs on How to Add Album Art on MP3
Can I add album art to MP3 on Audacity?
Unfortunately, you can't add the image art on the MP3 file you have using Audacity. This tool doesn't support any image or video format because this is intended to use as a music editor. But you can still use Audacity as a metadata editor if you want to edit your MP3 metadata.
Why my album art is missing from my audio file?
There are three reasons why your album art is missing from your audio file. The first reason is that the file you've to download doesn't include album art, especially if this is piracy. Most of the music file we've downloaded on the web doesn't come up with album art to avoid copywriting issues. Next, the file went missing because the image wasn't properly attached. Some users encounter this problem, and it is difficult to handle it, so using a professional album art adder is essential. Lastly, the image is corrupted; if the file you've uploaded is unavailable as album art or the music file you've is corrupted, this might be the reason behind it.
What is the best metadata I can use?
If the metadata editor we provided above is limited, you can click on this link to go to a new article to gather all of the best metadata editors you can use.
Conclusion
Now that we have the idea of adding album art on MP3, it is time to choose which tool we think suits us the best. If you are a Mac user and don't want to download any software on your desktop, you must choose iTunes. But iTunes is phased out on the updated version of Mac. If you want to download a free tool that can help you add the cover to your music, then VLC is a great choice. However, the tool is not a professional tool. So, if you want expert software that can accommodate you in this task available on both operating systems, Windows and Mac, then use the ultimate software. Download the software on your desktop to have the professional tool at your reach by clicking the download button presented above.