What Is Apowersoft Free HEIC Converter and Alternative HEIC Converters to Use
Since Apple introduced the newly advanced HEIC image format, many of us have loved it because it can contain a hi-res image while having a decreased file size. Although the ability to compress the file size is impressive, we shouldn't put aside that the image format is new, and all of the platforms that are non-related to Apple don't support it. So, if you want to make the HEIC file well suited to the receiver, you will need to convert the format into a JPEG, mainly if the receiver isn't an iOS or Mac user. With the help of Apowersoft Free HEIC Converter, you can handle the task quickly, but before downloading it, here is a review of the converter that you need to read first to help you decide quickly.

Part 1. Complete Apowersoft Free HEIC Converter Review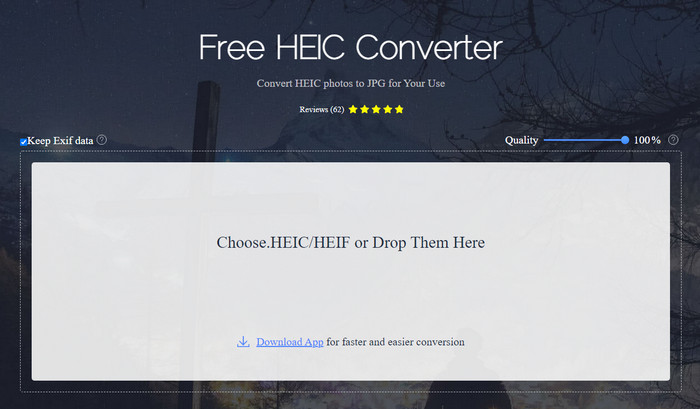 As the name proposes, Apowersoft HEIC Converter offers you a chance to convert your HEIC file into a compatible JPEG format for free. Instead of downloading an unreliable converter on your desktop, you can use this right away without downloading or installing additional resources. Accessing the web tool is safe because your connection is protected while you're on its official website. And you can efficiently upload the HEIC file by dragging and dropping it here. But what makes the online converter unique from the other converters you can use on the web or desktop? Here are the key features you can attain if you decide to use them.
Key Features of Apowersoft Free HEIC Converter:
◆ Downloading the converter isn't necessary because you can access the software on the web.
◆ It does support converting HEIC files in batch or individually into JPEG format.
◆ Manipulate the quality of the image before converting is available.
◆ After converting, you can save the same EXIF file in the JPEG file.
◆ Convert the HEIC file automatically without doing extra steps.
Pros
The web tool interface is pretty decent and overall outlook.
A high-quality image remains after converting the file to JPEG.
Converting batch files is easy because it supports converting the file simultaneously.
Cons
Even though it says that it keeps the metadata, sometimes the metadata is lost after converting the format.
The output format is limited to one, and that is JPEG.
Functions are limited.
Part 2. 3 of the Best Apowersoft Free HEIC Converter Alternatives Online & Offline
FVC Free HEIC to JPG Converter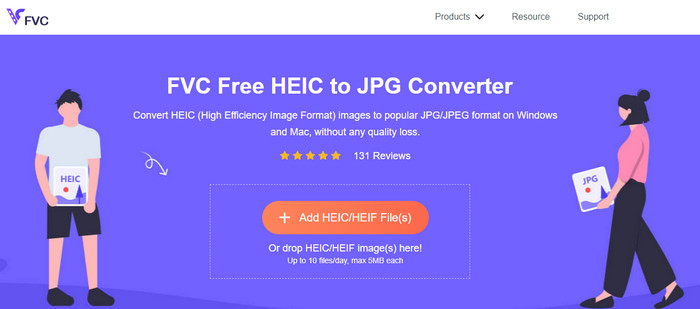 FVC Free HEIC to JPG Converter is the best substitute for Apowersoft free HEIC to JPG converter because it has an intuitive interface that will help you finish the task within a second. With a web converter like this, you won't need to download the actual tool to use it, but you will need to download its launcher. Although the launcher is a must to download, it still has the upper hand on converting speed. Even though you aren't experienced in converting HEIC to JPG, with this tool, you can easily do the task effectively without any tutorials to guide you.
So far, the web tool has handled the task like no other online converters. But we can't ignore the fact that this web tool has limitations, like the file size of each file and the allowed files you can upload per day. But if you don't want to have these limitations, we would recommend that you download its desktop version – Aiseesoft HEIC Converter. This software is available for both operating systems, such as Windows and Mac.
HEICtoJPEG.com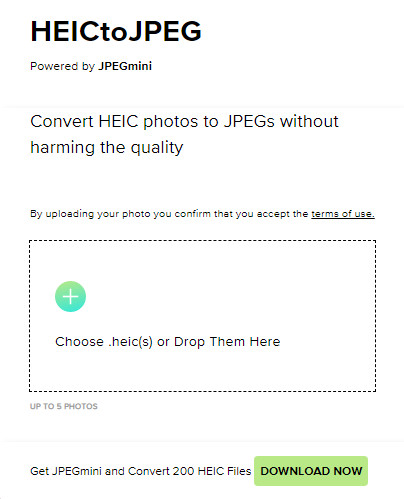 HEICtoJPEG.com is another alternative for Apowersoft HEIC Converter you can access on the web for free and safe. Like the tool we review, you can convert your HEIC files here into a JPEG only. So, if you want to directly convert the HEIC format into a JPEG without adjusting the quality, you must use this. After opening the webtool, you can drag and drop the file here, and the converting will automatically start. Also, you can do a batch HEIC conversion using this web tool, but it isn't limited to daily usage.
Overall, the web tool is great because it supports batch conversion for a fast process. However, you can't manually maneuver the advanced setting before converting the format to JPEG like the other online tool can do. Although the web tool isn't a professional choice, it is still best for beginners like us who want to do a simple conversion on our HEIC.
Pixillion Image Converter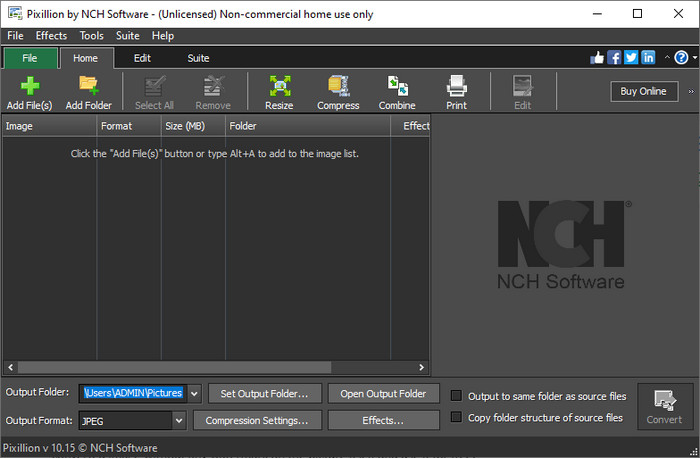 Suppose your internet connection isn't stable, so you can't use the Apowersoft Free HEIC Converter because this tool is web-based. Is it possible to convert? Yes, with the Pixillion Image Converter. This offline software lets you convert your image into a multitudinous image output format such as JPG, BMP, PNG, etc. With a tool like this, you can adjust your HEIC image before you export them; you can either resize, compress, edit, and more than the web tool we present couldn't offer you.
No matter the image file you upload, you can easily convert the format into your desired output and make it compatible with your current device. Great, isn't it? Yes, it is. But before you can use it, you will need to download the software and install it, which is a bit of a hassle because this is another step, especially if you want to convert a single HEIC file into a JPG or other format. Nonetheless, the tool is great, and it is free to download on your Windows operating system.
Related:
Part 3. FAQs about Apowersoft HEIC Converter Review
Does exporting the converted HEIC file on Apowersoft Free HEIC Converter have a watermark?
Luckily the file you convert here will not leave a watermark on your image. So, you can enjoy the converted image without any watermark on the picture itself and use it for free.
Do I need to log in to use the Apowersoft HEIC Converter?
You can either log in to check your account, but you won't need to log in if you want to use the online converter. So, you can use it right away by dragging and dropping it on the tool's official website and converting it automatically.
Conclusion
After the Apowersoft HEIC Converter review, we now know if it is the best converter we must use to solve our HEIC problem by converting the format to JPG. Although the web tool is free to use and accessible on the web, we still include some drawbacks in this article. So, if you think that this isn't the tool for you, then the three alternatives might fill the gap you will need on your converter that the converter we review can't give to you. But if all of these aren't enough, we suggest that you download the ultimate tool that can convert your HEIC file into JPEG or PNG. Want to know what it is? Then you must click the download button we add above to have it at your reach whether you are using Windows or Mac.