Learn the Art of Converting Files to Convert AMR to MP3 Format
AMR is an audio container used to store data about human voices or speech. And so, if you are taking a phone call and want to record it, this is the best format to record it. Although the file size of this format container is small, still most of the media players don't support this format. So, instead of installing a media player, why don't you try and convert it into a new format? The best way to convert AMR to MP3 is in the list below. Moreover, choose your converter that supports the conversion effectively and efficiently.

Part 1. AMR vs. MP3: Which One Is Better?
AMR and MP3 are one of the best audio formats you can use to store your audio while preserving its quality. But they have dissimilarities also, so we are here to determine what those are and let's know which one is the best.
AMR
As it mentioned earlier this format is used to store audio files recorded via phone calls. Other than that, this format is compressed and developed by Ericsson to become small in size. Although, this format is not suitable to be used to store music because of the compression it provides.
MP3
It is known as the universal audio format to store audio recordings and music in both ways. Also, this format is universally known so you can listen to the file format with the extension name of .mp4 on any media player. But if you use this to store recording calls the file size is much bigger and the quality is lesser than AMR.
So, if you want to record and save it in the format of AMR or MP3 then try to use this FVC Screen Recorder. As it boasts Audio Recorder to record audio with small size and having a crystal-clear recording. So, record your jamming sessions, podcasts or more here.
Moreover, let's now proceed and choose the greatest converter to convert AMR to MP3 with detailed steps provided below. All of the mentioned tools below have already been tested carefully by our team to provide only facts about it.
Part 2. Learn How to Convert AMR to MP3 Online and Offline
1. FVC Video Converter Ultimate
The phenomenal converter is here in our town, FVC Video Converter Ultimate. Every problem has a different solution but if you have this multi-purpose converter, editor, enhancer, booster and more. Then why need to find another tool to fix your conversion problem? if this tool has it all. Also, most converters are ineffective and inefficient to do conversion. Although this tool is paid but no need to panic, because this is inexpensive, which means even if you have a couple dollars you can still learn how to convert AMR to MP3. So, to impress someone you can use this converter by following these simple steps provided only for you.
Step 1. Download the software to your drive by clicking the download button. Then install, set it up, and click finish to save the settings.
Step 2. Then to add the AMR audio file, click the plus sign to locate the file in your folder.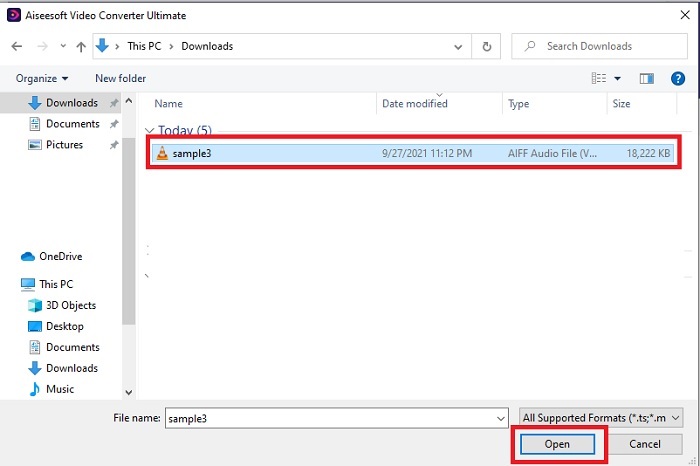 Step 3. Press the Convert All to option to change the AMR to MP3 or any audio file format you want it to be.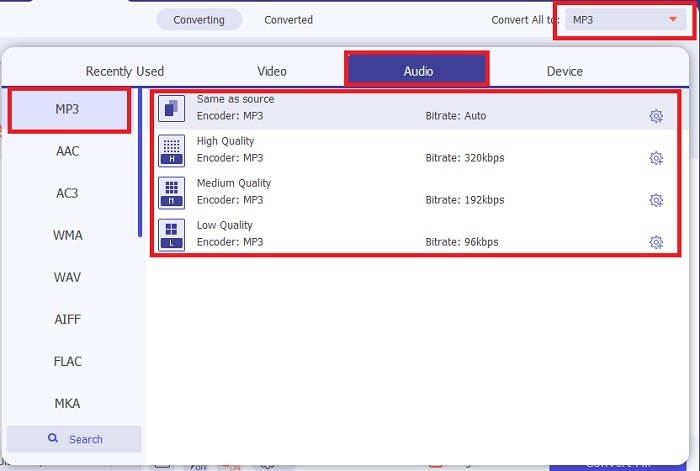 Step 4. To start the conversion process, press the Convert All.

Step 5. If the process is done, a file folder will be shown to your screen. And click the first file to listen to the new converted AMR audio file.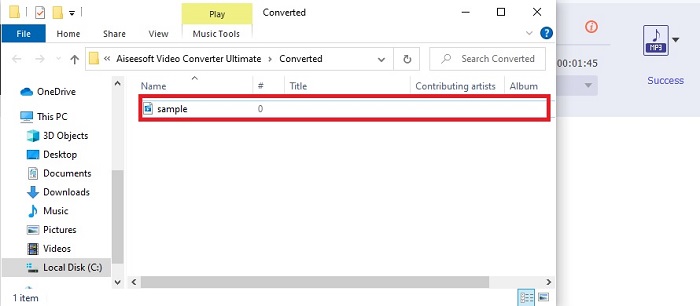 2. FVC Free Audio Converter
If you are not a fan of downloading the software to your drive then you can use this AMR audio to MP3 converter online, the FVC Free Audio Converter. This webtool has been developed by FVC, to those who don't want to spend their money on converting. Thus, this tool can only be accessed via online, which means you can't use this tool if there is no internet in your area. Also, major editing features aren't in this webtool but you can change the bitrate, fps, and resolution of the final output. Not only that, the format available here is very limited but the conversion you can do here is unlimited. Which means convert all your files without limit but individually. Moreover, to know how this web tool functions you must follow the steps presented below.
Step 1. To open the FVC Free Audio Converter, click the hyperlink that addresses the main webpage.
Step 2. Then press the Add Files to Convert to start the tool.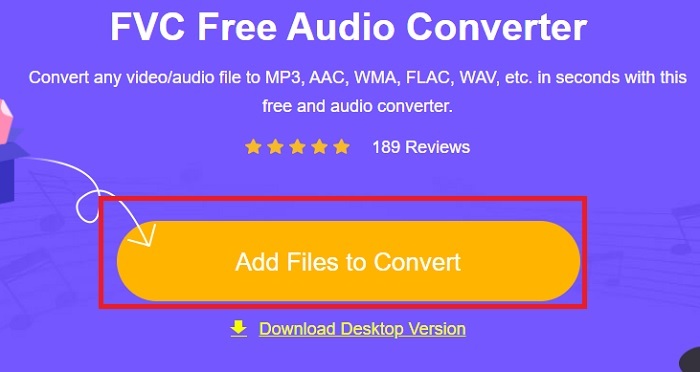 Step 3. After starting the tool, it is now the right time to insert your AMR file. After locating the file, click open to upload them to the tool.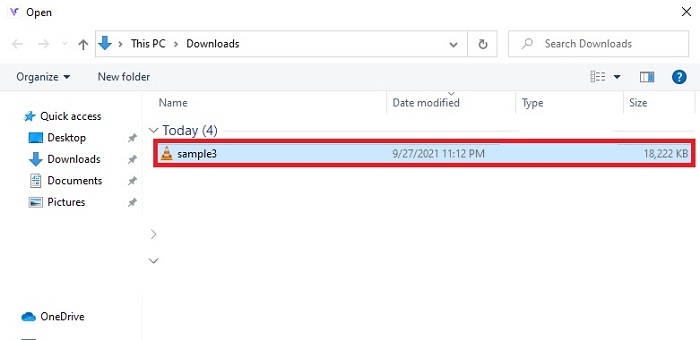 Step 4. Select what audio format you want it to be in here. If you already selected the new format, click the Convert button to start the process.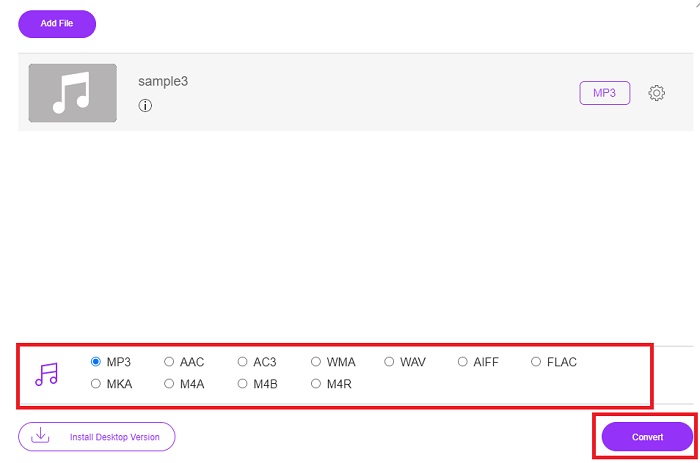 Step 5. If the conversion is done, click the folder to locate the finished conversion you did earlier.

3. VLC Media Player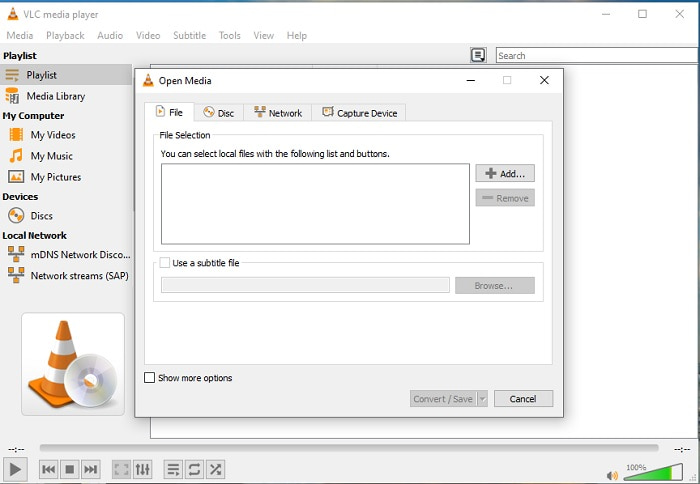 You can use this AMR file to MP3 converter software and it is free to download on your PC or Mac. But the VLC supports fewer formats and enhances features to add it to your media file. Also, to convert the files in here is a bit harder than playing the media file. So, if you are trying to convert here expect nothing much because it is not the best to use in converting. Although you can try it for yourself by following these steps below.
Step 1. Download, install, and open the VLC on your desktop.
Step 2. Click the Media above of the interface, then Convert/Save. In the new interface, click the Add to insert the file then Convert/Save to proceed.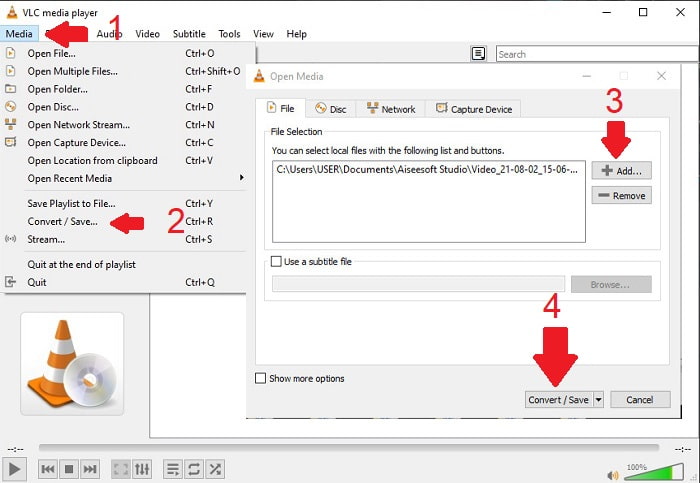 Step 3. Choose the format you want on the Profile, set the Destination file, and click Start.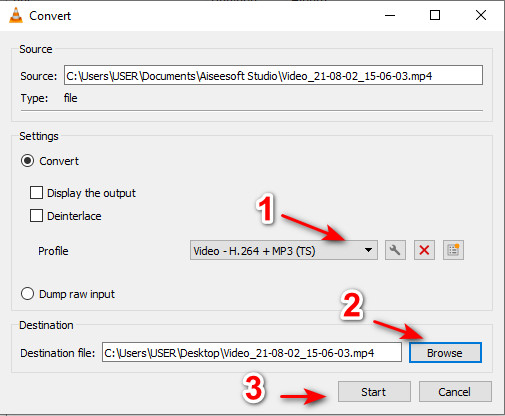 4. Windows Media Player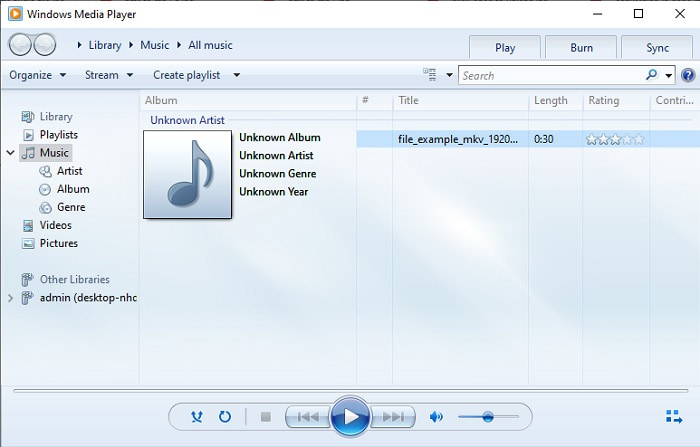 Unlike VLC this Windows Media Player is the native media player you can use on every Windows program desktop. Although the AMR format can't be played here due to the technicality of its compression. So, if you want to play your .amr files in here you must follow how to convert AMR to MP3 on Windows Media Player. Technically, this is not your typical converter but it is more likely a ripper that changes the format to be saved after.
Step 1. Open the Windows Media Player on your desktop.
Step 2. Click the Organize and select Options. Then press Change to alter the destination, choose the Format, and adjust the Audio quality into your desire. Click Apply and OK to proceed.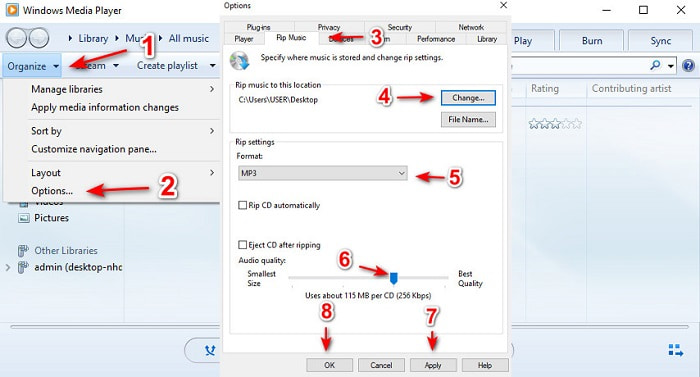 Step 3. Insert the DVD, CD, or Blu-ray discs you want to rip and be converted as well. After inserting the process will automatically begin.
Further Reading
Part 3. FAQs about AMR to MP3
Conclusion
To end the discussion, it is now easier to understand what AMR format is and what the files it covers. Although the converters that are presented in here can do the conversion of AMR to MP3 and yet the phenomenal converter did its best to stand out still. The FVC Video Converter Ultimate showcases a lot of potential not only in converting but in other tracks as well. So, if you want to experience a new height of converting media files it is a must to use the ultimate converter.