Learn How to Add Tags to a File Using the Ultimate Ways in a Minute
If you post a media file online, it is ideal to use a tag to protect users who want to take ownership of your post. However, some users know how to remove metadata on the media file. Even though it is removable, adding tags to the file is still good for safety precautions. So, before you post anything on the web, you are lucky because you are in this article. But before we move, we must learn the basics of how to add tags to a file in less than a minute.

Part 1. Phenomenal Tag Editor to Add Tags to a File Effortlessly [Ultimate Software]
We would like you to meet the FVC Video Converter Ultimate; why? The first reason is that it is a tool capable of adding tags to any media file, whether an image or a video. Second, instead of learning how to use other tools, this tool learning c1urve is much smoother than what you think while having an expert touch. Third, the software is available on all platforms, such as Windows and Mac, so that both users of the said system can experience the ultimate performance of a metadata editor.
Do you want more? Millions of users already approve that this is their first choice on editing the tags on doing the other audio and video-related task, and they are happy with the results. Indeed, the software is perfect as it is, starting from GUI up to its features and functions of it.
Features of FVC Video Converter Ultimate:
It supports a wide-range format you can upload and change the metadata on, such as MP4, AVI, WMV, TS, RMVB, and 1000+ more.
It has an ultra-fast process and hardware acceleration to help you finish a task in no time.
One of the best-looking GUI that a metadata editor and a reliable editor on a desktop.
It has a multipurpose toolbox to do the advance and most basic editing you will need on your video and audio.
It is available on both Windows and Mac; they have the same features and functions.
Amazingly, we add a tutorial you can learn how to add tags to a file within a blink of an eye.
Step 1. You can instantly download the software on your Windows and Mac by clicking the download button. Click the downloaded file, set it up according to your wants, and install it.
Step 2. Launch the software by clicking the Start Now. Once you've opened the ultimate software, you must open the Toolbox by clicking it and finding it under the Media Metadata Editor.
Step 3. Hit the + icon, find the media file on the file manager, and click Open next.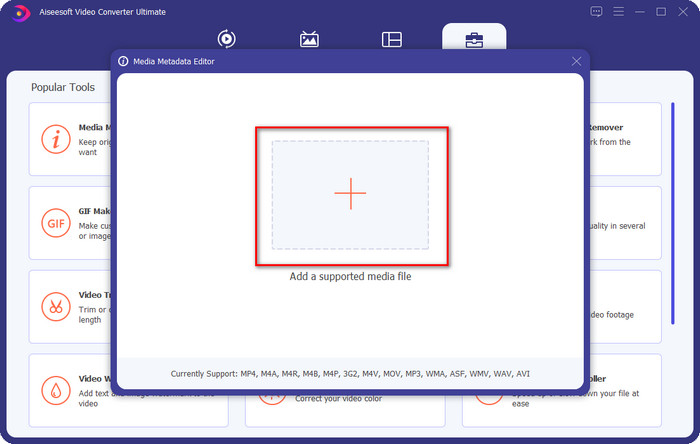 Step 4. Input all of the information you will need as your metadata on the text box. If filling it all up is done, you can now click the Save button.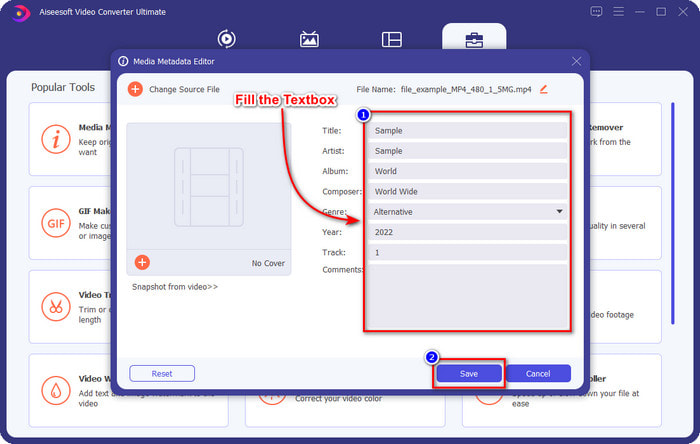 Related:
How to Edit Properties of WAV Files
How to Change File Details in Windows
Part 2. How to Add Tags to a File Without Third-Party Software [Built-in Tag Editor on Windows]
These succeeding methods to add a tag to files are only available on Windows. The step may vary in the updated version of Windows shortly; if you are a Windows 10 or 11, you should know this method. Without further ado, let's dig into the built-in features you can use to change or edit the tags on the Windows PC.
Properties on Windows
This method is not new to us because this is more known to handle changing the tags of the media files on every Windows. Properties on Windows is a simple tool that does a simple job easily. Moreover, learning how to add tags to a file is simpler with the help of this tool. To know more, keep on reading the details below.
Step 1. Find the media file on your Windows drive.
Step 2. Press the right-click and go to the Properties.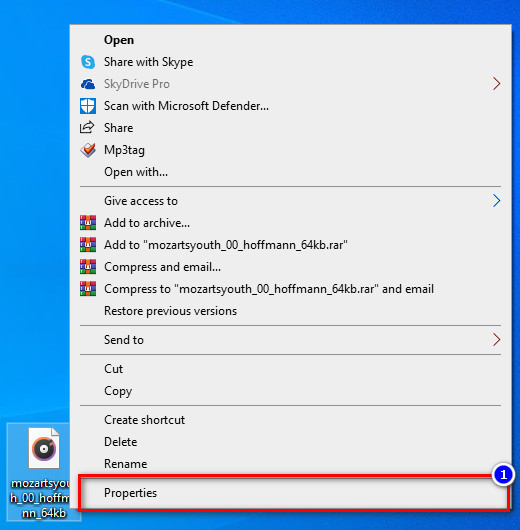 Step 3. Under Properties, you will see the Details, add the information or tags you need, and press OK.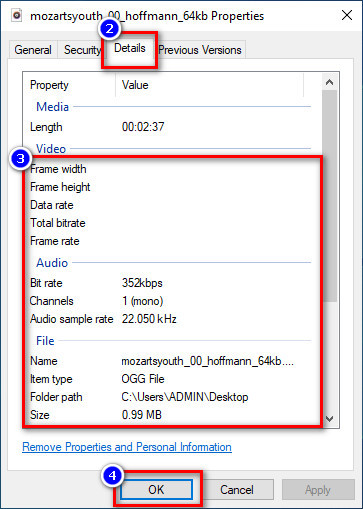 Details Pane
Not all Windows users know that we can use the Details Pane to adjust the media file's metadata. However, you can't add more information than the first method. But if you want to try using this method, you must now follow how to add tags to a file without opening it with detailed steps.
Step 1. Open the File Explorer and locate the file.
Step 2. Click the file, and go to the View. If you've to click the view on its panel, click the Details Pane.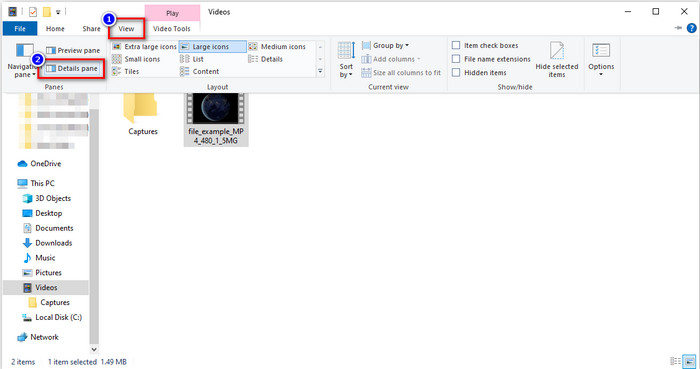 Step 3. You can now adjust the tags and click Save if you've finished it.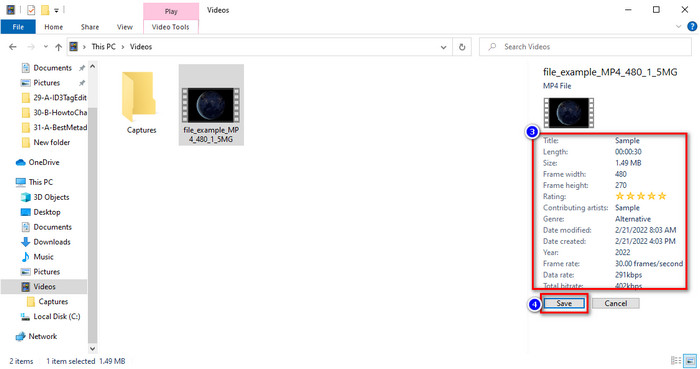 Part 3. FAQs on How to Add Tags to a File
Which is better: Built-in or third-party tag editor?
Both techniques on adding or removing metadata do word well. However, if we need professional software, we suggest installing a tool that provides more options than the built-in can't provide. Like the FVC Video Converter Ultimate, it is the perfect third-party tool to edit the tag of a different media file. Read the information above to know more.
What is the advantage of using a built-in metadata editor?
Instead of downloading, installing, and setting it all up, you can go right away to the steps of changing the metadata, unlike on third-party tools. Also, one of the best advantages of using a built-in is that it is undoubtedly safe to use because it is already on your drive. But remember, the built-in tag editor doesn't provide a wide option of tagging the media file; So downloading an appropriate third-party is a must, but make sure that the software you will download is safe and has more options regarding metadata. Nevertheless, the built-in metadata editor is reliable and straightforward to use.
Can I edit metadata online?
Yes, you can edit the metadata online. Editing metadata online is much better than using built-in apps, but not all web tools are safe to use. So, if you are using an online tool, make sure that the web is secured to avoid getting hacked or viruses. And if you aren't sure about the website, you can read some reliable articles about the web tool review and learn if they are safe to access.
Conclusion
Whether you choose to add metadata by built-in or third-party, the success rate of making it is 100% sure. Although the tool we mentioned works best on its own, it is still better if you rely on the best software, such as the ultimate tool on the job. Why? Because it is more capable of doing more than the built-in tag editor on your Windows. If you didn't believe our review about the FVC Video Converter Ultimate, you would need to install it and try it out if it works the same as we say.