How to Reduce the GoPro Video Size Easily and Quickly
You have a GoPro camera? Then you must be a great enthusiast for extreme athletics and adventures. GoPro is actually a company founded by Nick Woodman in 2002. It mainly produces action cameras, mobile apps and video-editing software.
With a GoPro camera, you can capture videos with high resolution up to 4K or HDR. However, this also poses a problem – the captured video files can be too large sometimes. Besides causing serious space issues while storing, huge file size may make it impossible for you to send the video to Instagram, WhatsApp, Dailymotion, Email and other platforms.
To solve that problem, we will provide you a complete guide on how to compress GoPro videos on Windows and Mac.

Part 1. How to Compress GoPro Video Online for Free
Even though GoPro is a good choice to record stunning snaps and video footage, you may find that recorded videos occupy way too much storage space. However, there is limited space to store videos on each GoPro cameras, even on the latest HERO9 Black, which means you need to transfer the video to your computer, SD card, flash drive or hard drive for backup or further editing. In that case, it will take up much space on your device.
So, what you need is powerful video compressor to shrink the size of the recorded videos. FVC Free Video Compressor allows you to compress large 4K and HDR videos shot by GoPro camera for free on any popular browser such as Google Chrome, Microsoft Edge, and Mozilla Firefox.
Follow the steps below to reduce GoPro video size to the minimum in seconds online.
Step 1: Click the link above to visit FVC Free Video Compressor on your browser. Then click the Add Files to Compress button in the center of the banner. Follow the on-screen instructions to download and install the launcher on your computer.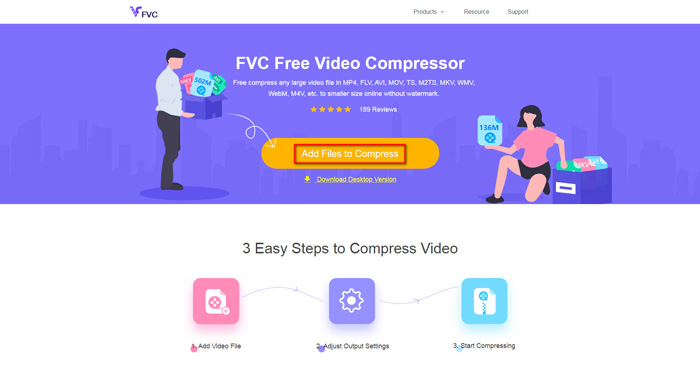 Step 2: Now, please select the GoPro video file you want to compress after you connect the device to the computer. To compress the video, just use the slider behind the Size box. Drag it and adjust the file size as you like. You can even able to customize the resolution and bitrate separately.
Step 3: Pick an output format. Then click Compress in the right corner. Select a folder to save the compressed video. Wait for a while and you will get the wanted video with high quality.
Part 2. How to Resize GoPro Video for Uploading
But what if you want to share the GoPro video to YouTube, Instagram, WhatsApp, Facebook, Twitter, Snapchat or TikTok? And is there a strict time/size requirement while uploading videos on these platforms?
| | | | | | | | |
| --- | --- | --- | --- | --- | --- | --- | --- |
| | YouTube | Instagram | WhatsApp | Facebook | Twitter | Snapchat | TikTok |
| Duration | ≤ 12 hours | ≤ 2 minutes | ≤ 3 minutes | ≤ 240 minutes | ≤ 40 seconds | ≤ 60 seconds | ≤ 60 seconds |
| Size | ≤ 128GB | — | ≤ 16 MB | ≤ 4GB | — | — | — |
As you can see, almost all platforms have its own video length requirement, which means you need to cut the video before sharing it. Then you can give Video Converter Ultimate a try. With this video editor, you can trim the video to the desired length. It also makes it possible for you to merge multiple video clips into one complete video.
Step 1: Download and install the professional video converter on your computer. Launch the program after installing. Click Add Files to add the GoPro video file you want to edit. Or directly drag the file to this program.
Step 2: After uploading, please click the Cut icon. The icon looks like scissors. And it is next to the snapshot image of your video.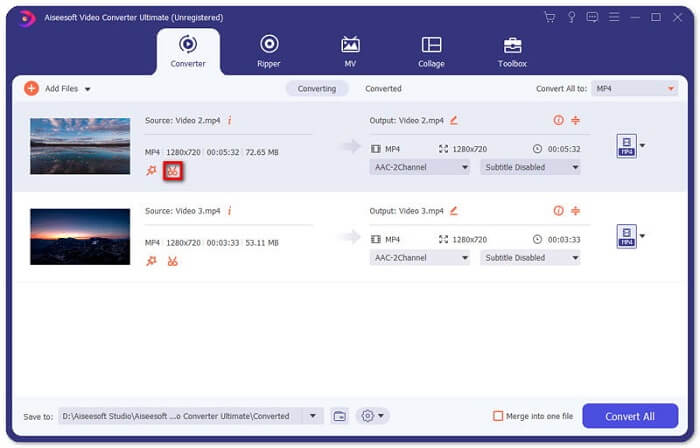 Step 3: To cut off unwanted parts, just drag the clipper on the progress bar. You can also directly enter the start and end time into the Duration box below. After trimming, just click Save to save all the changes.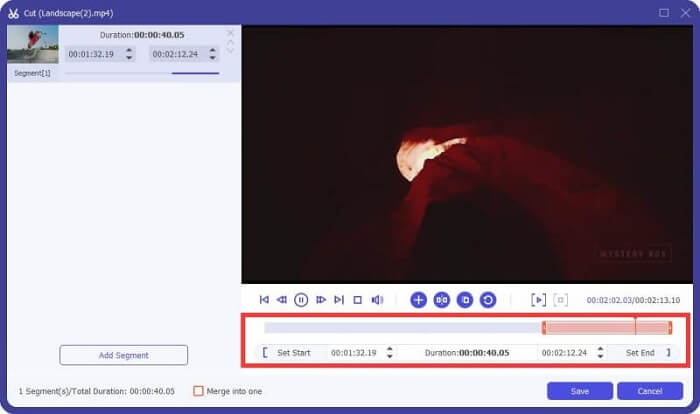 Step 4: Go back to the main interface. Click Convert All to export the trimmed video to your computer. If you have multiple video clips that need to be combined as one, just check the box ahead the Merge into one file option.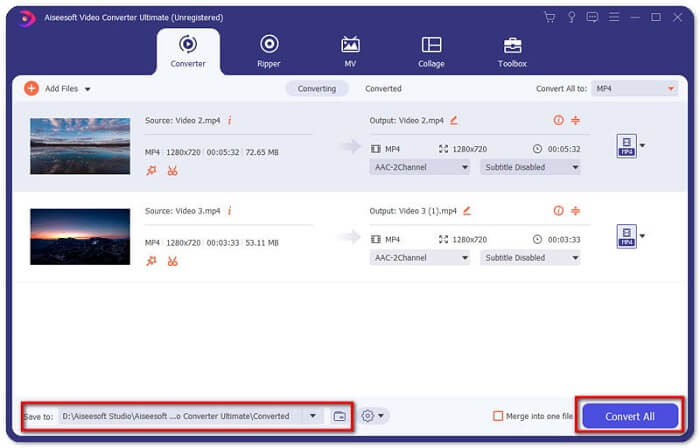 After trimming the original GoPro video, you can easily share your highlight moments with others. But if you are using WhatsApp, you may still need to compress the cut video before uploading due to its maximum video size for uploading.
Part 3. FAQs of Compressing GoPro Video
Why are GoPro videos so large?
That is because you are filming at 60FPS in 1080p or even 4K. For example, a 1-minute 60FPS video in 4K resolution will take up about 600MB memory.
Why does my GoPro breakup video?
That is called Chaptering. When you shoot a video, your camera may automatically segment into a new file chapter if it reaches a certain size.
What is the video format of GoPro?
The default format for GoPro videos is MP4 file type, which means you can play it on almost all devices and players.
Conclusion
Now you know how to compress GoPro videos on both Mac and Windows. If you don't need to upload to platforms with strict limitation, you can simply use FVC Free Video Compressor to resize the GoPro video. To trim the video, you can also try Video Converter Ultimate.