Deep Understanding About the 5 Available Slow Motion Video Editors
Do you love watching high-speed striking sports like racing, boxing, baseball, volleyball and more? All of the mentioned sports need a high-speed camera just to make a motion analysis. If you do so want to analyze every movement of each athlete then try to read the best slow motion video maker you can use. Also, with the help of the tool below, you will not need any extra equipment other than your desktop, internet, or phones. As we proceed, read the tools carefully and choose which one is the best for you to go with.

Part 1. 3 Best Slow-Motion Video Maker for Windows PC, Mac and Online
1. Video Converter Ultimate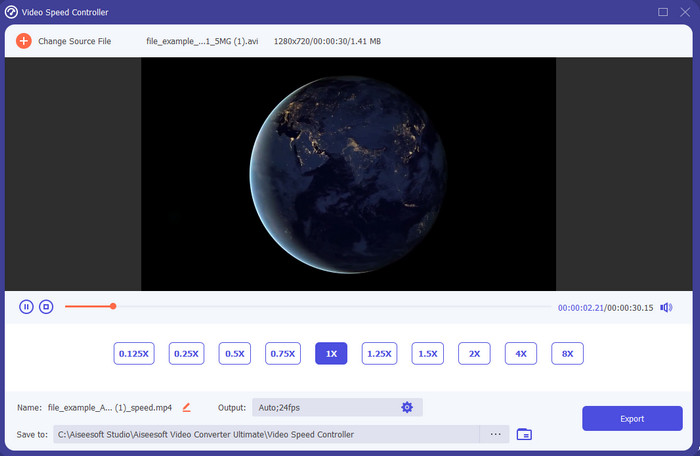 Do you want to know which of the slow-motion video editors is the best to use to make your playback into slow motion? Then try to use Video Converter Ultimate because this tool is not just the best, it is phenomenal. This tool already obtained a lot of advanced features you would like to use even if you are not pro on editing. Even though you are a pro this software is the best choice no matter what level your editing skills are on. Moreover, you can quickly add slow motion effects on your video without reading a manual or watching videos on how to do it. Because the tool presents a much simpler instruction other than the tool below. Although the tool needed to be paid before you can access it still it is not that high in price. If you want to know more about this tool then read the key features below.
Key Features of the Video Converter Ultimate:
◆ Advanced slow motion video maker app with basic instructions.
◆ User-friendly tool interface.
◆ Adjust the speed of the video easily on the Video Speed Controller.
◆ Supports more than 200+ video and audio formats.
◆ It can be downloaded and accessed on PC and Mac operating systems.
2. Boris Continuum Time Unit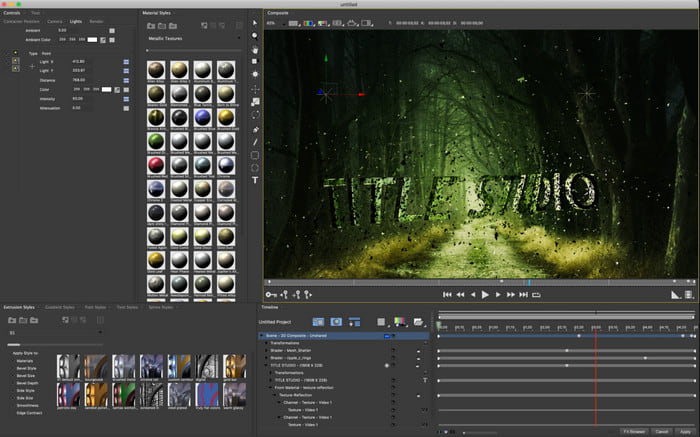 Boris Continuum Time Unit is the best choice if you want to have a heavy-duty slow motion video maker app. There is no other tool that can do anything like this tool provides to have a professional output. Furthermore, this tool has the best detailed editing features you would like to try. Although the tool is greater than the other tools, it is still literally super expensive. Also, if you want to try using this tool then you must have a high-grade desktop system unit because you won't be able to use this on old version desktops.
Pros
Best tool to use to do heavy editing.
It is compatible with all platforms.
Interface of the tool looks more like a pro tool.
Cons
This software is the most expensive in this write-up.
Needed a high-grade system unit.
Not the best choice for a beginner who doesn't have a background in editing.
3. VEED.IO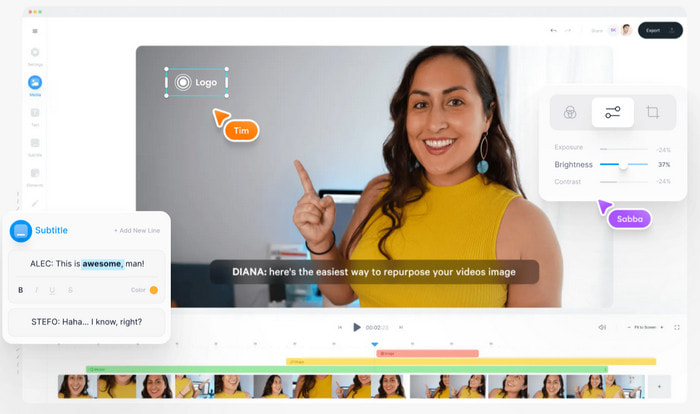 So, if you don't want to spend a penny and have an internet connection then try to access the VEED.IO. This is the best software to make slow motion video online because it is simple and easy to access. The overall interface of the tool is very neat with straightforward instruction so it is very convenient for everyone. However, you can only upload files with less than 50 mb and if you want to add a bigger file size then this tool will demand you to upgrade. Also, if you didn't buy the tool expect the final output to have a watermark.
Pros
Can be easily accessed by anyone with internet connectivity.
No pesky ads on the website.
Easy to be dealt with by the newbies on editing.
Cons
Tool features are very limited on the free version of the tool.
Internet dependent. So, if your internet is slow then expect a slow pace uploading, downloading and editing. Also, you can't access this tool if you don't have an internet connection.
Part 2. 2 of the Best Slow Motion Video App on Android and iOS
1 SloPro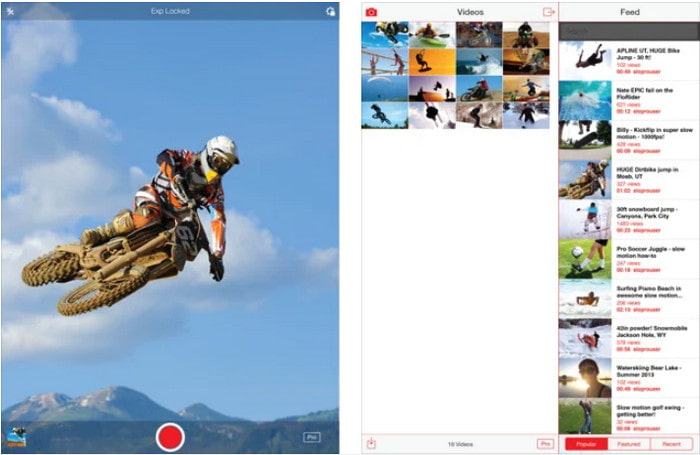 SloPro is the best slow motion video app you can download for free on iOS. The app can do the playback slow motion up to 500 to 1000 fps. Another, you can manipulate the video from fast to slow motion playback or vice versa. Although the tool might be a great option, there are still a lot of drawbacks on the app. Like, the video output will be saved on the gallery of the app and not on the camera roll. Also, if you try to use the 1000 fps the video becomes buggy according to the user who has already tried it. Furthermore, this tool is still great because it is free to use and slowing it down can be easily done here.
Pros
Best slow-motion playback you can use on iOS for free.
It already receives a fair rating and a 3.3 star.
Simple and easy to use.
Cons
The final output is not directly saved in the gallery.
All of the videos saved on the SloPro gallery are random and not categorized properly.
If you're using 1000 fps then expect a buggy video output.
2. Slow Motion Video Maker
One of the best slow motion video makers you can download for free on your Android phone is the Slow Motion Video Maker. With the help of this app, you can perform fast forward and slow-motion playback easily on your videos. However, the app has a lot of annoying ads popping out of nowhere. Also, the slow-motion playback you can do by 0.5 only. But overall, it is great to be used for slowing down a video on Android but the ads hurt the app badly.
Pros
The app is free to download on the Play store.
It is great to be used to slow down the video smoothly.
The app is easy to manage.
Cons
It has a lot of pesky ads showing up out of nowhere.
Downloading the video might take a lot of time because it has no speed up processing.
Part 3. FAQs about Slow Motion Video Maker
What is the role of FPS?
It is used to calculate the consecutive series of frames that show on your display panel. This is most commonly seen in each motion capture like in video games, cameras, films, and even our eye can see 30 to 60 fps.
What is the best FPS rate on slow motion?
The ideal FPS you can use to watch video in slow motion playback is between 120 or 240 fps. So, if you want to have a more detailed slow-motion playback then do make the FPS higher.
Conclusion
To conclude, all of the tools presented in here are the best slow motion makers you can search on the web. Also, this article already helped you out and make your searching easier than ever. However, there is one specific tool you might want to use to make your video better with the help of Video Converter Ultimate. All of the advanced features you can use here are phenomenal and yet easy to use. Moreover, if you are still not believing then try to download the tool first and try it for yourself.