Convert Your GIF thru Online with these Online GIF to Video Converter
Sending GIFs with messages became a new routine for us to express a much better message. Despite that, platforms like Instagram still don't support GIF format. It only supports images and videos format and not static images. So, if you try to add a GIF into your Instagram, there is a chance that the file will not load or be unable to load. Second, you can only get a still image if it has been posted. But there is another way, it is to download a third-party app or access it online to convert GIF to a video format. Learning how to use these tools is a great knowledge to remember. So, if you are looking for an online GIF to video converter then you are in the right place. Keep on reading to know what are the available tools and how to use them accordingly.

Top 1. Ezgif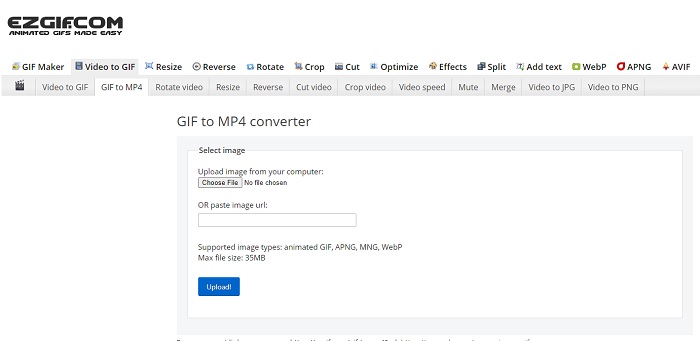 Having a hard time making a GIF and converting it? No need to worry because Ezgif is here to rescue you. This online tool is not only dedicated to doing one job. But it is also possible to do editing on your GIFs as well. Although the ability of this tool to edit is not that impressive, it is the standard it follows. And there is also a limit to making and converting a GIF file.
Pros
It is ideal to make a GIF.
All of the ads on its website are PG-13 restricted.
Simple editing features for beginners.
Cons
The web interface is a bit boring to look at.
Only MP4 format available if you try to convert GIFs.
Top 2. Cloudconvert

If we were going to talk about converting, Cloudconvert should be on the list. This online GIF to video converter is especially made to convert any video and audio to a playable format. But this tool has a limitation, it means that you can't upgrade the quality of the GIFs you convert. So, it is what it is with this tool.
Pros
One of the most powerful converters online.
You can access it without downloading the tool.
A great color combination on its web interface.
Cons
Can't edit the file you convert to become a better one.
The chance of failure to convert is great. Especially if your internet has been interrupted.
Top 3. Convertio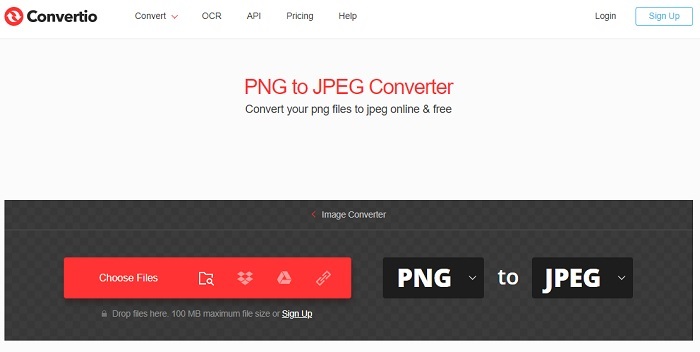 Just like Cloud convert, the Convertio is only created to convert only. It supports as many formats as the tool before this. But the downside of this tool is that it is pestered by the ads all over its web page. Although it has ads it is still a good converter tool to be used to practice converting files into a new format.
Pros
Open access tool available on the web.
No need to download an extra file to start converting.
Choose what is the Bitrate of the file.
Cons
Can't create GIFs with this tool and editing as well.
Ads are everywhere so avoid them to not open an unnecessary website.
Top 4. Zamzar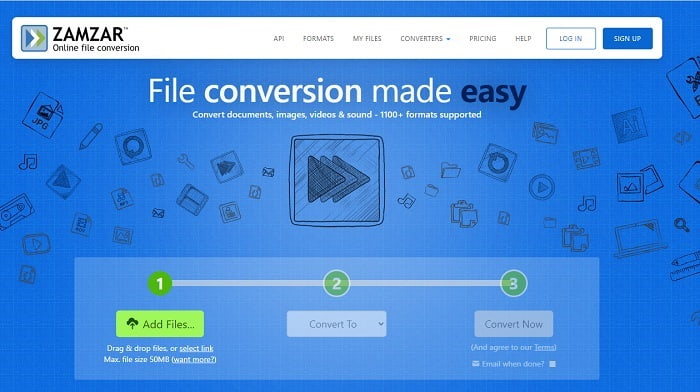 The user interface of Zamzar is amazing and using this tool is as easy as ever. But the max file size is limited to 50mb so if you want to exceed more than that you must buy the tool or log-in. Also, if the conversion is in the process, you can't stop the conversion even if you click the x button. So, make sure that you convert the right file because it can't be stopped.
Pros
Convert all videos, images and audio here.
All files here are stored for more than a day.
Maximum file size is 50 mb for a single file.
Cons
The process of converting is depending on your internet speed so if you have an internet then converting will take a lot of time.
Can't edit your converted video into a better one.
Recommended: FVC Video ConverterUltimate - Best GIF Converter
As they say, save the best for last and that best is the FVC Ultimate Video Converter. This premium tool is more than any other converter that is listed here or even not. If you're looking for a tool to enhance your conversion and doesn't require the internet then this is for you. Also, the amazing thing about this tool is that it can convert, enhance, create, and do more than just converting. It allows the user to explore all the things that this tool offers and make a better output than others. Read the steps carefully to know how to use this tool step by step. Later, you can check the toolbar to enhance the converted GIF.
Step 1. Install the right program tool to your hard drive. Follow the preferences and change according to your needs and click finish to launch the tool itself.
Step 2. If the tool is running in the background, you will notice a small icon on your tab indicating that the tool is already launched. Also, an interface like this will show in your display.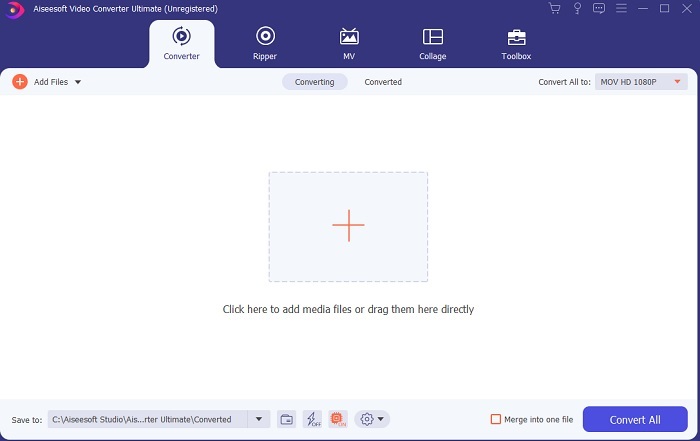 Step 3. To add files on the converter, press the Plus sign in the middle of the interface. Or you can drag and drop the file if it is more than 2 or 3.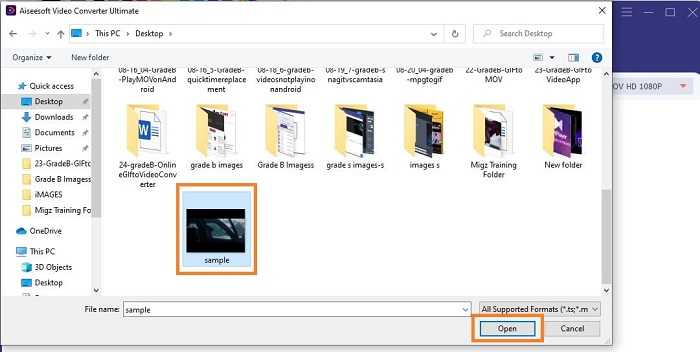 Step 4. If the GIF file is in the interface. Press the drop-down button and choose in its submenu what format you would like to convert. Click the Convert All to start the conversion process.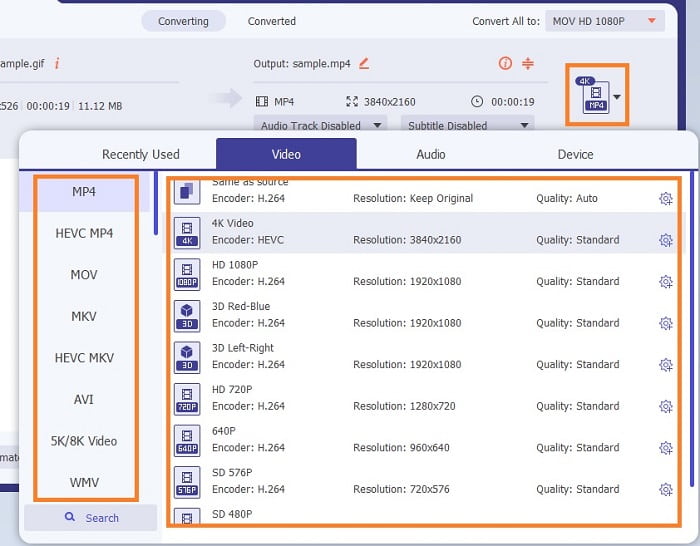 Step 5. If the process is done. A file manager will automatically open on the tab and you can now check the file. If you want to enhance the converted GIF you can check the toolbar later.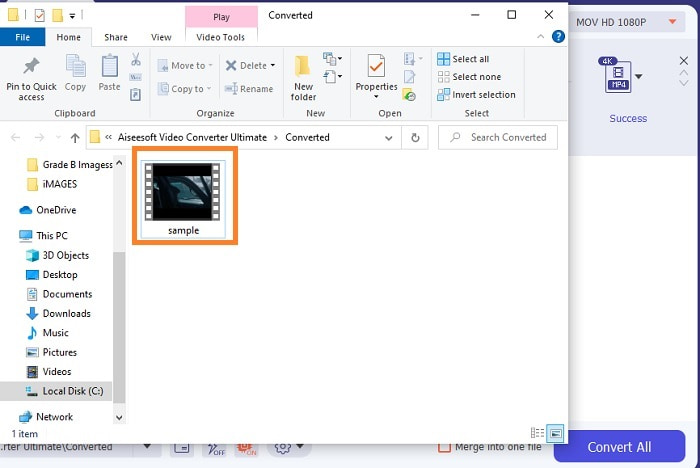 Pros
It is a multi-purpose tool that can be used by its customers.
Never limit your imagination by adding effects and more to your final output to look much better than others.
Conversion process is much faster than any of the tools available online and offline.
Cons
Pay per use tool which means you can't access the tool for free but it is not that expensive.
Downloadable tool, it only means you need an extra file to launch the tool. But despite that you can use this tool without worrying if the internet has been interrupted.
FAQs about Online GIF to Video Converter
Can I do a recording in the format of GIF?
Actually, it is a yes, you can record your own GIF. If you use this powerful yet lightweight GIF recorder or the other recorder that has the same GIF format as well. Read on Best GIF Recorder Review to learn how to make a recording in the format of GIF.
Which is the best alternative for GIFs? WebM or APNG?
GIFs are the old format that supports animated and static images but as time goes by. There are now competitors like WebM and APNG. Lets compare the two, WebM is the new GIF it supports moving images over the website but if you try to use an old version of search engine the WebM is unsupported. On the other hand, APNG is known as more visually attractive than the two because it supports 24 bit color and transparency but some social media platforms don't support APNG as for now.
What is the acronym of GIF?
GIF in text means Graphic Interchange Format.
Conclusion
To end, it is now simpler to understand what is the best offline and online GIF to video converters that you may use. Knowing how to use this tool is a great skill to develop and maybe in the future, you can use this to be paid as well. If you want the ultimate performance then you must choose exactly the ultimate tool. FVC Ultimate Video Converter is always the best tool to convert any video and enhance it to make a good impression to others or to whom to be delivered. As they say, expect nothing less because this tool brings more than what its name implies.