Top of the Line OGV to MOV Converter to Convert OGV Files on Mac
One of the best lossy video formats used often to store video content on web pages is the OGV. This format has almost the same structure as the OGG files, but this contains a video. As this format can store media files and transmit them on the internet, it still doesn't acquire global support from media players and editors. To make the format match the standards of the video player or editor on Mac, you must convert OGV files into an accepted format like MOV. Fortunately, we provide steps you can easily do to convert OGV to MOV without changing its quality.

Part 1. Convert OGV to MOV on Mac with the Best OGV to MOV converter
Want to know what the ultimate OGV to MOV converter on Mac is? If that is what you wish, then use FVC Video Converter Ultimate. Why? Well, it is the phenomenal converter you can use to make your encoding and decoding of OGV easy as 1-2-3. Also, you can finish converting in less than a minute or even seconds compared to the other online and offline converters.
Not only that, you can edit your video, merge them, make GIFs, speed up videos or slow it down and many more options. Undoubtedly, this is the phenomenal converter that has already helped a lot of users, and next will be you. To fix your problem, let's proceed to the tutorial on how to use the converter.
Step 1. To use this tool on your Mac, you must download it first then install it next. After that process, a welcome window will show, and click Start Now.
Step 2. Transfer your .ogv file here, then locate it on the folder by clicking Add Files or +.
Step 3. After uploading the file, you must change the format to MOV under Convert All.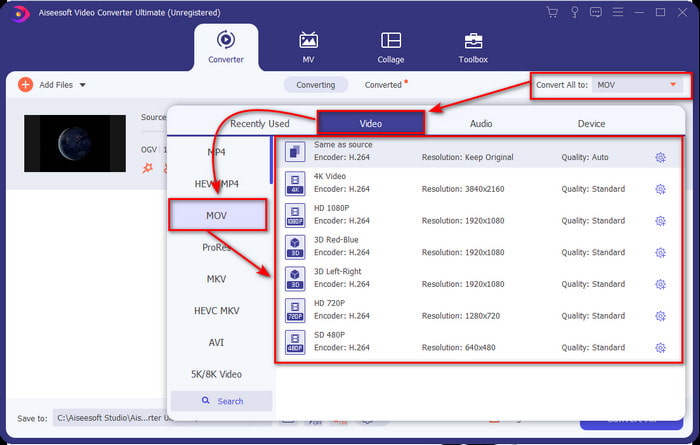 Step 4. Start the converting process by clicking the Convert All button.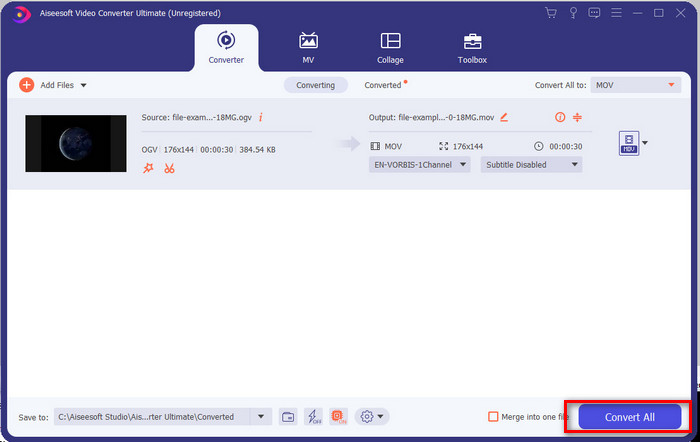 Step 5. Once converting OGV to MOV is finished, another folder will show where your file is. You can now freely click the file to watch or edit the media file inside the new MOV format.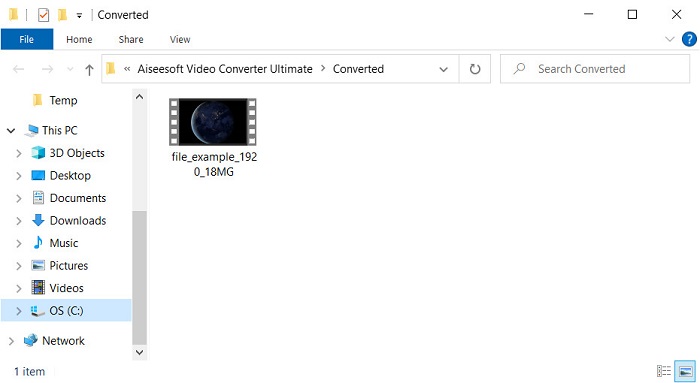 Pros
Next level converter you can use on Mac or even on PC.
Advanced features like editing, merging, cutting, cropping and more are in the Toolbox.
Favorable choice by users who do converting always because of how light-weight this software is.
Batch convert your OGV, MOV, AVI, MKV, MP4, 200+ more format here.
Part 2. Convert OGV to MOV Online with the Free and Easy to Use Converter
Doesn't want to get in trouble for downloading, installing, and setting up the converter? Then try to use this OGV to MOV converter online available in all search engines. FVC Free Video Converter Online is an innovative video converter online used to bring your unsupported format to a playable format. Many internet users already enjoy the overall performance of this web tool. Other than that, this tool doesn't need registration before using it and annoying ads on the website to interrupt your conversion. But, you can't use this if you don't have an internet connection. So now, if you want to change your usual converter, use this and follow the steps below.
Step 1. Hit this FVC Free Video Converter Online to go to the website of the webtool.
Step 2. On the web interface, click Add Files to Convert, and the folder will show where you can find the OGV file, then click Open.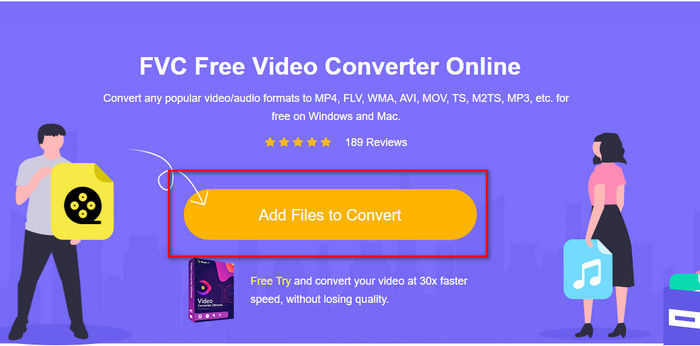 Step 3. Select the MOV format below or whatever format you want the final output.
Step 4. Tick Convert to begin the operation of converting.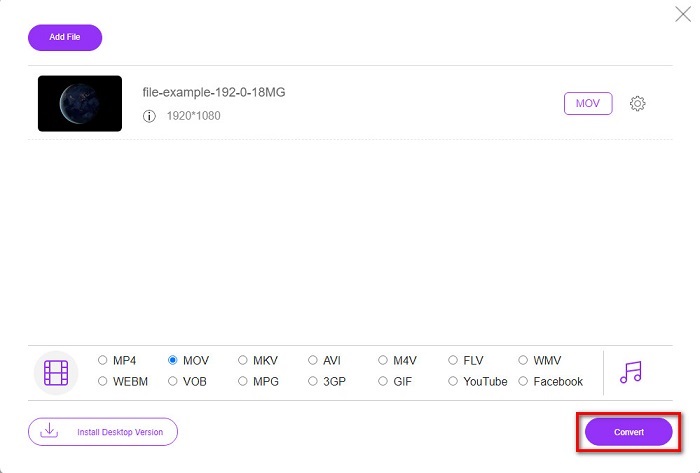 Step 5. File explorer will show next after converting; the file you convert will be there; click it to watch.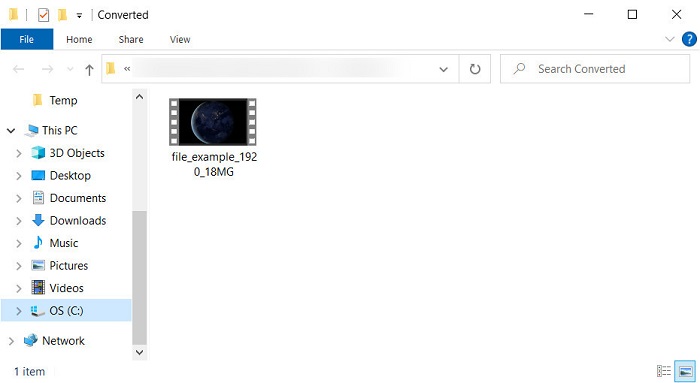 Pros
Supports medium-range format and compatible in all web browsers.
Free to use and no sign up needed.
Pesky ads are not presented in the web tool and while converting.
Cons
Internet dependent.
Doesn't support batch conversion.
Part 3. OGV vs. MOV
OGV is a multimedia file format that uses multiple codecs like Theora, Dirac, or Daala for HTML 5 video tags. But when you use it on HTML, it is referred to as .ogg even though the file contains video contents. Since it is on a website, playing it on a default media player is challenging because of the unique structure of the formats and multiple codecs. But if you want to add an excellent visual and audio on your website, this is a must-use.
MOV is the format made by Apple to store multiple tracks and media data while preserving the quality of the audio, video, and subtitles. Also, you can synchronize media tracks that are encoded into MPEG-4 or with the other codecs. Even though the format is for Quicktime, you can still play it on Windows Media Player because it is supported.
To wrap it all up, if you want to insert a video and audio on your website and transfer data faster, go with the OGV. But if you want to edit the video first and play it on your Mac, don't use OGV because it is unsupported. Instead, use MOV because it is compatible with all Apple devices, whether a Mac, iPhone, iPod, or iPad. Converting your OGV to MOV is a must to have the compatibility on Quicktime player, iMovie or with the other tools you can find on Apple.
Part 4. FAQs about OGV to MOV Conversion
Can I compress OGV?
Compressing the file is needed, especially if you want to send them via email because it is limited to sending media files here. So now, if you want to make your file size smaller, read this article to know how to compress OGV files.
Does VLC support OGV files to play?
Although the purpose of this format is to be on HTML 5 tag, you can still use the VLC player to watch the downloaded OGV files. But did you know that there are other VLC alternatives you can use to play this format? If you want to know what are the media player alternatives for VLC, then click this link.
Will the quality of the OGV change after converting?
After converting the OGV file, the quality of it should retain the same as the original. But you can make the video rate higher or lower with the help of the FVC Video Converter Ultimate. Unlike other converters that don't provide manipulating the quality into your desire. Also, you can set it at 1080 or 4k if you want for a high-definition video.
Conclusion
As a result of the findings, converting the downloaded OGV file is a must before you can play or edit. This time it is in your hand to choose which way to use and convert your OGV files into MOV. To have a short recap, if you want to convert files online for free and without disturbance, then go with the FVC Free Video Converter Online. However, if you want to experience new heights of conversion, then you must download the FVC Video Converter Ultimate. Choose the best converter that will aid your problem with the OGV format.