3 Different Ways to Transform MPG Files to MOV on your Desktop or Online
Converting a format is essential, especially if we were going to talk about compatibility and the purpose of the format. Like MPG, this format stores data from DVDs such as metadata interleave, audio, and video. But ripping this format from DVDs and playing it on Quicktime or editing it on iMovie can't be uploaded because the format is unsupported. However, you can convert your .mpg into a supported format like MOV format. This article will suggest some of the best converter software you can use to convert MPG to MOV on Mac for free and without adjusting its quality.

Part 1. How to Convert MPG to MOV on Mac and Windows
First on the list is the crème-de-la-crème of all the converters you can use and learn how to convert MPG to MOV on Mac or PC. FVC Video Converter Ultimate provides the highest quality and fastest conversion that you can make in less than a minute. Moreover, download this if you don't have any experience converting files and don't want to be disappointed on the first try. But, if you are the type of user who wants to add special effects, crop, merge, and do more, check out the Toolbox of this converter. Other than that, if you're looking for trustworthy and easy-to-use software and achieve phenomenal output instantly, then follow the instructions below.
Step 1. Download the MPG to MOV converter for free on your Mac or PC. After that, install the File and do the quick set-up.
Step 2. To insert the file, click + sign located at the middle part of the interface. Find the .mpg File on the folder that will show next, then click Open and proceed.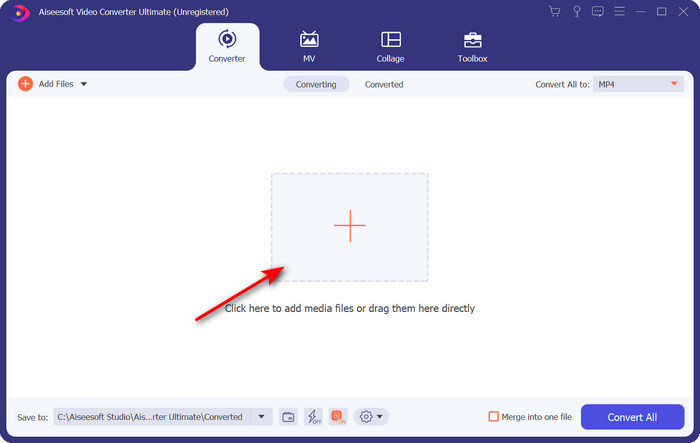 Step 3. Hit the drop-down button and choose the MOV format or any format available on the list.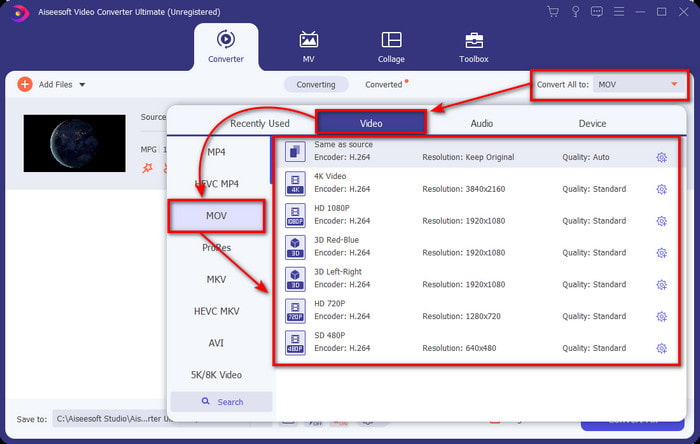 Step 4. Once you are ready to start the converting process, click Convert All.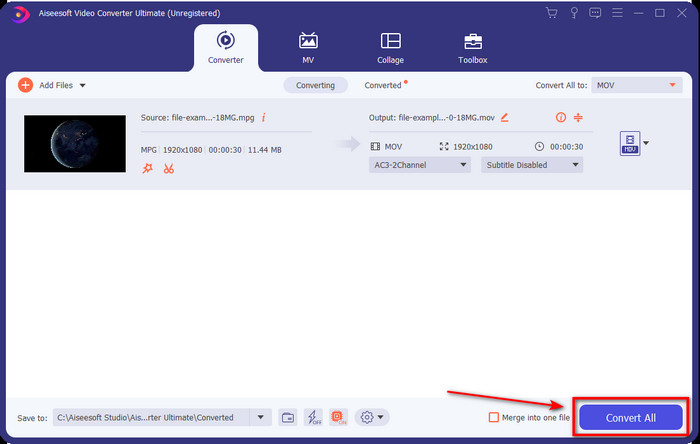 Step 5. Your .mov will be ready after a few seconds, and if the folder opens on your display, click the first file to watch or edit on your Apple device.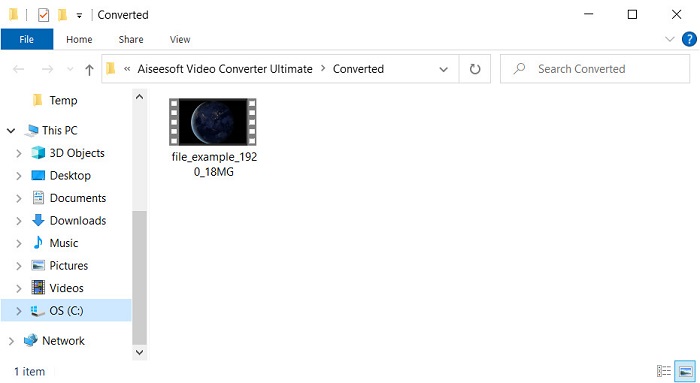 Part 2. Convert MPG to MOV Using Quicktime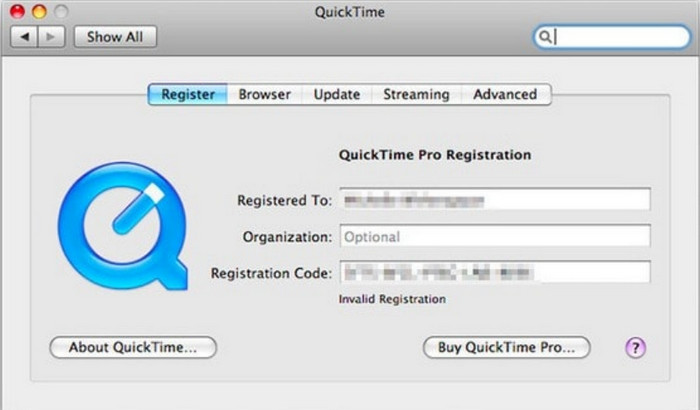 Quicktime Player is a native media player made for Apple devices to play almost any video and audio format. But did you know that you can also use this as a converter? But the converter this tool provides is not as detailed as the first converter mentioned above. Yet, if you have an Apple device and want to convert MPG to MOV with the Quicktime Player, then follow the steps below.
Step 1. Open the Quicktime Player on your Mac, click File under it, click Open File, locate the .mkv file on the folder, and press Open.
Step 2. Re-click File, but now click the Export As choose the available pixels on the list.
Step 3. To start converting the file on Quicktime, click Save.
Part 3. Convert MPG to MOV Using Free Online MPG to MOV Converter
Want to know the best MPG to MOV converter free online if you don't want to risk downloading software? Then FVC Free Video Converter Online is the one. It is simple, available in all browsers, malware-free, and a reliable online tool. All of the things a simple converter should have are available here. Furthermore, this software supports numerous media formats and does convert without logging your account. Want to use this tool? Then follow the simple steps.
Step 1. Tick this link to go to the official website of FVC Free Video Converter Online.
Step 2. Once you are now on the web interface, click the Add Files to Convert. Find the .mpg file you want to convert on the folder, then press Open.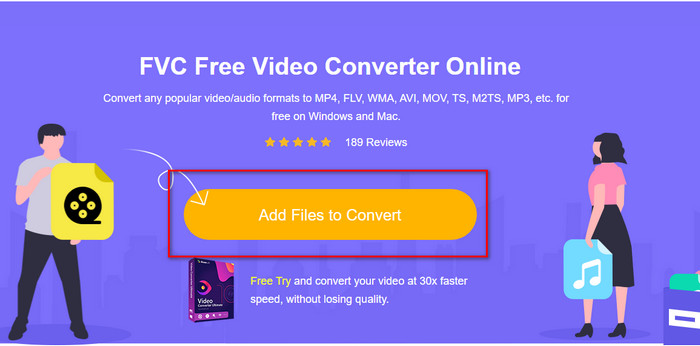 Step 3. After uploading the file, choose the MOV format in the sub menu.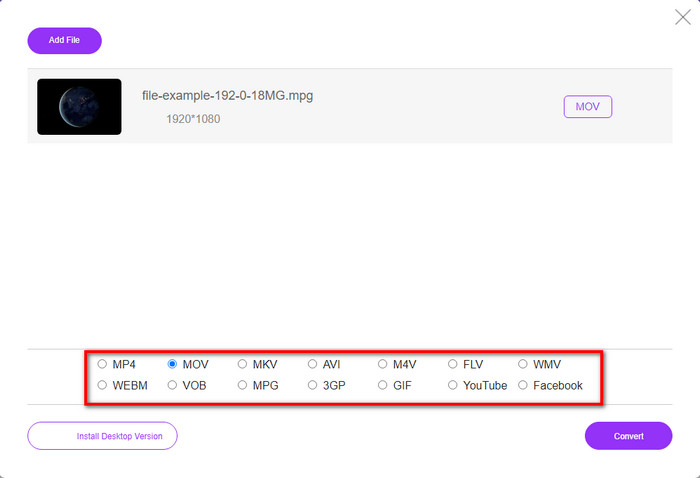 Step 4. Since you already clicked the MOV, let's download it now by hitting the Convert.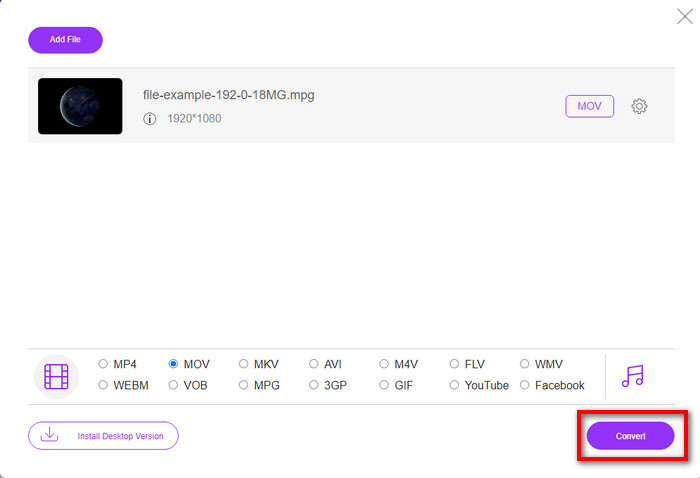 Step 5. After converting, a folder will show with a .mov file.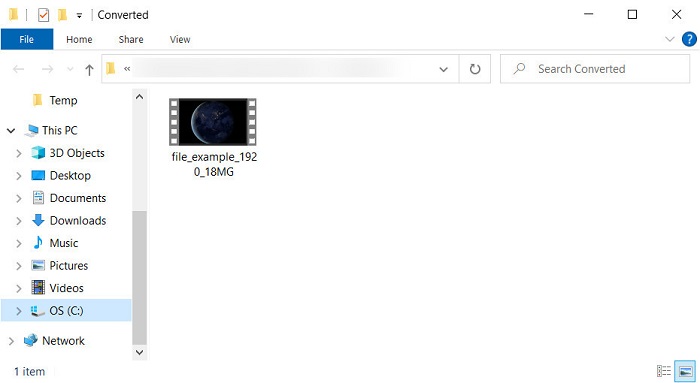 Part 4. Extensive Knowledge about MPG to MOV and Why Do We Need to Convert It
MPG is a well-known media format that uses MPEG as a digital standard video format. This type of file usually uses MPEG-1 and MPEG-2 as a media file encoder. It uses these two compressors to support every shortcoming of the compressor, especially for storing higher resolution of videos. As it said earlier, this format can contain three elements: audio, video, and metadata in one stream for quicker distribution of movies on the web.
But MOV can store a high-quality video and crystal clear audio usually used to edit the video. Unlike MPG, this multiplex media format can keep track of different media data such as video, audio, and subtitles. But the encoder and decoder of this format commonly used is the MPEG-4.
It would be best to turn your MPG to MOV because when you transfer the file to Apple devices, it won't play on Quicktime or edit on iMovie. Although the Quicktime Player and iMovie support MPEG-1 and MPEG-4, the other MPEGs, like the MPEG-2 that a .mpg uses, aren't supported. To make it compatible on Apple devices is the reason why you need to convert the file into MOV.
Part 5. FAQs about MPG and MOV Conversion
How long would it take to convert MPG?
There are two factors that may affect your converting process. First one, if you use an online converter it would depend on how fast your internet is. This process would take longer compared to the other non- based converter. And the last, the bigger the file size the longer it will take on converting it. So, if your .mpg file size is big then you would usually wait for it to end.
Can I play .mpg files on VLC?
VLC is one of the major media players you can download on all devices to play videos in the unplayable format on your native media player. You can also play here, all the MPEG-1, MPEG-2, MPEG-3, and MPEG-4 formats.
Does compressing MPG affect the quality?
Compressing a file shouldn't affect the quality because what you did was making it small. But when you compress your .mpg too much the quality of it will change a bit. So, to avoid this you will need to read this top 7 video compressors you can use.
Conclusion
To recap all the detailed information mentioned above, you can convert your MPG to MOV if you want to use the video on Apple devices. Although software like Quicktime and iMovie supports MPEG-1 and MPEG-4 still the MPEG-2 and the MPEG-3 aren't supported. So, to make it compatible on your Apple devices it is ideal to convert it. All of the mentioned tools here are very effective and easy to use if you convert the file.