Most Convenient Ways on How to Convert MP3 to M4R for Apple Devices
Have you ever thought of turning your favorite music into your ringtone on your iPhone? Would that be even possible? Definitely, it is. You just need to convert the file to do so. Why do we need to convert it first? Because we can set it up as a ringtone? Mainly because to set a specific file as a song ringtone, it must be in M4R format. That said you need to find the best MP3 to M4R iTunes converter that works for you. This article offers different methods on how you can convert your MP3 file, more so do batch convert MP3 to M4R by reading through the content below.
Part 1. The Most Feasible Way to Convert MP3 to M4R
Video Converter Ultimate is by far the most convincing tool that you can use to convert MP3 to M4R. Not just a single file but it can also do batch conversion from MP3 to MP4 It is a converter that can produce HD videos and lossless audio. In fact, it is ideal and recommended for it to convert the file without losing its original quality. The speed is 30x faster than the normal converter out there. Plus, if you are converting a playlist to save on your phone definitely this tool can do the job for you. Effortless and no sweat. Meanwhile here are some of the other features that you can also enjoy apart from converting audio. Also, a step-by-step guide was written below for your reference if you decide to use it.
◆ Edit metadata.
◆ High-Speed GPU acceleration.
◆ Real-time technical support.
◆ Compressing video is supported.
Step 1. To use it, get the app by clicking the download button below. Once the app is downloaded on your Windows or Mac, launch it.
Step 2. From the main interface of the tool, you will see two options to upload the file. Either you click the Plus Sign icon from the center or click the Add Files button from the upper left side. Choose the target file and upload it.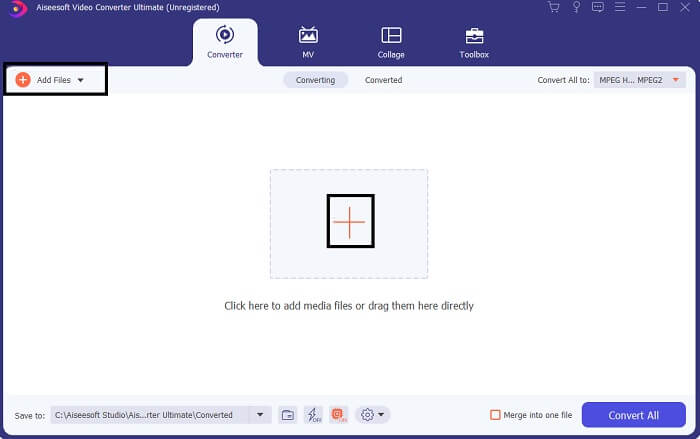 Step 3. To get your desired output, change the format by clicking the drop-down menu located at the upper right side of the interface.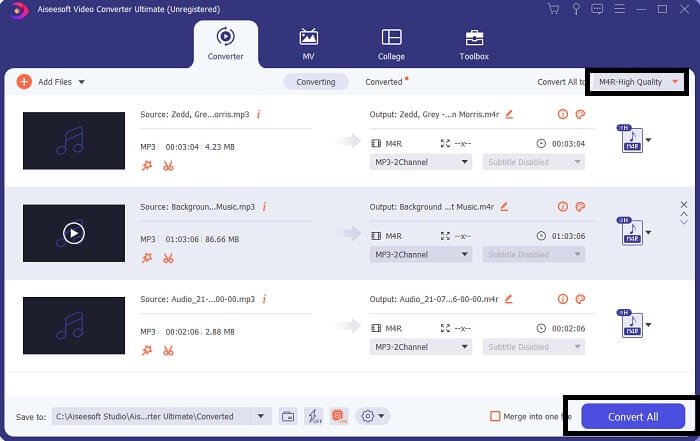 Step 4. Finally, click the Convert All button at the bottom right side of the main interface. Then wait until the file is converted.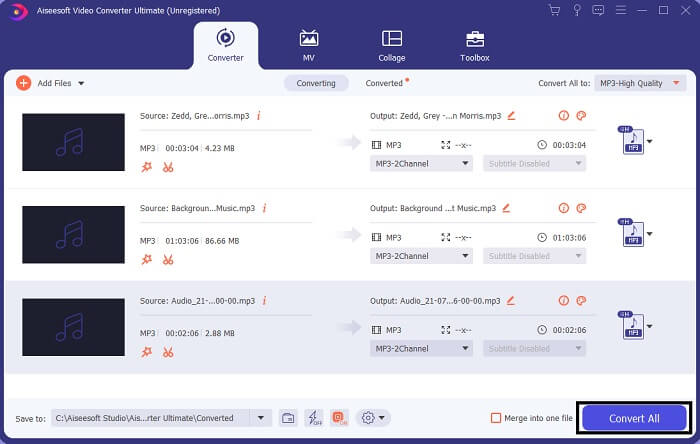 Step 5. Finally, open the folder where the audio output is saved and transfer it to your iPhone. You can use a transfer tool or app to do so. You can find recommendations over the internet. You just need to search and the process of making it as the ringtone of your iPhone.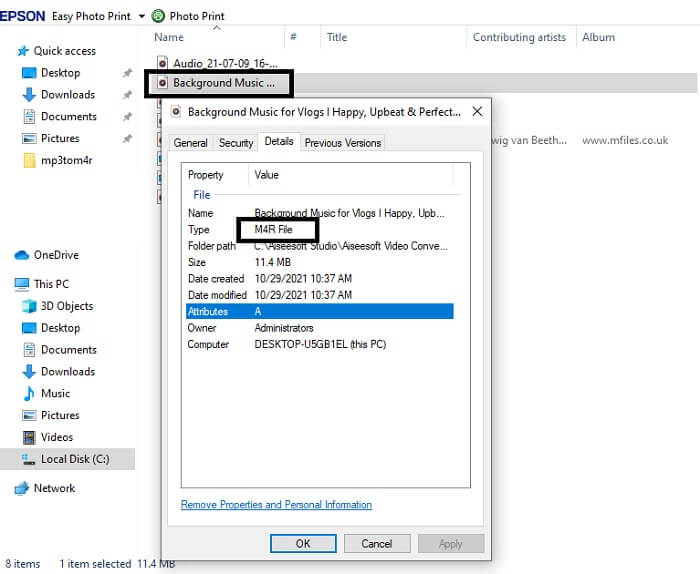 Part 2. Some of the Best Tools to Convert MP3 to M4R Online
FVC Free Online Audio Converter
A premium tool to convert is good but nothing beats a practical tool. Considering your need, FVC created a free version of the tool. FVC Free Audio Converter is your free access tool anytime and anywhere. All you need is a working internet and a supported browser. This MP3 to M4R iPhone ringtone converter is able to produce high-quality lossless audio. The output is satisfying and without having to spend money on it. Wait, there is more, did you know this can also do batch conversion? Yes, you can! Also here are some notable features you will also get if you use it. On the other hand, a guide is also written for your convenience.
◆ The converted file has a similar quality to the original.
◆ 100% free and safe to use.
◆ No limit in size upon conversion.
◆ Batch conversion is supported.
Step 1. To access the tool, visit the official website of the FVC Free Audio Converter.
Step 2. From there, click on Add Files to Convert. For a first user, you have to allow access by clicking Open FVC Launcher. Then a window will appear on your screen allowing you to locate the file that you want to convert.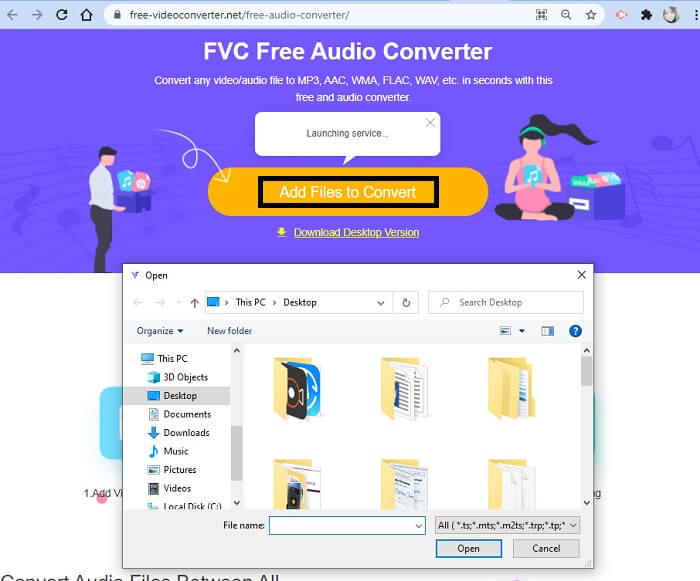 Step 3. After uploading the file, you will see another window pop. At the bottom part change the file format of the output file by ticking M4R.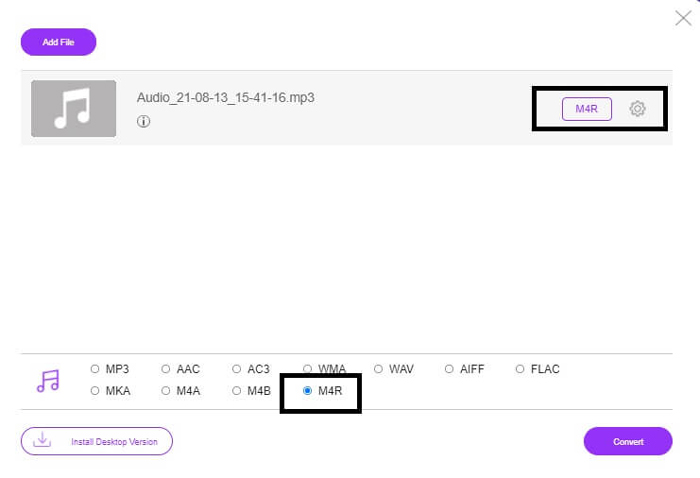 Step 4. Then click on the Convert button to begin the conversion.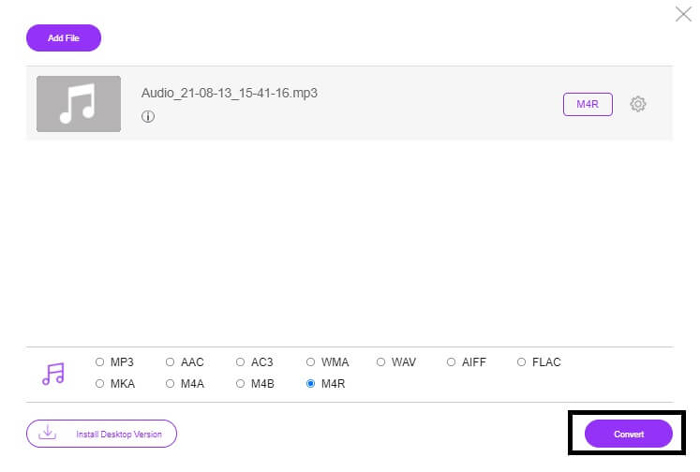 Step 5. Finally, select a folder where you can save the file, and automatically the file will be saved. Then transfer it to your iPhone. Know that you can do batch convert so do not limit yourself.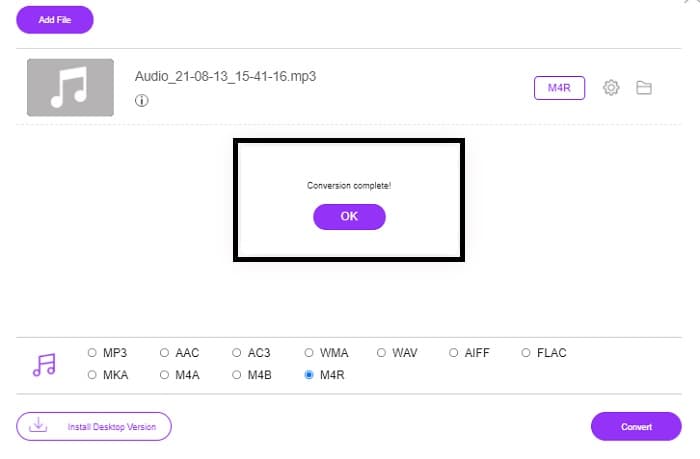 Related:
M4ROnline by File Converter
Simple yet reliable, that is how its users describe this online tool. By default, this is specifically made to convert Mp3 to M4R. As the name implies it this is what this tool is made for. It works from different web browsers so you won't have to download or purchase it. If you visit the website, you will notice the simplicity of the tool interface. It is very straightforward where you just have to click the Browse button to begin the uploading and converting process. If you want to try it, it is recommended to visit the official website and experience it. Hence, this tool is a good alternative. You can also check the step by steps below to know the process of using the tool.
Step 1. The first thing you gotta do is go to the official page M4R Online then click on Browse.
Step 2. Choose the file from your folder and click the Upload File button.
Step 3. Once you see the completed message, click the file to download it.
Online-convert.com
This is a tool providing service for quite some time now. It is safe to say that many found this online tool very helpful for their converting needs. Or else it will not be existing until this very moment if it's not proven helpful. Upon visiting the home page of the site, you will see all tools available to use. From Audio converter, video converter, image converter, document converter, Ebook converter all together from the home page. Compiling them makes it easier for the user to find the necessary tools he/she needs. It then deserves to be added to this list of MP3 to M4R iTunes converters. On the other hand, here is how you can use the tool for your reference.
Step 1. Visit the official site of the tool and choose Audio Converter.
Step 2. Click the drop Drop down and choose the format output then click on GO.
Step 3. A new window will then appear. From there click the Choose Files button and upload the file. To start the conversion process click the Start Conversion. Once the file is ready, the file is automatically downloaded on your PC.
Part 3. FAQs about Converting MP3 to M4R
What is M4R?
It is a file extension specifically created by Apple and strictly used as a ringtone for iPhone and other Apple devices. This is as good as M4A and MP4 when it comes to quality.
Is there an MP3 to M4R converter aside from iTunes?
Definitely, there are. You can choose from the tools above or consider using Windows Media Player by ripping. If you do not want to go through all the processes, you can just use the free tools available online. They directly convert the audio to your desired format instead of going through the lengthy process of ripping.
Why do I need to convert my file from MP3 to M4R to use it as a ringtone?
It is a must. To be considered a file to be a ringtone, the file must be by default in M4R format to be played as your ringtone.
Conclusion
With all that, surely you can rely on the tools listed above. You just have to access which tool can be helpful for you depending on your needs. If you are a student and regular citizen who wants to convert and want to convert MP3 to M4R on Mac for free or whatever device you are using, you can refer to the free tools. For professional use, it is recommended to use the Video Converter Ultimate. You can always go back to this page if you want to know more about more tools to convert.