Importance of 3GP Metadata and How to Remove, Edit, View them Correctly
By adding metadata to 3GP files, we can effectively create an impact on identifying the attributes of what the file is all about, even they are stored on 3rd generation phones. With tags, organizing is not the only thing we can do by adding such information. You can also use these tags to remember where or when the media file was taken or recorded. If you have a file with this extension, it must have metadata to record information about them. Adjust the 3GP metadata by reading the information this article accumulates; all you should know is to easily remove, edit, and view the tags on the files.

Part 1. Introduction to 3GP Metadata
3GP metadata usually contains the primary title, author, date, and time held on every 3GP file. Although these data can help the application and even recognize what the file is all about, there are some instances that you will need to change or view it to correct the information. If you are a 3rd gen phone user, this will be a helpful tip for you to understand how vital t is the metadata on your 3GP file is. And later, you will learn how to edit or view them with the ultimate tool.
But before we start, we would like to let you know that you can add more information to your 3GP to make it precise and relevant. Suppose the metadata you want isn't available on the web, so automatic tagging might not be the best choice. Luckily, you can edit the metadata of your 3GP files manually to make it precise with the ultimate tool. If you want to know the techniques for handling the metadata on your 3GP file, continue reading this article to know more about it.
Part 2. Best 3GP Metadata Viewer, Remover & Editor on Windows and Mac
The best 3GP metadata viewer you can use to help you upload 3GP files then view or edit the metadata on them is no other than the FVC Video Converter Ultimate. With this tool, you can add more information about your 3GP, such as year, album cover, genre, and many more. Also, this provides valuable features and functions and a professional yet easy-to-understand GUI. To help the users experience a perfect way of adding tags on any files, whether video or audio.
Not as the same as the other metadata editor, this tool supports editing features to make your video look even better or sync the audio to the video if they aren't in sync. Amazingly, the tool supports a wide range of features and functions that you all can have if you download the software on your Windows or Mac. If you want to know more critical features, this tool provides before going to the methods on how to view and edit the 3GP metadata, read the following details below and make sure to download it now.
Features:
◆ Uploading a media file became easy as it supports 1000+ formats.
◆ Incredible Toolbox that supports a set of features and functions are available.
◆ Ultra-fast process and hardware acceleration are supported.
◆ It supports additional functions such as MV, collage, and converter.
◆ Download it on Windows or Mac to have the ultimate software.
Part 3. How to View, Remove and Edit Metadata Using the FVC Video Converter Ultimate
If you think that the ultimate tool is the best solution to your 3GP tags problem, then we provide you with two different ways to view metadata and edit it with the help of this software. To know how to do it, you may read the succeeding details we add below.
How to View 3GP Metadata with the Ultimate Software:
Step 1. Download the 3GP metadata viewer on your Windows and Mac, then open it.
Step 2. Click the + button to add the 3GP file you've wanted to view. You can also drag and drop the file for an easier way of uploading it.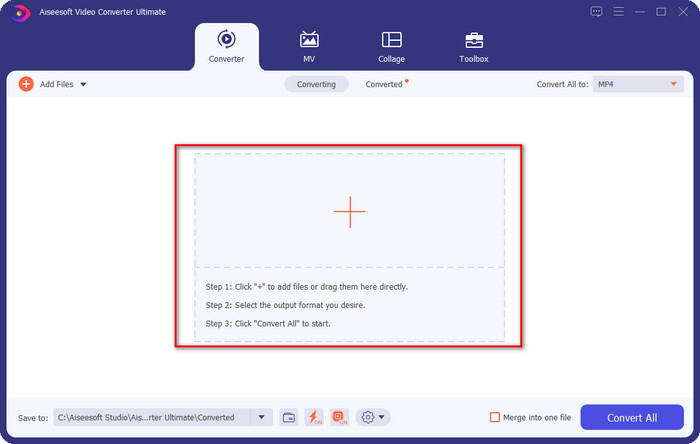 Step 3. Press the i icon to view the metadata of your file.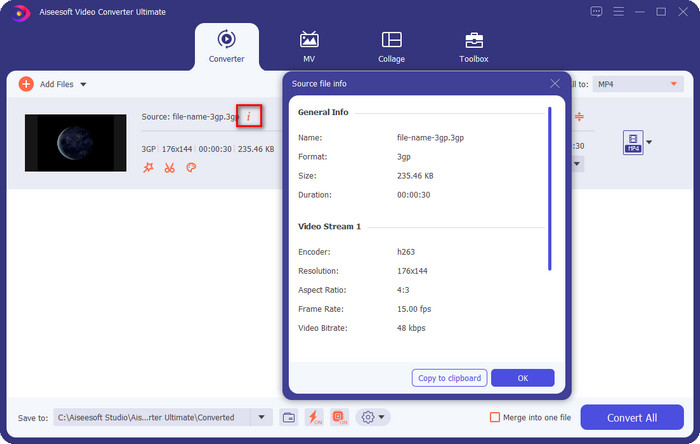 How to Change 3GP Metadata with the Best 3GP Metadata Editor:
Step 1. Download the software on your desktop by clicking the download button presented above, set it up, and launch the software.
Step 2. Open the Toolbox, and under it, you will see the Media Metadata Editor; click it to open the metadata editor.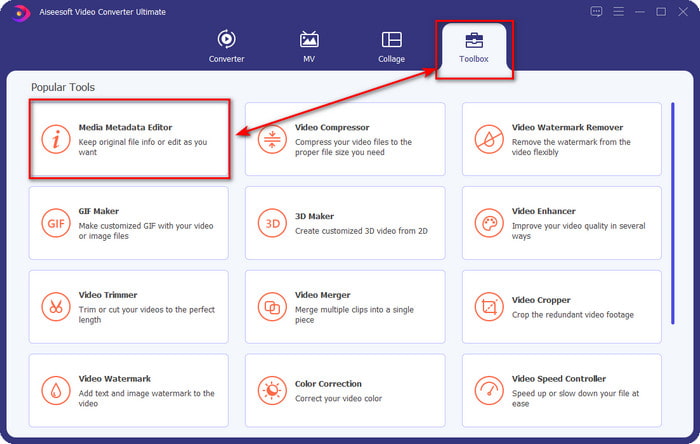 Step 3. Click the + button locate the 3GP file on your folder, and click Open to upload it.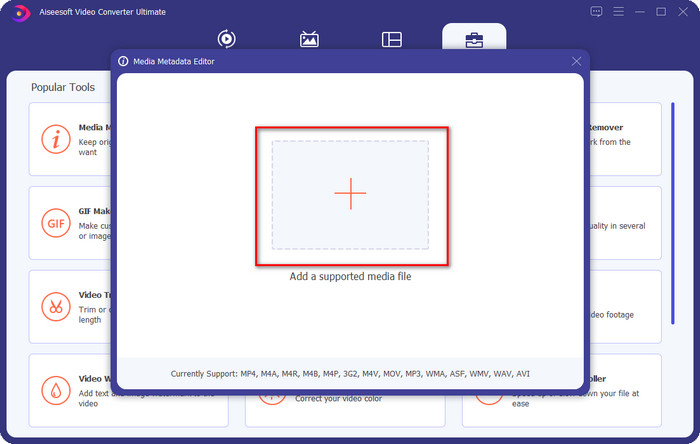 Step 4. Add the information you need by filling up all of the text boxes. Press Save if you are finished adding the metadata on your 3GP. Learning how to remove 3GP metadata on your file with the help of this became easy peasy.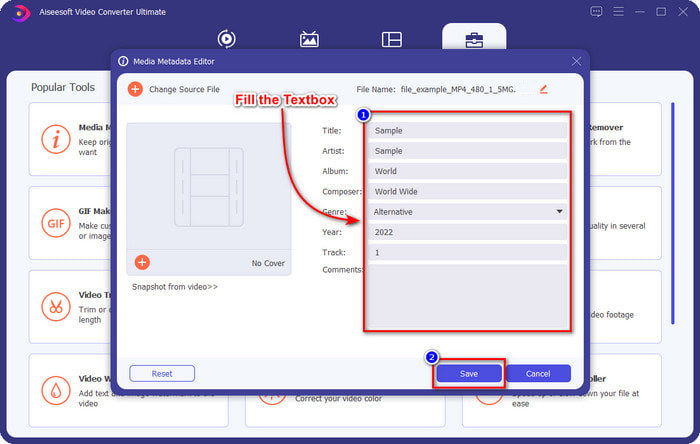 Part 4. FAQs about 3GP Metadata Editor
How can I record a video in a 3GP format?
Numerous recorders support 3GP as a file format for final output, but not all screen recorders support 3GP. Want to know how can you record high-quality 3GP video on Windows and Mac? If so, by clicking this link, you will directly open a new article that will focus on the different types of recorders you can use that have 3GP format.
Does merging 3GP files lose its metadata?
In some cases, the metadata on the 3GP file you've merged will lose its information, but some still keep the tag intact on the file whether it is merged or not. If you want to learn how to merge multiple 3GP files with their metadata, you can click this link as we thoroughly review different tools.
Why my 3GP files don't have tags attached?
There are many reasons why the 3GP metadata doesn't have metadata. The first reason is that the video on the 3GP file doesn't have metadata. This problem is solvable by using a media metadata editor that supports uploading 3GP. Second, if you download the 3GP on the web, expect the author of the said file to remove it because it showcases some important information about you. Lastly, 3GP doesn't have metadata because the format doesn't support a large among of information. Although it is the standard video format for 3rd generation phones, some are 2nd and 4th generation; some phone doesn't attach metadata because you didn't allow it. Even though we didn't introduce all of the reasons, these are the common reasons your 3GP file doesn't have metadata on it. If you want to add metadata to your 3GP file, you must read and follow the earlier information.
Conclusion
The information above gives us a visual that changing 3GP metadata is doable; it is now the time to download the software to remove, add, and view the metadata. FVC Video Converter Ultimate will reach your standard, unlike the other tools that do the same job, but its function is far superior. Do you doubt the power of the ultimate tool? Then join us by downloading the software to your Windows or Mac and enjoying using the ultimate tool that does most video and audio problems.