Produce a Masterpiece with the Help of GIF Speed Changer
It's going to tick midnight, and you want to greet your friend on their birthday. As a great friend, you want to be remembered on their special day even if you're not around, so you are finding the perfect GIF that matches your long message. Still, the GIF available on your phone or your desktop is not that exciting to look at, that's why you're having trouble with what to do, and you're thinking about how to change the speed of a GIF. Read the article below to be enlightened - especially in the very crucial situations - on what to do and the ways possible to resolve the problem above.

Part 1. How to Speed Up a GIF Professionally [Paid]
Video Converter Ultimate is a total packaged free-to-download software that has the ability to adjust the speed of GIFs with the use of the Video Speed Controller tool. Moreover, it also offers many tools to help you convert and edit GIFs. In addition, all the tools are easy to use and have available templates to improve the cinematic overview of your GIF. Video Converter Ultimate is available on Windows and Mac.
Pros
Offer easy-to-use tools and other features.
Produce high-quality output.
Cons
Needs to purchase other features to have full access.
Step 1: You can save the software by clicking on the Free Download button. Then you can customize and install the program.
Step 2: After installing the software, go to the Toolbox feature and select Video Speed Controller.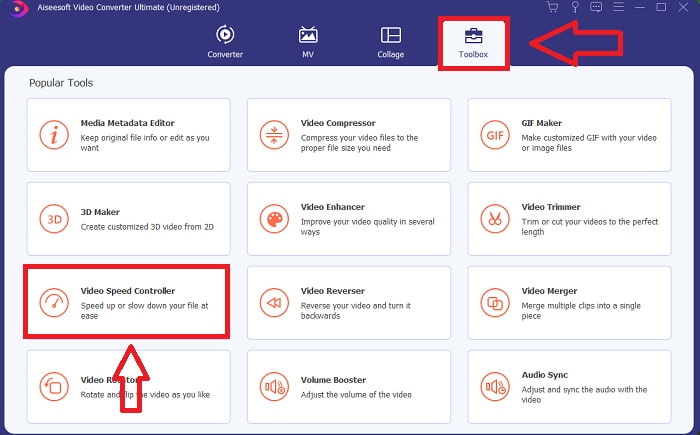 Step 3: By pressing the + button in your preference, you may add any GIF file and continue modifying the video clip.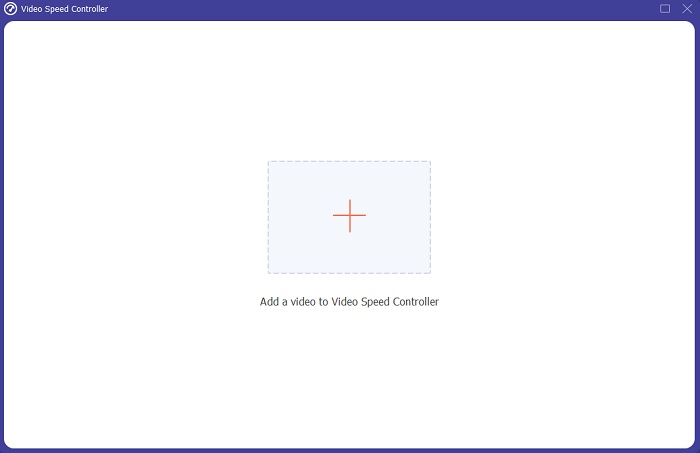 Step 4: Then, you can adjust the speed of the video by increasing and decreasing the playback speed.
Step 5: After you've completed modifying the playing speed of your video clip, you may select your desired output by altering the format, resolution, and quality, among other things. When you're ready, click Export and select a location to store your work.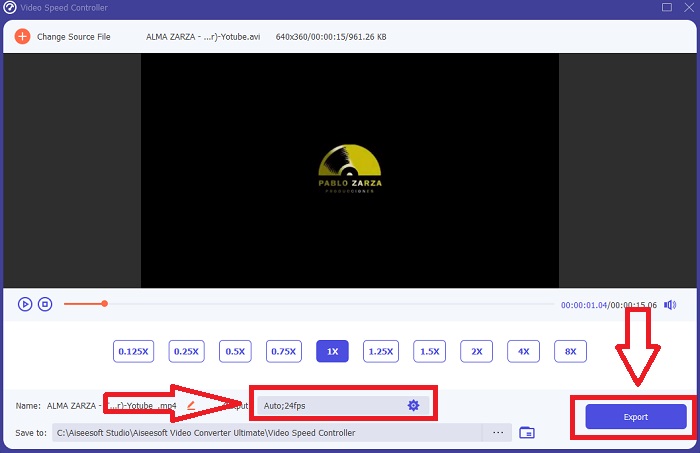 Part 2. Other Ways to Speed Up GIF [Free]
How to Speed Up a GIF Using ImageOnline.co
Gif images can be created with this free-to-use tool with ease, as long as you have access to a computer and a web browser. Moreover, this tool is not just easy to use as a GIF speed editor; There is no limit to the number of gif images you can create using this web tool. Any gif image can be made without restriction, and our accuracy remains constant throughout.
Pros
It is accessible to a wide range of users.
It offers a lot of features to use.
It provides a memo to follow in using each feature.
Cons
The interface has a lot of commercials and ads.
The interface is too simple.
Step 1: Locate GIF Image Tools on the left corner of the interface and click Make GIF animations.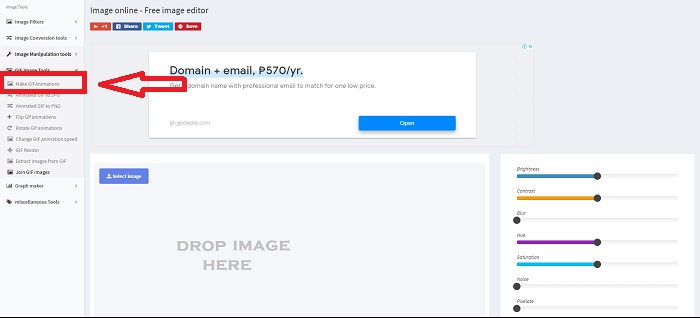 Step 2: Select an image from your desktop by clicking Select Image, or you can drag files and transport it to the web's interface.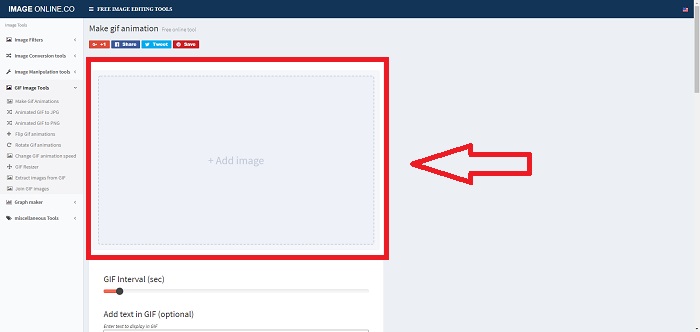 Step 3: Adjust the time interval of your GIF by dragging the Slider. You're able to add text to your GIF or resize it by customizing its dimension. If everything is settled, click Apply Changes. Lastly, click Download to transport the file to your computer.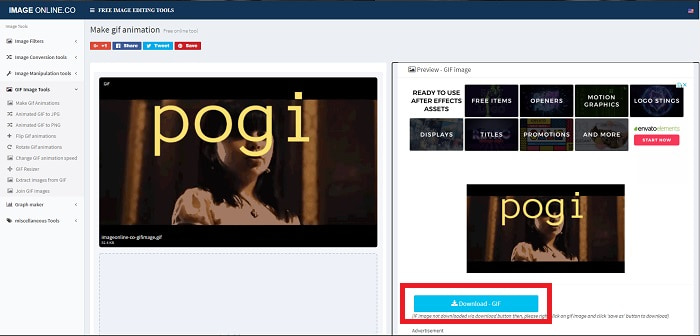 How to Speed Up a GIF Using LunaPic
This web tool is a low-budget editor covering various tools available for a free-to-use web tool that can give you a professional-like perspective editing. Editing becomes a slice of bread, and it provides an excellent experience for some pro-editors because this web tool covers most of the formats and social media available. You will see different tools that other web tools do not offer. The interface is simple and can be customized for every user's preference.
Pros
It contains massive tools to use in editing.
Professional-like editor.
Cons
Some tools need clarification or description to know by the general audiences or users.
It is complicated to use for beginner users.
Step 1: Click the Upload tab to the upper left corner of the web's interface and add files by clicking Choose file.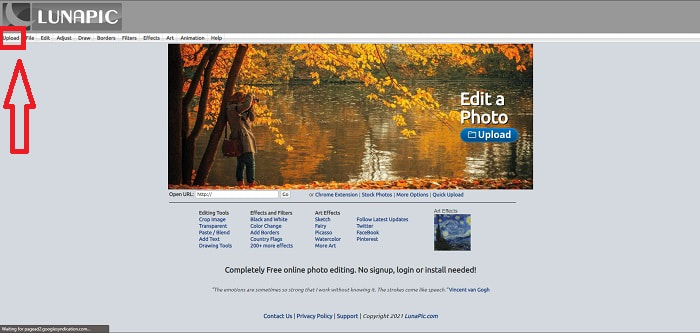 Step 2: You can already edit your GIF at the first interface that will appear after you upload your file. But if you're going to increase the speed of GIF, proceed by clicking the Animations tab, then click Edit GIF Animation.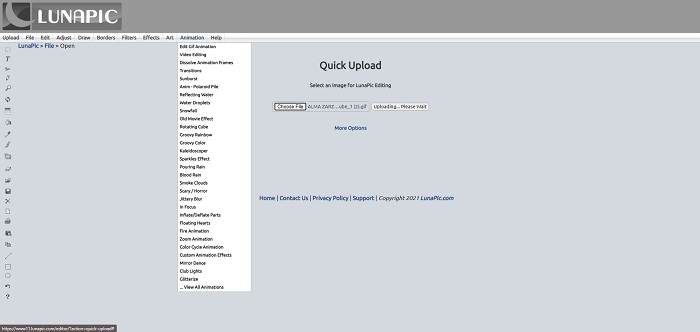 Step 3: Adjust the speed by selecting the playback speed of your GIF. Click Apply after you finish selecting the speed of your GIF. Below the preview of your GIF, click More Options and choose which format you will use in your GIF.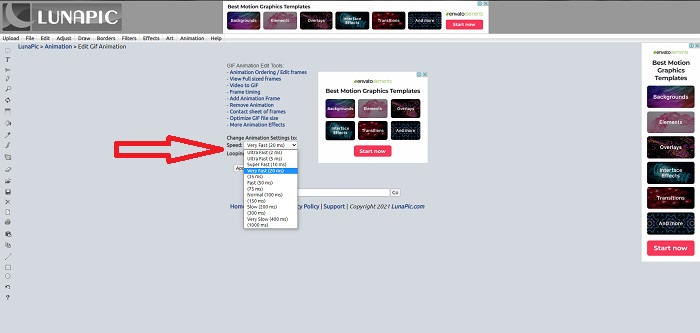 How to Speed up a GIF Using Gifntext
It is also a free-to-use web tool that provides different editing tools and involves increasing the speed and slowing down a GIF's speed. This web tool is simple to use, and unlike the other web tool, Gifntext supports GIF URLs and provides tutorials on how to use the featured tools available on the web tool. Also, it doesn't leave watermarks on the output video file that can lead to advertising techniques.
Pros
The interface doesn't have commercials and ads.
It provides tutorials on how to use the tools.
Cons
It contains lesser tools to use in editing.
It converts slower than the other tools.
Step 1: At the main interface, you can choose if you'll upload a GIF URL or select a GIF file from your desktop.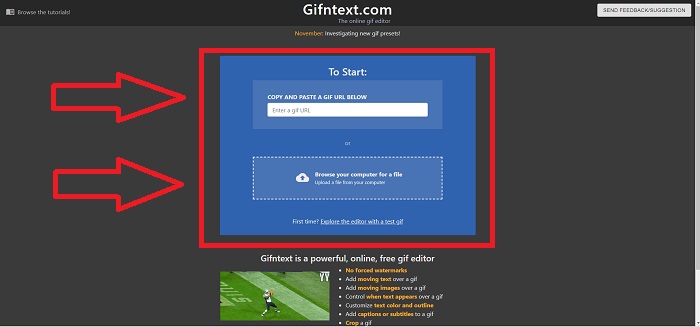 Step 2: Edit the speed by dragging the Slider.
Step 3: Click Generate GIF to process your GIF. Wait patiently for the processing, then click Download GIF if it's done.
Part 3. FAQs about GIF Speed Changer
What is a GIF?
Because of its support and portability, the Graphic interchange format (abbreviated as GIF) is widely used on the internet. A separate palette of up to 256 colors can be used for each frame in the Gif format. GIF's palette restrictions mean it's less suitable than other formats, such as JPEG, for more complex images, in terms of reproducing color photographs and other illustrations with gradients.
How am I going to convert MP4 to GIF?
Other video formats are not available in converting it into GIF. But since the MP4 is a standard video file, there's an article about converting MP4 to GIF.
Do I lose the quality if I convert other formats to GIF?
Yes, converting every format into GIF can ruin the quality of the video because making a GIF requires compressing the file. But some converters can create a GIF that can minimize the degrading of quality of the video. Video Converter Ultimate provides high-end quality output in making a GIF, even animating GIF speed in a faster manner.
Conclusion
Throughout the article, we know that GIF is a format that needs to slow down and increase its speed to portray the picture or the message itself since GIF doesn't have sounds. There are many ways to do it, either free or paid; these web tools and software emphasize editing to the next level. But if you want to access the editing software so that internet connection can't cause any trouble in using it. Download Video Converter Ultimate and use it as the editor and reliable in other video clip formats, like GIF.