Impress Everyone by the Reverse GIF You've Made with this Tool [Online & Offline]
GIFs have become very popular in this modern era and a lot of us already encounter or maybe use them. And just like that, making GIFs became extremely popular also up to this day. Moreover, creating a new GIF became a job for most of us. So today, we will be going to explain how to make an impressive guide to show you how to reverse GIF and make it eye-catching. Also, we gathered different tools for you to choose from and now let's proceed to the tools and how to do the reversing.

Part 1. How to Reverse an Animated GIF Online and Offline with Steps
1. Ezgif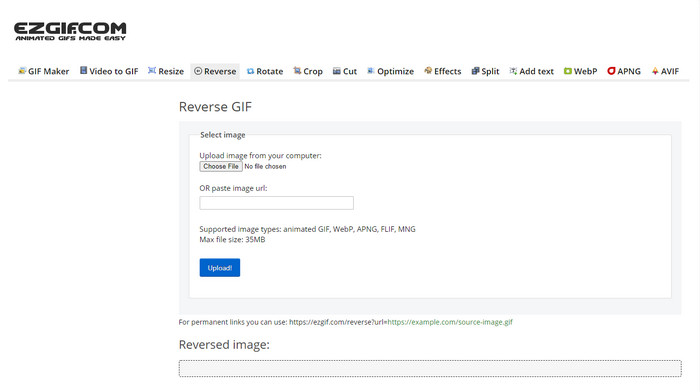 Ezgif became the most popular reverse video GIF available on the web. Because you can basically convert, crop, cut and do more in this tool. However, this tool limits the favor to its user because of the very limited available file size and format you can insert as well. Although inserting a file here is much better and faster than the other webtool. Still, it lacks a lot of features you will need to make outstanding GIFs. So, if you want to try to use this tool then follow the steps below. Remember there is a limit to the file size of the GIF.
Step 1. Go to the main website of the Ezgif and look for the Reverse.
Step 2. After clicking it, click the Choose File and a folder will show to your screen. Then choose the GIF file and click open to insert the Gif file.
Step 3. Click Upload to export the reversed file.
Pros
No download needed because you can access this tool via the internet.
It is for free basically no hidden charges.
Cons
Web interface is not the best in this list.
It doesn't support a lot of formats and it limits your adding file because of the file size limitation.
It has some pesky ads on the interface.
2. Online GIF Tools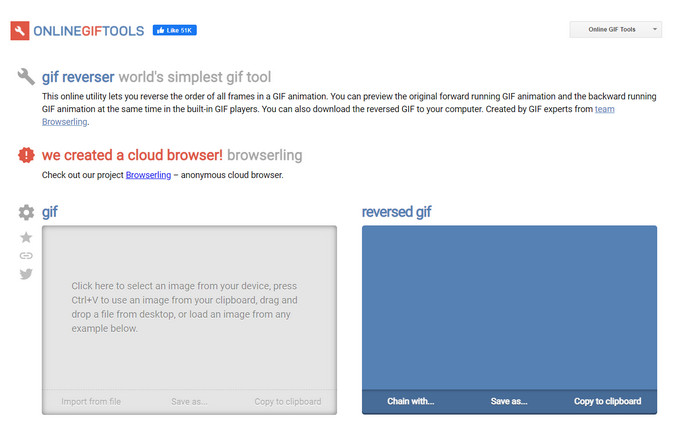 Online GIF Tools has the almost same web interface like the Ezgif. And this tool has a lot to offer than the other webtool you can see on the internet. But the interface of it is a bit intimidating because it looks like an untrusted site. However, when we try to use this web tool it is great to use especially if you want to reverse GIF. So now, let's try to use this tool.
Step 1. Search the Online GIF Tool on your search engine.
Step 2. Look for the GIF Reverse and click it. Then to add the file click the square portion on the left. Open the file and proceed.
Step 3. Then click the Save as… and Download to save the video to your computer.
Pros
The tool can be accessed directly to the internet for free.
Performance wise it is great to use.
Cons
The tool interface looks unsecured because it is un-organized.
You can't adjust the reverse speed you want to have.
The quality of your GIF became less after exporting the GIF.
3. GIFReverse.com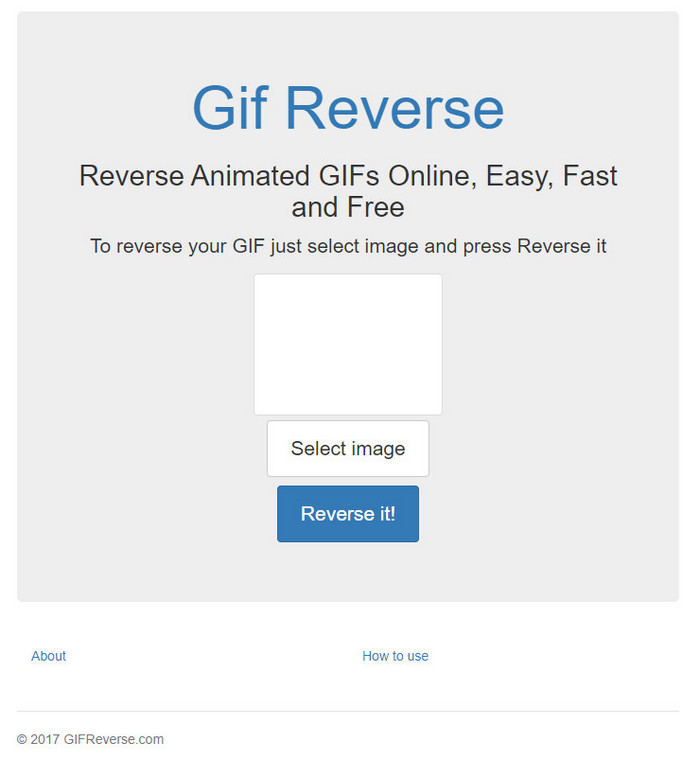 GIF Reverse.com has a little and simple interface anyone can use. This tool just focuses on reversing the GIFs only other than that you can't do it in here. Although it is just reversing, learning how to reverse a GIF in this tool is very easy. You will just need to insert the file and click the reverse to start the process. However, the speed of the export is much slower than the video file not being exported. So, to figure out how this tool functions, follow the steps below.
Step 1. Go to your search engine and look for the GIFReverse.com.
Step 2. Click the Select Image to insert the GIF you want to be reversed.
Step 3. Then click Reverse It! to proceed and wait for the process to be done.
Pros
Tool is easy to use and can help a lot of users who want to have simple reversing.
Free access if you have internet connection.
Cons
There are some crashes that happen when we try to save the GIF file to our storage.
Also, there are ads on the top and bottom of the main tool.
The interface is very minimal and the functions to make an outstanding GIF can't be performed in this tool.
4. Photoshop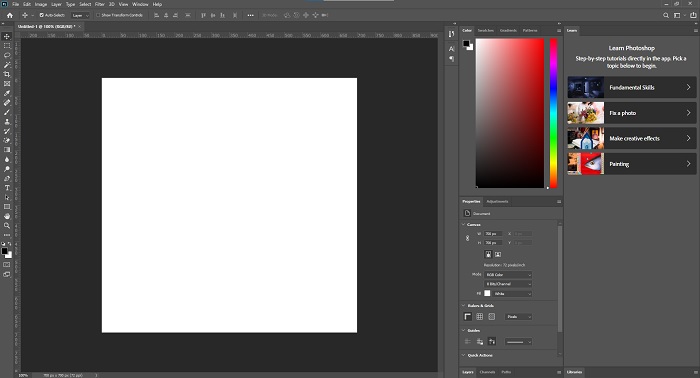 Photoshop can't only create your images better but you can also reverse it here. As this tool presents a lot of advanced editing features you will need to make an outstanding GIF. But it is not new to us that this tool is hard to use especially if you want to edit GIFs. So, learning how to reverse GIF via Photoshop will be going to take your time. Below we provide simple steps for you to follow on.
Step 1. Download the Photoshop to your computer and launch it after.
Step 2. Click the File then Scripts and Load Files into Stack. Next to it go to the Browser and select the file.
Step 3. Then go to Select and click All Layers. Next go to Layer then Arrange and click Reverse to reverse it. And to save it click the CTRL + S on your keyboard to save.
Pros
Advance features are presented to make your GIF better than ever.
Overall, it is great to be used by the pros.
The interface of it looks neater than the tool above.
Cons
It is not ideal to be used by beginners because learning how to use this tool will take a lot of your time.
The price of every Adobe developed tool is expensive just like this one.
It needs a higher operating system specification just to use.
Part 2. How to Make a Reverse GIF with the Help of the Phenomenal Converter with Steps
All of the tools presented before this are great but the phenomenal is yet to come. Video Converter Ultimate can produce outstanding GIFs but in an easier way than Photoshop. So, if you want to reverse GIF with the help of this tool you will not need a minute to do it. Or even read a thick manual to have a knowledge just how this tool functions. Also, this tool has a lot of advanced features you will need to make your GIF stand out amongst other GIFs. So, if you don't have an idea how to reverse then you can follow the steps below and do the reversing so easily that even a beginner can do it in less than a minute.
Step 1. First and foremost, download the tool to your computer. Install the software and follow the indicated set-up.
Step 2. In the Toolbox section you will find the Video Reverser then click it.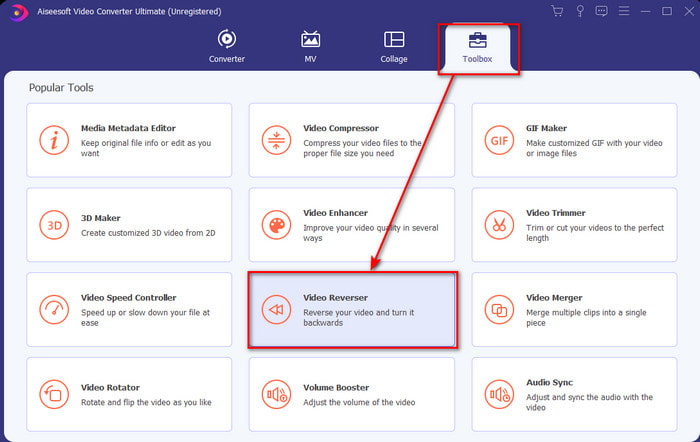 Step 3. To add the file, you want to be reversed, click the + sign and a folder will show click the file and open it.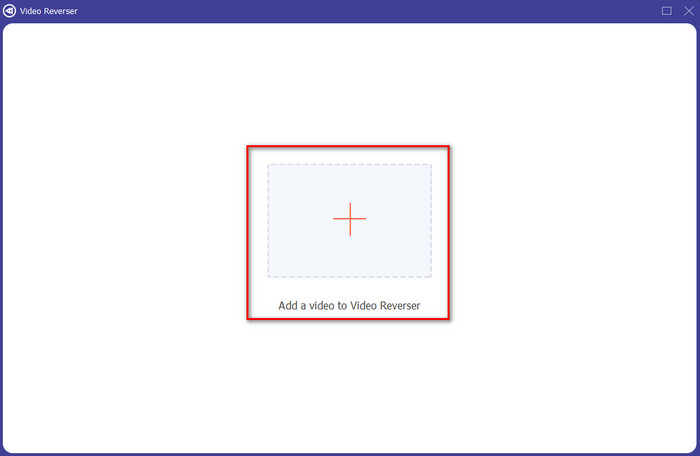 Step 4. A new interface will show to your screen, on that interface you can adjust the length of your video by dragging the in and out. Then click the Export button to save the reverse file to your storage.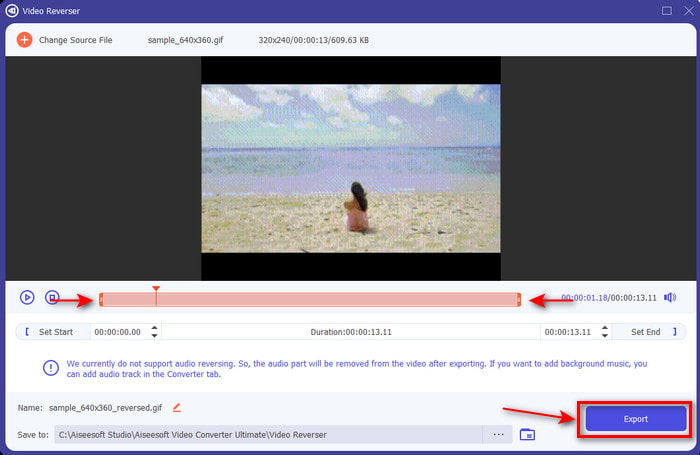 Step 5. A new folder with the file you reversed will show to your screen and click the file to watch it.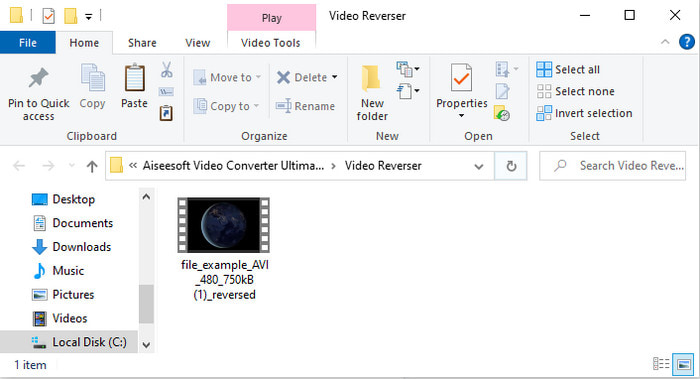 Pros
It has a lot of simplified versions of tool features you can use even if you are a pro or beginner.
The interface is great and it is not boring to look at.
Exporting the reverse video GIF is faster compared to the other tool and it is a great choice for those who are in a rush.
No internet needed to function with this tool. Basically, you can create, reverse or edit GIFs anywhere in the world.
Cons
Before you can use this tool, you will need to download it first in your drive.
You will need to pay first but it is not expensive compared to Photoshop.
Part 3. FAQs about Reverse GIF
Where can I edit my GIFs?
There are a lot of GIF editors you can use to make your GIFs better than any other GIFs. So, instead of being confused on what to use then try to click this link as we talk about the best GIF editor you can use.
Can I play GIFs on VLC Media Player?
It is sad to say that you can't view GIFs on VLC because the format is not supported. But if you try to insert GIFs on VLC you will only see a still image and not a static or animated one.
Is GIF a video or image format?
Although GIF looks like a video still it is not in the category of the video format. Because it is considered as a series of animated images.
Conclusion
To end, we hope that this article helps you in determining how to reverse a GIF effectively. Overall, the tools presented here are great to use and it is a must to try them individually. But if you are in a bit of a rush then it is the best choice to choose the phenomenal tool, Video Converter Ultimate. Because it presents a lot of features you will need to make your GIFs incredible with the reverse effect. So, what are you waiting for? Grab your own Video Converter Ultimate to make the right decision and do the editing, making, enhancing and more here.