MP3tag Is the Best Music Tag Editor You Must Use to Edit Music Tags
To add, fix, and remove the metadata on your MP3 and other audio formats, you will need dedicated software that could help you handle the task like a professional, the MP3tag. With this tool, you can add the information you will need to your audio. Fix and rearrange the tags to make them look organized in your folder or library. If you have incorrect metadata, this tool can help you remove it easily. Impressive right? IF you want to know more information about the editor on Mac, then read the full scope below.

Part 1. An Overview Review about MP3tag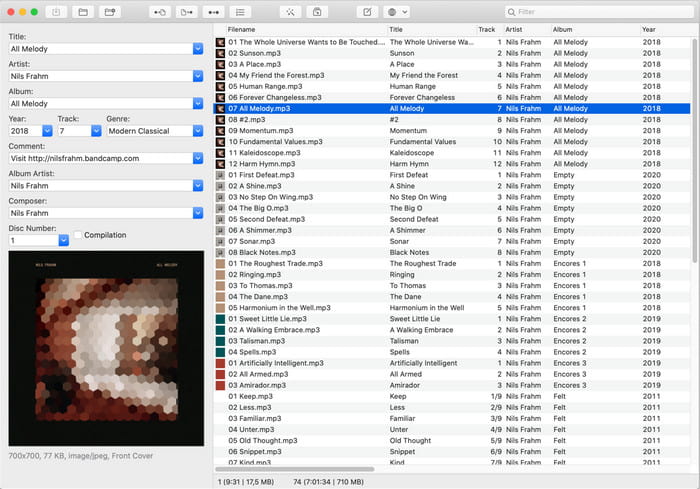 With MP3tag on Mac, you can have a powerful and user-friendly tool at your reach. But what makes this tool so unique from the other tag editor you can use on the marker? What are the features you can have in this tool? Are there any pros and cons while using it? Can I have a tutorial on how to use it? All of these questions have an answer later in this article.
5 Best Features of MP3tag
Before you use the tool, you'll need to know the best features you can get while using the software on your macOS. To know more about its main features and what makes the tag editor unique, read the information below as we list 5 of the best features this tool has.
◆ Edit Multiple Tag Simultaneously
Most tag editors manage to edit a single file and metadata at once; they can't perform batch tag editing to finish the job at no time. But with this MP3tag freeware, you can handle multiple tag editing by uploading them all in here and editing them by batch if needed.
◆ Add an Album Cover to the Music File
If your music doesn't have an album cover, you must use this tool to add one. Other than editing the tags of your music file, you can also add cover art to your file to make it complete and visually attractive.
◆ Supports a Wide-range Audio Formats
Unlike other tag editors, this tool supports most of the audio formats, especially the file you have. With its wide range of support on formats, uploading it here is not a problem for every user who uses this tag editor on Mac.
◆ Import Tags from Databases
Instead of typing the tags, you can search your file's tags on the databases this tool supports. But most of the time, the tags it searches are irrelevant to the music file you have. However, if you want an easier way of adding metadata to your audio file, then this one can help you.
◆ Drag and Drop Features
If you are tired of searching the file on the folder, by using this tool, you can easily drag and drop the file on the software interface once it is open. For an easier way of uploading, you can use this instead of locating the file on the folder.
2. Pros & Cons Using MP3tag
As we review MP3tag for you, we notice the pros and cons of using the software. You will need to know this to decide if this is the best tool you should use to change the tags of the audio file you have. The information below is relevant and based on the experience and research we did for you.
Pros
You can quickly get the hang of the software in minutes.
It supports multiple features and functions to help you to edit tags.
Free to download on Mac.
An automatic tag search is available.
Cons
GUI is too simple.
The user interface needs an update to make it look better.
Changes on tags aren't saved automatically.
3. How to Use the MP3tag Editor on Mac
Following details, we teach you how to use MP3tag and change the metadata on the audio file. So, keep reading this article as we showcase step-by-step procedures on how to do it.
Step 1. Download the software on your Mac, then launch it to run it to your system.
Step 2. Click the File menu, then Open, choose the file you want on the folder, and insert it. To save some time, you can drag and drop the file on the tool's interface once it is on.
Step 3. On the queries, click the file; you can now change the tags on the left side and click the Save icon if you are finished.
Part 2. Ultimate Alternative for MP3tag Available on Windows 10/11 & macOS
With over a million downloads, without a doubt, the FVC Video Converter Ultimate is the best alternative for MP3tag. This tool can help you edit, add, remove the tags on your audio and video. Unlike the audio tag editor, this tool can edit the tags that are attached to your file, even they are video or audio files. With its influence on editing the tags of your media file, the community who are still using the tool is growing faster than ever.
Besides its metadata editore, with this tool, you can also do significant and primary editing to your video, like adding effects and filters. You can choose from over 100+ filters and effects presented here that could make your video looks impressive with a few clicks. To know more about its features, you can read the following information below as we list the majority of its function.
Features:
◆ It supports uploading 1000+ video and audio media formats.
◆ Editing functions and other features are on Toolbox.
◆ It has a built-in ultra-fast process to upload and download it fast.
◆ Learning how to use it will not consume your time.
◆ Downloadable on Windows and Mac operating systems.
Part 3. FAQs about MP3tag
Is MP3tag safe to use?
MP3tag is safe to use, and most Mac users who edit tags use this software. But make sure to download the software to the official website and not to the torrents or other websites. To avoid conflict and other harmful effects on your computer.
Can I upload a video file on MP3tag?
So far, the tool doesn't accept any video files and only focuses on changing the tags on your audio file. But soon, when the tool gets an update, let's see if it can add video files.
Is MP3tag free to use?
Yes, MP3tag is free to download, but there is a 7-days free trial while using the software. If that ends, you will need to purchase a subscription to the tool to continue using it.
Conclusion
There is no doubt why MP3tag became a well-known tag editor you can use on Mac. Even though the tag editor is great in its way, it is still considered the second option in this article. Why? Because the FVC Video Converter Ultimate overpasses this tool based on its features and functionality overall. With this amazing music tag editor, you can easily add the metadata on your file when you need it and remove them when you want it. Amazing right? Luckily, you can have this tool on your Mac or Windows by clicking the download button above and trying it out!